Bonanza Gift Shop in Las Vegas sold for $50M, records show
October 24, 2016 - 10:04 pm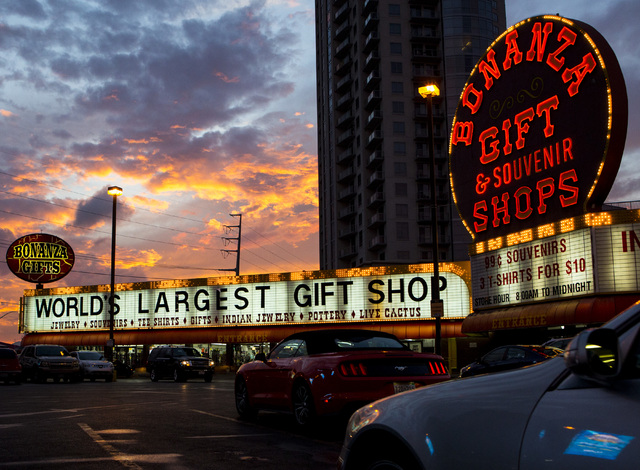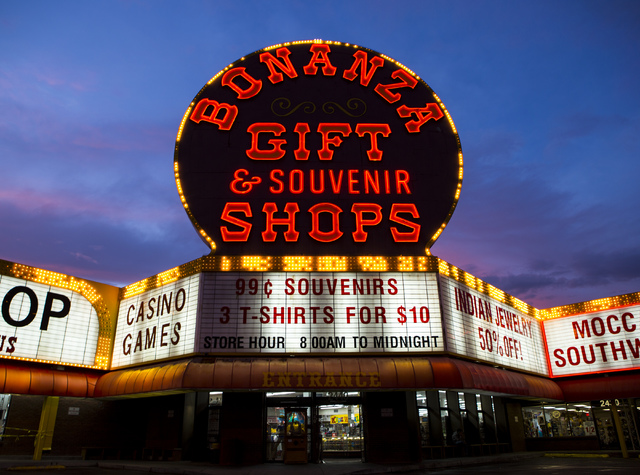 Bonanza Gift Shop, like countless gift stores on tourist-choked Las Vegas Boulevard, sells a grab-bag of Vegas-themed souvenirs: coffee mugs, keychains, shot glasses, even quarter-gallon flasks.
Now, the self-proclaimed world's largest gift shop is the latest retail property on the boulevard to sell for a hefty price.
The gift shop's operator, Haim Gabay, bought the 2-acre property at the northwest corner of Las Vegas Boulevard and Sahara Avenue for $50 million on Friday, Clark County records show.
He was backed by a $25 million bank loan and a $10 million loan from the sellers, records indicate.
The aging property with Western signage appears to be a throwback to a different era, at least on the outside. But its sale comes during a retail-property binge on the Strip: Investors have spent billions for enclosed malls, paid a fortune for drugstores and built more shopping plazas as many tourists skirted casino floors to spend money elsewhere.
Las Vegas broker John Knott, head of CBRE Group's global gaming group, said the Bonanza property had been up for sale before and could have fetched $70 million during the bubble years last decade. But he hadn't heard talk over the years that it would get bulldozed for a casino or a condo tower, two favorite projects of the boom era.
"It makes more money doing this," he said of the retail operations.
Gabay could not be reached for comment. His attorney Mark McIntire, of law firm Sklar Williams, said Gabay had been operating the store as a tenant for about a year and would continue to run the "iconic" gift shop for the "foreseeable future."
He said his client has done "very well" operating gift shops and that Bonanza, situated across Sahara from the north edge of the Strip, had "always interested him."
He also confirmed that Gabay acquired the Bonanza property as part of a 1031 exchange linked to his sale this year of property in downtown Las Vegas' canopy-covered Fremont Street Experience.
County records show Gabay sold a narrow, 0.08-acre commercial property at 24 Fremont St. to casino owner Derek Stevens for $13.5 million in June.
Under a 1031 exchange, the Internal Revenue Service lets real estate investors postpone paying taxes on the profits from a sale if they reinvest the proceeds into a similar property.
Meanwhile, county records show the Bonanza property was sold by a venture that included investment firm Eastern Real Estate.
Co-founder Brian Kelly did not respond Monday to an email seeking comment.
Overall, the Strip's real estate market is far from booming – investors are largely ignoring its empty parcels, and two megaresorts in the works, Resorts World Las Vegas and Alon, have shown little to no progress getting built, despite being on the drawing board for a few years.
The retail sector, however, has heated up.
Projects that opened in the past few years include The Linq, a $550 million open-air complex; Grand Bazaar Shops, a 2-acre outdoor plaza in front of Bally's; and a three-story mall at Treasure Island.
Also, this year alone investors bought The Shops at Crystals for $1.1 billion; a 50 percent stake in Fashion Show for $1.25 billion; and the Miracle Mile Shops for what was said to be around $1.1 billion.
Contact Review-Journal writer Eli Segall at 702-383-0342. On Twitter at @eli_segall