After a short break Wynn-Macau love affair back on
February 23, 2016 - 11:51 am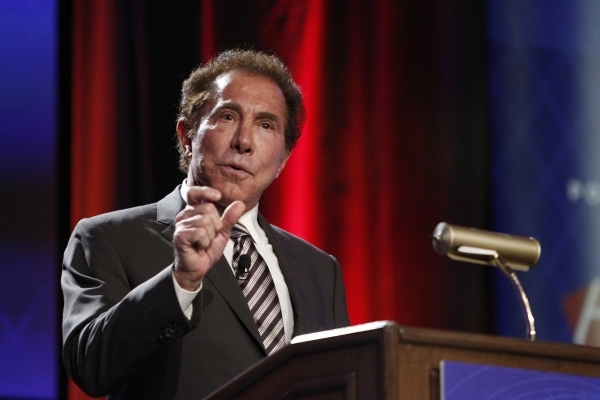 Steve Wynn was calm and complimentary toward the Macau government 12 days ago during the company's fourth-quarter conference call.
Four months earlier, he was boiling over with rage, leveling a verbal beat-down on Chinese gaming officials.
Barclays Bank gaming analyst Felicia Hendrix noticed the difference. She told the chairman and CEO of Wynn Resorts Ltd. he seemed "more Zen" when discussing issues surrounding Macau.
"Zen was a good word. I am more comfortable," Wynn said in response to Hendrix's question about the troubled Macau casino market.
"I am feeling good about it," Wynn said. "I am convinced that the government of Macau is doing everything in their power to make sure that the citizens of Macau and the employees who are citizens are protected and safe to the extent that they are able to contribute to that process."
Macau has experienced 20 straight months of declining gaming revenue. It's expected that February's numbers will result in a 21st straight monthly dip when they are released next week.
The steady drop has been blamed on a troubled Chinese economy and a Beijing-mandated crackdown on corruption that has ensnared operators of high-end junket businesses tasked with bringing big-spending gamblers to Macau's private gaming salons. Macau's gaming market hit a five-year revenue low in 2015.
Wynn took aim at the Macau government during his October conference call. He said the lack of clarity on table game allocations for the $4.1 billion Wynn Palace was "the most ludicrous decision that I've seen in my 45 years of experience." Wynn described the process as "outrageous," "ridiculous" and "preposterous."
His tirade was so loud that Macau gaming regulators summoned his top executives for a private meeting.
Wynn told Hendrix he now has a different opinion of the Macau government, even though he still has no idea how many of the 500 table games the company is seeking for Wynn Palace will actually be allocated. He's confident, however, Macau wants the casinos to be successful.
"I think all of us have managed to work our way through some of the complexities and ramifications of that process," Wynn said. "The government wants these places to get off on the right foot and I think that the government will do what they have to do to see that that happens."
The opening of the 1,700-room Wynn Palace, with its performance lake and gondola rides that carry customers above the water feature into the resort, had been pushed back three months to June 25 and the company is hoping to work out issues with the general contractor to meet the deadline.
Wynn Resorts is one of three companies unveiling resorts in Macau, adding to a market that has three dozen large and small resorts. Las Vegas Sands Corp. plans to open its $2.7 billion Parisian in September and MGM Resorts International said last week it pushed back the opening of $3 billion MGM Cotai — originally set for December — to early next year.
At the outset of the earnings call, Wynn said he felt optimistic about Macau, despite the company's 27 percent revenue decline in the fourth quarter at Wynn Macau and Encore. January, he said, was the company's best month "in a long time." The lucrative Chinese New Year holiday was just beginning, which will make or break February's monthly totals.
J.P. Morgan gaming analyst Joe Greff said the data points from Chinese New Year suggest "further 'less bad' trends." The expectations for a monthly performance equal to last February "will be disappointed."
Wall Street is apprehensive about Macau, worrying that there will be continued market declines and the new resorts will just steal business away from other properties.
"Though trends in Macau appear to be stabilizing/bottoming and Mr. Wynn remains confident in the Macau market's long-term prospects, he noted the path toward fulfilling the company's long-term aspirations in Macau is not likely to be devoid of its own set of challenges," Stifel Nicolaus Capital Markets gaming analyst Steven Wieczynski said. "We have to admit we agree with his underlying sentiment."
Still, four months after it looked like the nearly 12-year love fest between Wynn and Macau was over, the loving relationship appeared to be back on track.
"When it comes to recreation (in China), Macau is the place of choice," Wynn said.
The Review-Journal is owned by a limited liability company controlled by the Adelson family, majority owners of Las Vegas Sands.
Howard Stutz's Inside Gaming column appears Wednesdays and Sundays. He can be reached at hstutz@reviewjournal.com or 702-477-3871. Find on Twitter: @howardstutz