Gaming Policy panel to look at recreational marijuana
November 25, 2017 - 9:48 am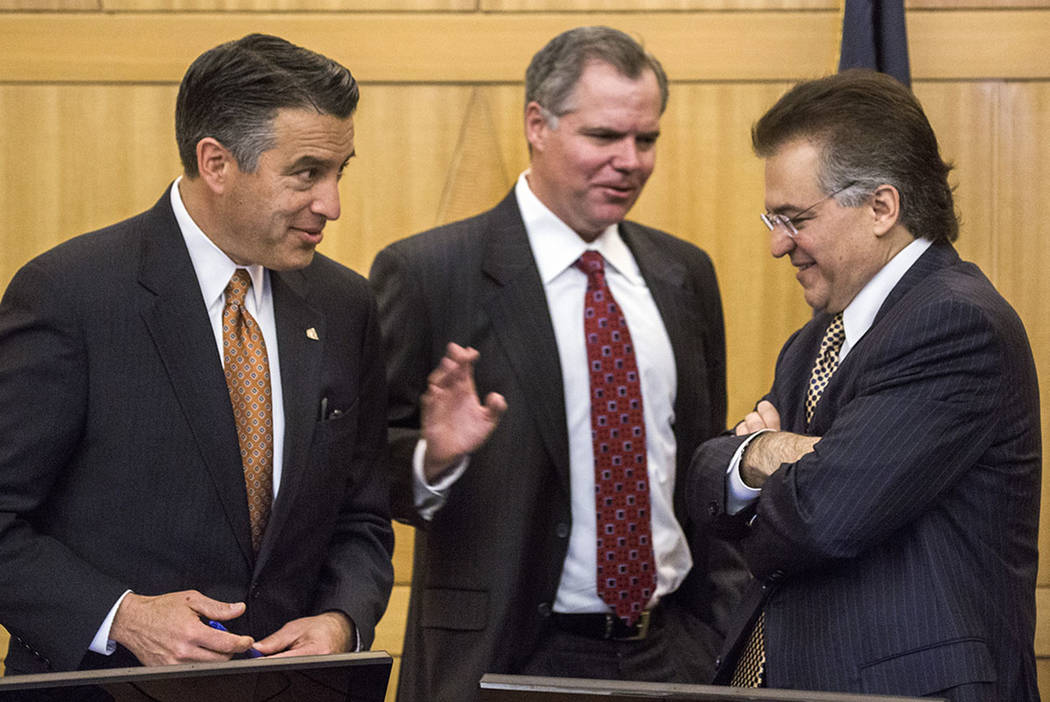 The state Gaming Policy Committee is going to pot this week as top gaming policymakers, including Gov. Brian Sandoval, will discuss whether there's a possible point of entry for recreational marijuana among Nevada's tourism assets.
It's going to be a tough sell, given Nevada regulators' stance on marijuana in the past.
On one hand, you have supporters who see Nevada's new legalization of pot use as another draw for the city. That draw could be — pardon the pun — blunted by California's own advances in legalization. But, hey, this is Las Vegas where "what happens here, stays here."
On the other side are those who point to the federal government view that marijuana use is still illegal by statute. That's why the Nevada Gaming Control Board and the Nevada Gaming Commission have warned gaming licensees that they should not involve themselves in the marijuana business.
It isn't likely that stance will change after the Gaming Policy Committee debates the issue, starting Wednesday at 9 a.m. at the Clark County Government Center. But stranger things have happened, and the concept of marijuana lounges appeals to many.
There does appear to be a potential opening that would permit the appearance of marijuana in resort settings, and that's one of topics that will be discussed Wednesday.
The marijuana business is in its infancy and, like most industries, can benefit from conventions and trade shows among entrepreneurs with a like interest in growth.
Las Vegas is the nation's leading trade show destination in North America and already hosts more than 21,000 conventions and shows a year, some with unconventional products and topics.
The committee has invited Cassandra Farrington, CEO of Marijuana Business Daily, to talk about industry events like the Marijuana Business Conference and Expo, or MJBizCon, that brought more than 10,000 people and 700 vendors to the Las Vegas Convention Center earlier this month. The committee will discuss the propriety of business events that don't involve the sale or consumption of marijuana. Deonne Contine and Kile Porter of the state Department of Taxation also will be part of that discussion and share the potential tourism windfall generated by the convention.
State Gaming Control Board Chairman A.G. Burnett and Gaming Commission Chairman Tony Alamo, who has the unique position of simultaneously wearing a gaming regulator hat as well as holding medical doctor credentials, are members of the committee and also will weigh in on current policies involving resorts and marijuana.
The agenda also includes an explanation of federal marijuana laws by attorney Brian Barnes of Cooper & Kirk and a discussion of financial relationships and money-laundering issues with three other experts. They include two Station Casinos executives, former Clark County Sheriff Bill Young, senior vice president of compliance and security for Station, and Paul Camacho, vice president of anti-money laundering compliance, as well as Candace Carlyon, an attorney with Clark Hill.
It'll be an interesting dynamic in play for this Gaming Policy Committee, a 12-member board called by the governor to tackle complex policy issues and make recommendations regulators can enact.
In addition to Sandoval, Burnett and Alamo, the board includes State Sen. Tick Segerblom, a candidate for the Clark County Commission and a leading advocate for marijuana reform; Nevada Assemblyman Steve Yeager, who has service on various criminal justice policy committees; and three gaming industry executives, Jim Murren of MGM Resorts International, Keith Smith of Boyd Gaming and Blake Sartini of Golden Gaming, which owns the PT's Pub chain.
The committee could deliberate on policy recommendations Wednesday or meet again to come up with proposals for consideration.
Contact Richard N. Velotta at rvelotta@reviewjournal.com or 702-477-3893. Follow @RickVelotta on Twitter.
POT NEWS
Read complete coverage of marijuana issues in the Las Vegas Review-Journal.