LVCVA swings for the fences with $80M naming rights deal
October 14, 2017 - 12:43 pm
Updated October 15, 2017 - 12:44 pm
I love baseball.
Always have.
Played it. Taught my kids to play it. You can find me in Arizona or Florida for spring training in March, at Coors Field and Cashman Field in the summer and in front of a television watching the playoffs in October. (We Rockies fans call it "Rocktober," by the way.)
It's clear that members of the board of the Las Vegas Convention and Visitors Authority love it, too, because some of them were willing to risk the board's reputation as the marketers-in-chief of Las Vegas to spend $80 million on a naming rights deal many say is a preposterous sum to be spending on a minor-league venue.
North Las Vegas Mayor John Lee, a member of the board, didn't want any part of it, voting against the deal, a departure for a board that almost always votes unanimously on everything.
As the debate unfolded Tuesday, it was clear that the decision was based as much on the LVCVA's desire to get out from under the expense of keeping up Cashman Field, where the Las Vegas 51s now play, as it was about marketing the city.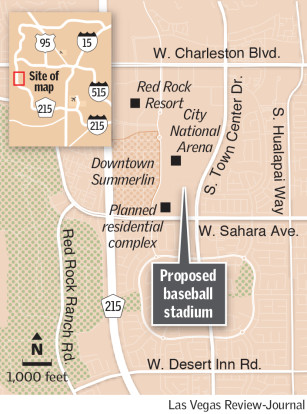 Under contracts that have been in place since the Las Vegas Stars first began playing here in 1983, the LVCVA has been responsible for providing the venue for the team and over the years has fought a losing battle to keep Cashman fresh while cities all over the country built better stadiums and facilities that lured West Coast affiliates away.
LVCVA chief financial officer Rana Lacer showed board members the math, saying paying $4 million a year for naming rights would be better than spending more than $5 million a year to staff and provide upkeep for what has become one of the most outdated facilities in Triple-A baseball and a place Major League teams avoid in their player development affiliation deals. Seems the New York Mets couldn't wait to get out of here.
The naming rights deal also was written to guarantee that "Las Vegas" remains a part of the team name.
Maybe that was a smart play, although no one expects a rush to rename the team the "Summerlin 51s." Of course, that's what they thought in Southern California where there were years when the Angels were known as the "Anaheim Angels" and the "Los Angeles Angels of Anaheim." That fiasco kept lawyers busy for months.
There's been some criticism of the lack of imagination in the name "Las Vegas Ballpark." LVCVA President and CEO Rossi Ralenkotter, a huge baseball fan, follows the Cincinnati Reds. Where do they play? The Great American Ballpark. Coincidence?
The LVCVA's basic mission is to "put heads in beds," but it really doesn't look like a lot of new heads will be bedding down here as a result of this deal. Ralenkotter rattled off a few: Big League Weekend, which brings major league teams for a couple of spring training games; players and team officials with the 51s' opponents; Major League Baseball's winter meetings every five years.
The heads in beds for Big League Weekend and for other teams would be here regardless of where the stadium is. The winter meetings preserve the city's baseball legacy, which, Ralenkotter says, could someday be important to bringing a major league team to town permanently.
But is it worth $80 million?
To critics who feel burned by a $750 million subsidy to build a football stadium, it all comes across as corporate welfare for the Howard Hughes Corp., a company that helped build Las Vegas.
To the critics, no amount of love for baseball is worth such a handout.
Contact Richard N. Velotta at rvelotta@reviewjournal.com or 702-477-3893. Follow @RickVelotta on Twitter.