Las Vegas 51s moving to $150M Summerlin stadium in 2019
October 10, 2017 - 12:44 pm
Updated October 10, 2017 - 5:43 pm
The Las Vegas 51s Triple-A minor league baseball team will get a new home in 2019, but not before representatives of the Las Vegas Convention and Visitors Authority board of directors debated for 1½ hours on whether the $80 million dedicated to stadium naming rights is money well-spent.
Board members on Tuesday voted 8-2 with two abstentions to approve a 20-year agreement with the owners of the 51s, the Howard Hughes Corp., for the right to be the dominant sponsor of the stadium and guarantee that "Las Vegas" always be a part of the name of the team.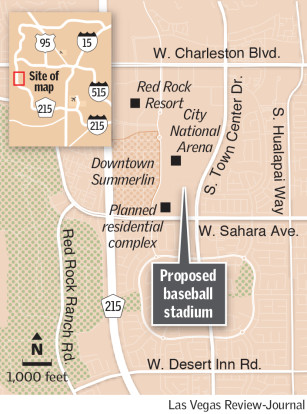 The 10,000-seat stadium, which is still under design, will be known as Las Vegas Ballpark. Ground is expected to be broken on the $150 million open-air stadium late this year or early next year with play beginning in the 2019 season.
The 51s confirmed Monday that the New York Mets are ending their affiliation with Las Vegas at the end of the 2018 season.
Two votes against
The LVCVA board usually is united on matters brought to a vote, but some members showed hesitancy supporting the large dollar amount and low return on investment. Board members Ricki Barlow, a Las Vegas city councilman, and John Lee, the mayor of North Las Vegas, opposed the measure and Las Vegas Mayor Carolyn Goodman, who expressed concerns about the public perception of the move, and Clark County Commissioner Larry Brown, who works for the 51s, abstained. Brown, a former Major League Baseball pitcher, did not participate in the debate.
"This is public money and it comes to us by taxes that were voted on by the Legislature and that Legislature was voted in by residents of my community," Lee said in the explanation of his vote. "And I don't think, as their leader, that this is a very good and responsible thing to do."
Lee said the proposed domed football stadium being built by the Oakland Raiders with a $750 million public subsidy would create jobs. But not this project.
"I don't think this is going to create a lot of jobs so I question this expenditure," he said. "I think this is a great opportunity for a private company to take this on."
LVCVA criticism
Goodman said she is concerned about public criticism of the board's decision, noting the scrutiny the LVCVA has received from the Review-Journal on questionable spending on extravagant meals and alcoholic beverages and transportation provided to its leaders, including her husband, former board member and Las Vegas Mayor Oscar Goodman, who now serves as the head of the LVCVA's host committee.
Board member Bill Noonan, a Boyd Gaming executive, said he had some misgivings about voting for the proposal since it would mean the city's Pacific Coast League representative would move from Cashman Field near downtown — and three Boyd properties — to a location next door to locals casino competitor Station Casinos' Red Rock Resort in Summerlin. But he voted in favor, saying the community's greater good would be served.
Major-league potential
LVCVA President and CEO Rossi Ralenkotter, an admitted baseball fan, said the $80 million investment — $4 million a year from 2019 to 2038, beginning as soon as the ballpark opens — would fulfill the organization's mission of putting "heads in beds."
He said the move takes the LVCVA out of the baseball stadium management business and allows it to instead focus on professional sports' marketing potential.
Ralenkotter said possibly the biggest benefit to preserving professional baseball in Las Vegas with a new stadium and superior training facilities is that Las Vegas would position itself well when Major League Baseball considers expanding or moving a franchise.
"When they (Major League Baseball) look at new markets, they're always looking at a place that has some baseball tradition," Ralenkotter said. "If there was an opportunity … sometime in the future, there may be the ability for us to attract a major-league team."
A clause within the contract enables the LVCVA to exit it if minor-league baseball no longer is played in the city.
Ralenkotter said local resorts would continue to benefit every March when the LVCVA sponsors Big League Weekend, spring training exhibition games involving major-league teams. Under the approved contract, the LVCVA would attempt to expand play to a second Big League weekend.
He said those games not only enhance the destination for major-league sports, but also provides destination marketing when games are broadcast to the teams' home cities.
Construction timeline
Now that the 51s have a deal in place for the naming rights, the focus turns to stadium design and construction.
If team owners can break ground by January, the hopes of having the new stadium open by 2019 will likely come to fruition. Howard Hughes Corp. general counsel Peter Riley said the company is anticipating a 14-month construction timeline.
As for the time frame, Riley said a lot of it had to deal with when steel is ordered.
"That's one of the big components — can we get the steel that we need delivered in time for the schedule? Because we could have all the greatest intentions in the world, but if we can't get the steel here on time, then we won't make it so there's a lot of moving parts right now so it's very hard to say," he said.
There is a chance the opening could get pushed back to 2020, though team president Don Logan seemed optimistic the project would be completed for the 2019 season.
"We're going to sit down and come up with a plan that says 'OK, here's what we want to build. Here's where we're going to build it. What's it going to cost? How do we put it all together?' Now the onus is on us," Logan said. "There was no point in us doing a lot of work on a new stadium until we knew we had some sort of significant financial support."
The cost to build the stadium is expected to be around $90 million. The cost of the land, which the Howard Hughes Corp. owns and will provide, is around $30 million. In total, the project will likely cost around $150 million, including soft costs.
"There's nothing set in concrete right now," Riley said. "We just don't have the contracts. We don't have the drawings yet because we couldn't really do anything, I mean anything of substance, because we couldn't just start spending dollars until we knew we had a naming rights deal because without a naming rights deal, we probably wouldn't have gone forward."
Thumbs up
Following the board members' lengthy deliberation, Logan had a simple message for team general manager Chuck Johnson: a thumbs-up emoji.
"This deal doesn't encumber taxpayer dollars. It's a naming rights deal," Logan said. "It's a marketing deal. It saves the LVCVA a lot of money. "Everything about it works," he said. "It's a win, win, win."
Several former 51s and Las Vegas Stars players attended the meeting in support of the deal. Among them were free-agent first baseman James Loney and Chasen Bradford and Paul Sewald, who played for the Mets and 51s last year.
Contact Richard N. Velotta at rvelotta@reviewjournal.com or 702-477-3893. Follow @RickVelotta on Twitter. Contact Betsy Helfand at bhelfand@reviewjournal.com. Follow @BetsyHelfand on Twitter.
Ballpark costs
A look at the costs of the largest minor league baseball parks built since 2012:
Triple A
2014 Southwest University Park (El Paso Chihuahuas), 8,018 seats, $72 million.
2014: BB&T Ballpark (Charlotte Knights),10,200 seats, $54 million.
2015: First Tennessee Park, (Nashville Sounds), 10,000 seats, $91 million.
Double A
2012: Admiral Mason Field (Pensacola Blue Wahoos) 5,038 seats, $23.8 million.
2013: Regions Field (Birmingham Barons), 8,500 seats, $64 million.
2015: MGM Park (Biloxi Shuckers), 6,076 seats, $36 million.
2017: Dunkin' Donuts Park (Hartford Yard Goats), 6,121 seats, $56 million
Independent
2014: CHS Field (St. Paul Saints), 7,200 seats, $72 million.
Does not include spring training stadiums used as homes to Rookie League and Class A teams.
— Bill Bradley
Renowned architect
The new stadium will be designed by nationally recognized HOK Design, which has 23 offices worldwide and is the largest architecture and design company in the United States.
The park will be adjacent to Downtown Summerlin, near the recently opened City National Arena, the National Hockey League Vegas Golden Knights' practice facility, which will be just beyond the left-field fence.
According to a Howard Hughes Corp. statement, the new stadium would feature "22 suites, club seats, berm seating, party zones and decks, picnic tables, kids' zones, bars and even a pool beyond the outfield wall."
Logan has talked extensively about building a new park that features additional player development amenities — upgraded batting cages, improved strength and conditioning facilities, and the like — that Cashman Field does not have.
It's a project the 51s have been trying to get done for years that has been repeatedly slowed. Now, a finish line is finally in sight.
— Betsy Helfand and Richard N. Velotta