Raiders to reveal Las Vegas stadium parking plan this week
Updated August 26, 2018 - 12:20 am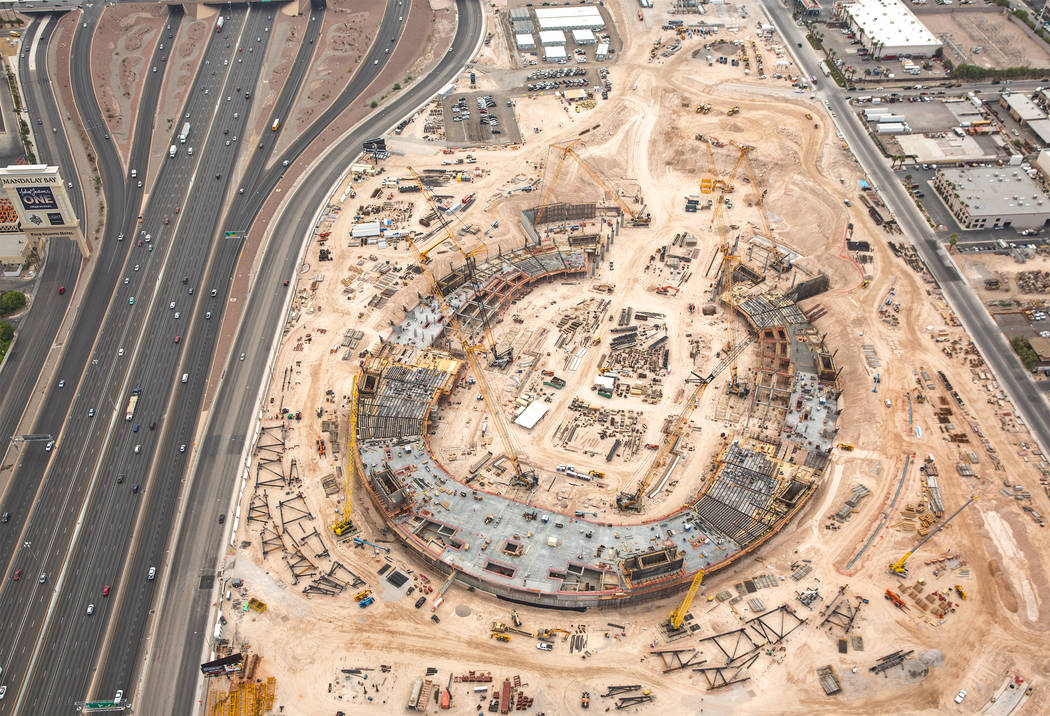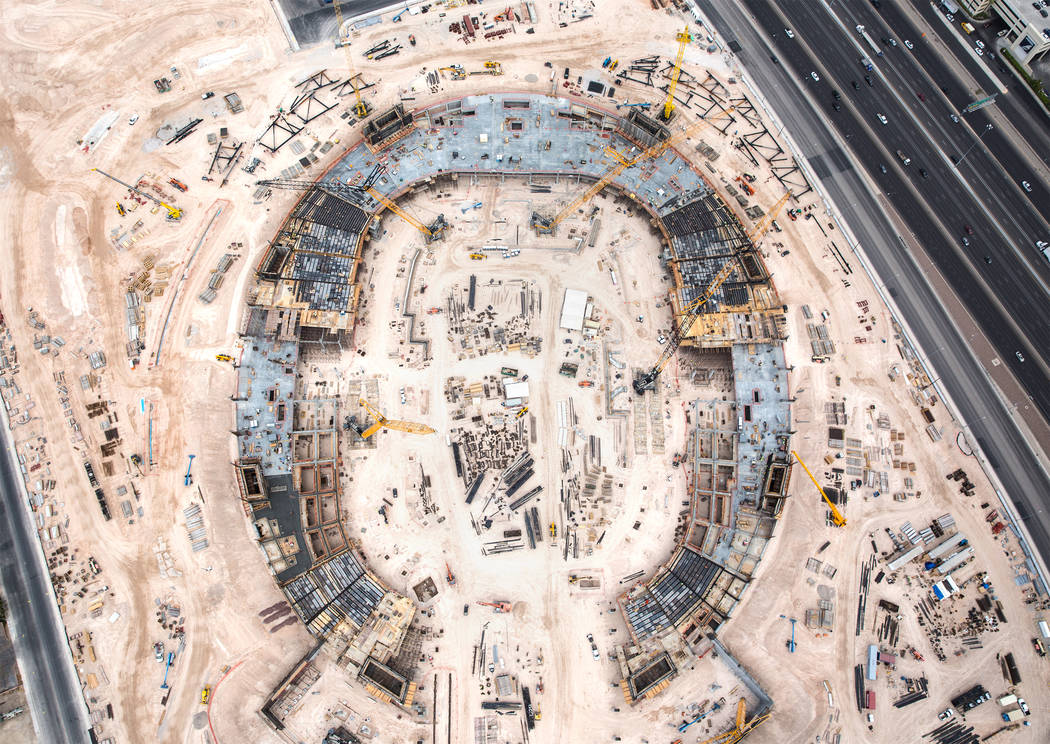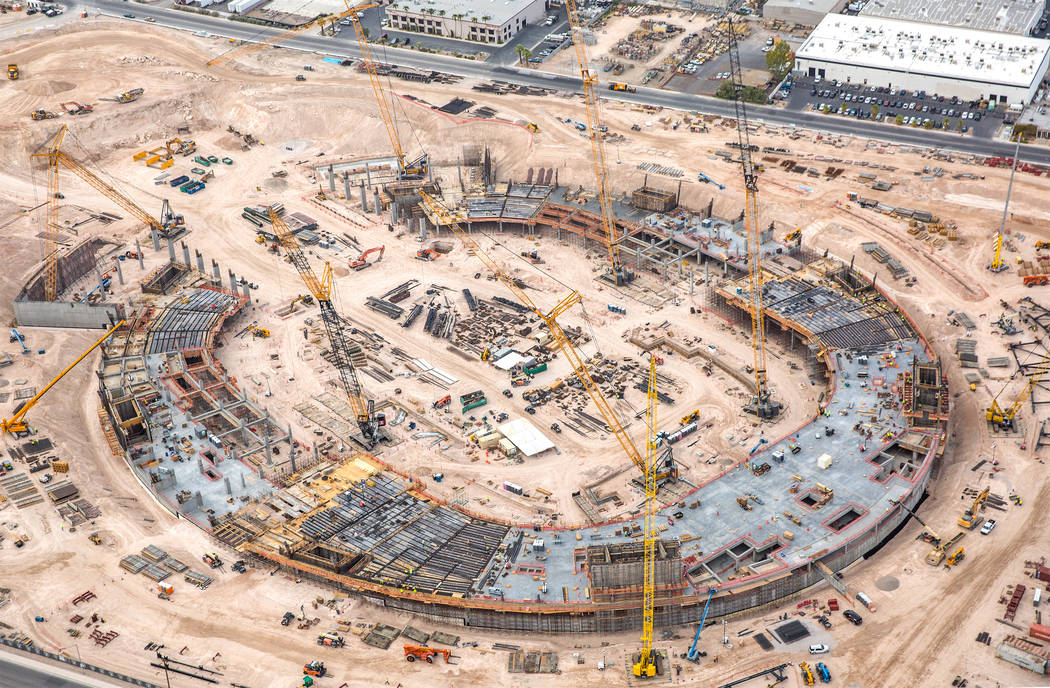 This should be the week we get some answers to one of Southern Nevada's biggest mysteries: Where will the thousands of people attending events at the new Las Vegas stadium park their cars?
Last week, I posted a photo on Twitter of the stadium site from the air, inspiring dozens of followers to remark about the lack of parking.
The Raiders, with one foot in the Bay area and one in Nevada, have said they're working on a plan and would provide details to the Clark County Commission by September.
Las Vegas journalists have prodded Raiders President Marc Badain so often that he grimaces whenever the subject comes up.
Clark County officials say commissioners will take up the parking issue as a zoning matter on Sept. 5 and that related documents should be posted on the county's website this week.
What we know is that the county requires the team to account for 16,250 parking spaces for the 65,000-seat facility. The 63-acre site on which the stadium sits is far too small to provide that many.
From the start, it has been clear that the stadium site was chosen because of its appealing proximity to the Strip and that parking was a matter that would just have to be dealt with.
The Raiders have intimated that their plan probably would include a collection of offsite parking lots. Badain has said that the team has looked at the Bali Hai Golf Club, about three-quarters of a mile away from the stadium.
The Raiders might strike deals with landowners around the stadium to lease parking spaces on event days.
MGM Resorts International is a major landowner east of Interstate 15 in the vicinity of the stadium. Any company would have to be careful not to overcommit to the Raiders to the detriment of its own customers.
One idea that won't be on the table: building a nearby parking garage. The team says it is committed to providing an appropriate game-day experience to accommodate tailgating, which wouldn't happen in a parking garage.
The team and county planners also are trying to be mindful of changes in the way people get from place to place. This will be one of the first stadiums built in the era of ride-hailing services, and futurists tell us that it won't be long before we see autonomous vehicles on our roads. Is it possible that an autonomous car could drop off and pick up attendees?
The extension of the Las Vegas Monorail is another strategy that will come into play, but there hasn't been much news from the company about financing a one-mile extension from MGM Grand to Mandalay Bay.
The Raiders also are conscious that a high percentage of people attending games will be from out of town, staying at the city's resorts. Many of them simply will walk to the stadium, so it will be incumbent upon planners to determine whether more pedestrian bridges across I-15 are needed or whether some streets should have vehicle restrictions on event days.
Football fans are a hardy lot, and a half-mile to a mile walk isn't asking too much of them, although those early-season games when temperatures can still exceed 100 degrees could make a long walk a little uncomfortable for some.
It's noteworthy that the new Las Vegas stadium won't be alone among sports venues that lack nearby parking. The Minnesota Vikings seem to manage at U.S. Bank Stadium in subzero temperatures.
I recently attended a baseball game at Coors Field in downtown Denver, and a cottage industry of bicycle-powered rickshaw drivers has emerged to help people get to their vehicles.
Fans and critics are waiting to see what the Raiders have in mind. We should get answers soon.
Contact Richard N. Velotta at rvelotta@reviewjournal.com or 702-477-3893. Follow @RickVelotta on Twitter.