Big hopes for turnabout on north Las Vegas Strip fall short
December 27, 2016 - 10:01 am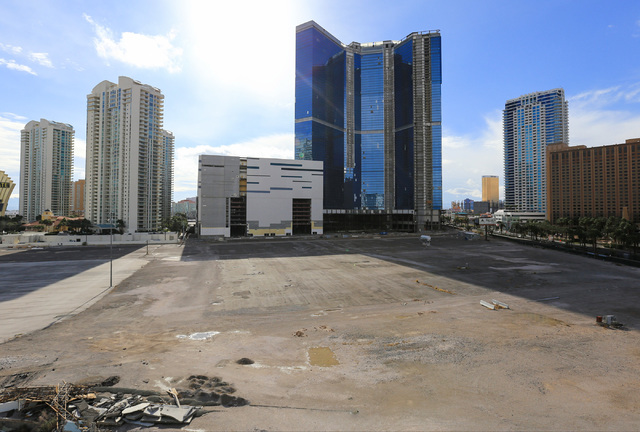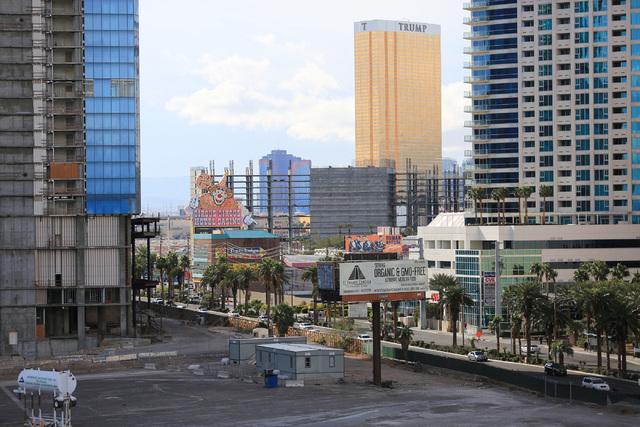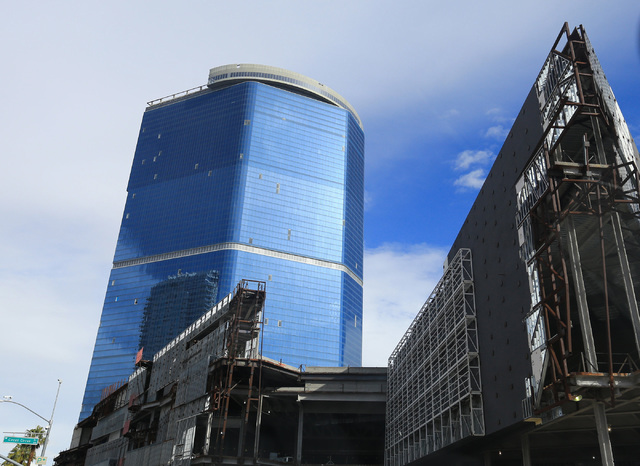 It's a place of abandoned projects, where flashy casinos hemorrhage money, where super-sized dreams go to die.
All this and more – on the north Strip!
Compared with other stretches of the resort corridor, the north Strip can seem a bleak place. It has hotels, retail and other offerings, but overall it gets less foot traffic and commerce than other areas of Las Vegas Boulevard, no thanks to its big, fenced-off lots where proposed projects never opened or are making little to no progress.
After more than a decade of grandiose plans and little to show for them, I do wonder: is the north Strip cursed?
In fairness, it's not the only part of the resort corridor with eyesores. Fun attractions on the south Strip include the boarded-up White Sands Motel; the closed Laughing Jackalope tavern; and the abandoned, partially built SkyVue observation-wheel project, which consists of little more than two towering, concrete columns sticking out of the ground.
Moreover, the north Strip isn't the only part of Las Vegas where big projects fizzle. The valley has a proud tradition of people pitching super-sized developments and never building them or, as many did during the recession, halting construction partway.
But in the past few years, two megaresorts were proposed for the north Strip, a renovated hotel opened and other activity bubbled up. The area seemed poised for a brighter future in the aftermath of the worst recession in decades.
So far, the hoped-for turnaround has had a wobbly start.
The former Sahara underwent a $415 million renovation and opened in summer 2014 as the SLS Las Vegas. Within a few months, however, management laid off workers.
The resort lost $122.7 million in the first nine months of 2015; pricey Los Angeles retailer Fred Segal closed its seven stores there a year after the hotel opened; and the resort's president and chief operating officer, Scott Kreeger, is leaving Dec. 31 for another job.
Down the street, the planned Chinese-themed Resorts World Las Vegas is supposed to replace the partially built Echelon project, which Boyd Gaming Corp. abandoned as the economy spiraled. But Resorts World has shown almost no progress getting built, though developer Genting Group bought the 87-acre site in 2013.
Next door, the planned Alon Las Vegas was dealt a big blow this month when its main financial backer, Australian billionaire James Packer's company Crown Resorts, bailed on the 1,100-room project.
Packer and partners acquired the 34.6-acre site, former home of the New Frontier, in 2014 and said they expected to start building a resort in late 2015. But Packer reportedly had trouble raising project funds, and today, the land sits empty.
Here's a look at projects that have come and gone on the north Strip:
Former New Frontier site
In 2007, casino owner Phil Ruffin sold the New Frontier for $1.2 billion to Israeli investors, who imploded it later that year. They sought to replace the hotel with Plaza Las Vegas. But their luxury resort – plans called for 4,100 hotel rooms and 2,600 condo units – went nowhere, flopping with the economy.
Packer's group acquired part of the site through foreclosure and leased the rest from longtime owners the Elardi family.
Former Stardust site
Casino operator Boyd Gaming imploded the Stardust in 2007 to clear space for its $4 billion-plus Echelon resort. Construction started that year, but Boyd pulled the plug in 2008.
The abandoned, partially built project sat for years until Malaysia's Genting Group bought the site for $350 million and unveiled plans for a $2 billion resort. At that time, Resorts World was expected to open in 2016.
When the sale was announced, Gov. Brian Sandoval said the new project would "help us in keeping our economic resurgence on the right path towards success," and Sen. Harry Reid said it would "be a boon to the Nevada economy."
Today, the property shows few noticeable changes since Genting bought it.
Fontainebleau
Towering more than 60 stories above the Strip, the $3 billion Fontainebleau resort was supposed to open in 2009. But the project, whose investors included Packer, went bankrupt in 2009.
Billionaire Carl Icahn bought the abandoned, partially built tower in 2010 for $150 million. He put it up for sale last year, but it hasn't traded.
Former Wet 'n' Wild site
The 27-acre lot between the Fontainebleau and the SLS used to be home to the Wet 'n' Wild water park. It's had no shortage of big construction plans.
■ By 2003, investors wanted to replace the water park with the Voyager resort. Their plans included a 50-story tower, a marina and a 600-foot high Ferris wheel.
■ By 2007, Packer and Texas developer Chris Milam wanted to build the 142-story, 1,888-foot Crown Las Vegas resort, which would have been the tallest building west of the Mississippi River, reports said. The proposed height was later shaved, but they eventually ditched the project.
■ By 2010, Milam had proposed building the 20,000-seat Silver State Arena.
■ In late 2013, ex-NBA and UNLV basketball player Jackie Robinson announced plans for a $1.3 billion project featuring a 22,000-seat arena with a retractable roof, a 300,000-square-foot retail plaza and a five-star hotel. County records show plans for a 16-screen movie theater, nightclubs, a grocery store, an outdoor ice rink and a movie-production studio.
Robinson held a ceremonial groundbreaking in fall 2014, saying the arena was projected to open in early 2017.
Today, the site is largely empty.
Contact Review-Journal writer Eli Segall at (702) 383-0342. On Twitter at @eli_segall.