The cheapest and most expensive homes sold in Las Vegas in 2016
February 18, 2017 - 4:30 pm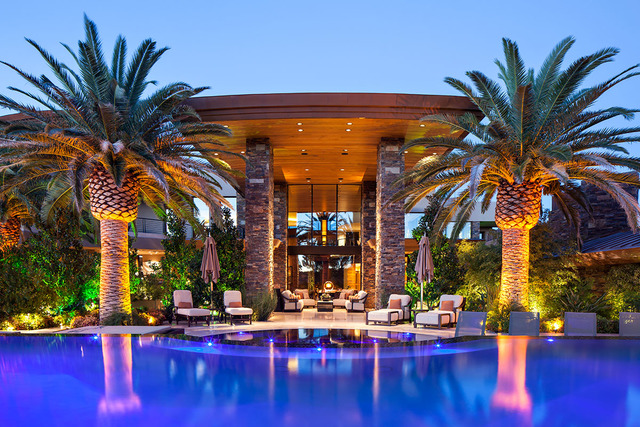 Sitting on "billionaire's row," the megamansion features a Zen garden inside, a gym, elevators, a movie theater and even a nightclub. And last year, it fetched the highest price ever for a Las Vegas house.
Another home, east of the Strip, is a small one-bedroom condo that faced foreclosure during the recession. It's been spruced up but was the cheapest sale in the valley in 2016, trading for the price of a subcompact car.
There were about 47,000 sales of previously owned homes in the Las Vegas Valley last year, with a median price of $199,900, according to Applied Analysis' residential research arm, SalesTraq. But which properties sold at the extreme ends of this range?
I've done this kind of story before, and the disparities were stark, to say the least. In 2014, the priciest resale was a Summerlin mansion that sold for $8 million and boasted a movie theater, a fitness room and a 4,600-square-foot guest house.
The cheapest resale that year, a two-level home that sold for $10,000, was in a rundown condo complex on Bonanza Road near Martin Luther King Boulevard that had dirt courtyards and barred and boarded-up windows.
As for 2016, here's a look at both ends of the price spectrum.
2,000 POUND DOOR
The eight-bedroom home at 1625 Enclave Court in Summerlin is the size of an office building, spanning 31,000 square feet, and is packed with goodies. It has a golf simulation room, spa facilities, a glass wine cellar and a nightclub with a two-story bar, lighting effects, lounge seating and a dance floor.
The four-story, steel-and-concrete house also has an 18-foot front door that weighs 2,000 pounds.
Famed magician David Copperfield bought the property, off Town Center Drive and Summerlin Parkway, last June for $17.55 million. According to an announcement by brokerage Berkshire Hathaway HomeServices Nevada Properties, which represented Copperfield and the seller, it was the most expensive home sale ever recorded in Las Vegas.
Enclave Court has several megamansions and, according to Copperfield's brokers, is known as billionaire's row.
'AMAZING OPPORTUNITY!'
About 15 miles from Copperfield's compound, near the corner of Twain Avenue and Swenson Street, a 624-square-foot condo sold twice in 2016, for $16,100 both times, county records show.
The Greater Las Vegas Association of Realtors, pulling data from its listing service, says it was the cheapest sale of the year in the valley.
The condo, unit No. 8 at 615 Royal Crest Circle, was built in 1963. A listing online shows a nice, updated interior and says it has new cabinets, stainless steel appliances and upgraded laminate flooring.
"Amazing opportunity!" the listing says. "Most upgraded condo this complex has seen."
Like countless other properties around the valley, its value plunged from a decade ago. The condo sold for $72,500 in 2007, but in 2010, after the market crashed, the homeowners association filed a default notice claiming $2,310 was owed, cxounty records show.
The HOA later filed notices that a foreclosure auction would be held.
The owner held on to it, however, and sold the condo in January 2016 for $16,100. That buyer sold it for the same price in June to someone who sold it in July for $39,000, property records show.
The soaring prices of the go-go years may have ended for the condo. But harkening back to those days, who says you still can't flip it?
Contact Eli Segall at esegall@reviewjournal.com or 702-383-0342. Follow @eli_segall on Twitter.