And they're off … at the Sigma Derby horse race
Updated June 12, 2017 - 7:23 pm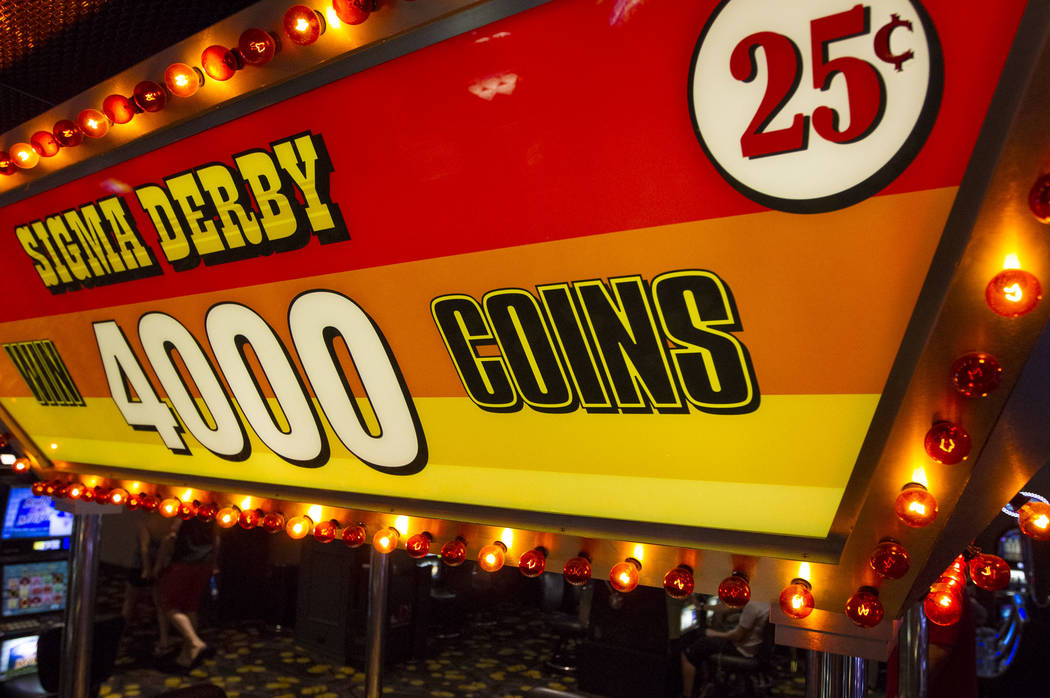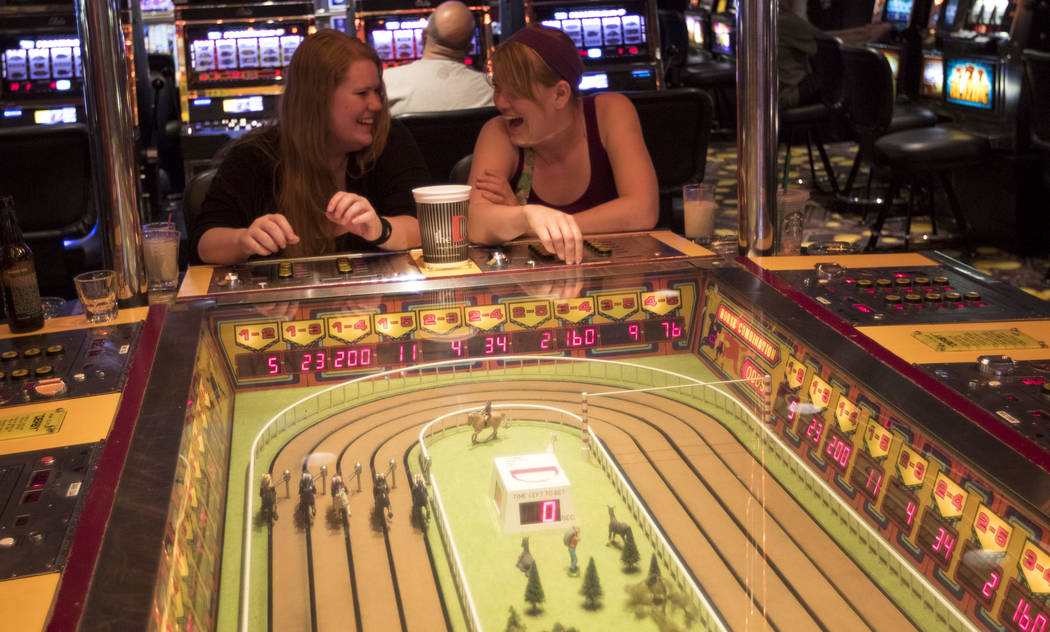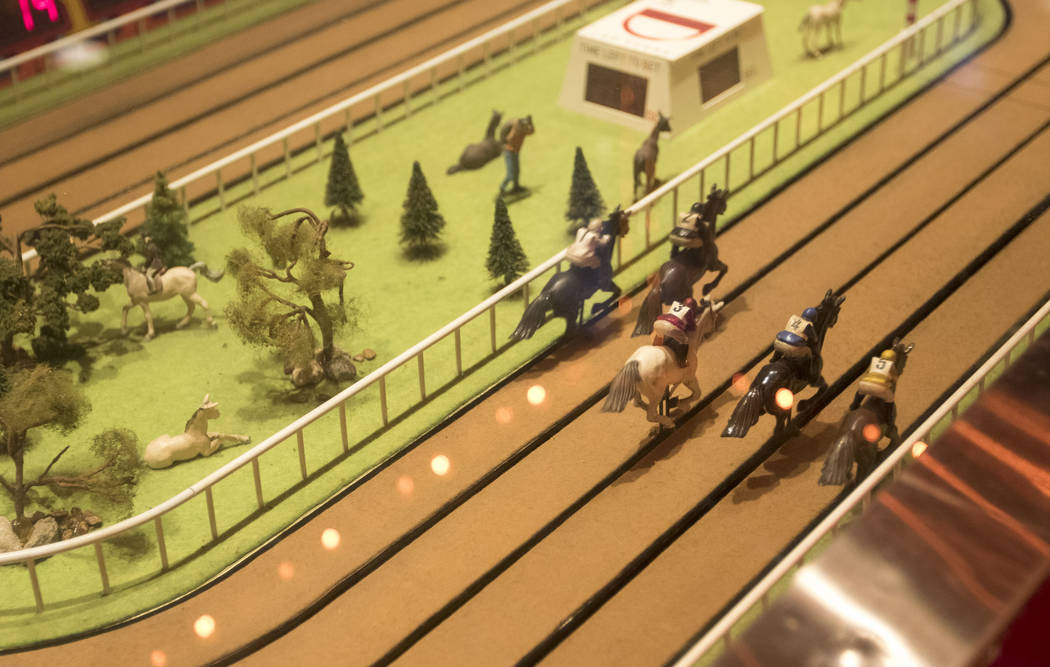 The retro Sigma Derby gaming machine, in theory, is a poor product to have on a casino floor.
It takes up valuable real estate. Compared to the roll of the dice or the push of a slot, it is incredibly slow, taking more than a minute to complete. Gamblers lose money slowly, one or a few quarters at a time, not in lots of $5 or $10 or $100.
More importantly, it breaks down frequently. Spare parts are hard to find, as the makers are no longer in business.
It is the equivalent of putting an Atari video game console in an e-sports arena.
Two left in Vegas
That rationale is probably why nearly every Las Vegas casino got rid of the game.
But it still lives on at the D Las Vegas and MGM Grand.
Its profitability can't be accurately judged by traditional means of win per day.
Like a panda bear at a zoo, its rare status helps drive people, who drop money on food and beverage or other games, into the casinos.
Zach, a 23-year old from Houston in Las Vegas this past weekend to celebrate the completion of his engineering degree, said he probably would not have come to the D on Thursday night with two friends were it not for Sigma Derby.
"All the other machines here are the same as in other casinos," said Zach as he dropped four quarters into the derby game to make three separate bets.
"(Sigma Derby) is low stakes and very engaging," said Zach, who had a bucket with $5 in quarters. "It is fun to watch them run around and root for your horse."
Zach's voice is slightly drowned out by a 40-year-old man on the other side of the table betting on the horses with his friends, nearly all clutching large beers in plastic cups. "Come on 1, 4! 1, 4! 1, 4! 1, 4! Ahh, you suck!" he shouts as he watches the horses move at a turtle's pace across the finish line.
Zach won one of his three bets on this race to net 50 cents.
Nearby, inside the D Grill restaurant, a noisy party of seven middle-aged people are talking about Sigma Derby as they wait for their food. A woman wearing glasses tells the table it's her favorite game. Her tipsy friend to the left jokes they are all going to play Sigma Derby, even if it means pushing people aside.
'Destination game'
"When we bought this property, we wanted to bring something in that we thought would be a destination game, something iconic and a little bit different," said Derek Stevens, chief executive office and co-owner of the D. "For me, there was never really a choice. Sigma Derby created the energy that you could get out of a hot craps game, and I thought it was a terrific way to build camaraderie and fun.
"As long as we can keep it up and running, we are going to be in good shape.''
That isn't a foregone conclusion.
Roughly every 70 seconds, the gates on the Sigma Derby game open, and five plastic horses painted white, brown and black and their jockeys lurch forward about an inch with the help of chains.
The laws of physics — for every action there is an opposite and equal reaction — seem to come into play, causing the horses to jerk backward a bit.
Then another awkward lurch forward. Gravity is ready to take down any horse at any moment, adding to the uncertainty and thrill.
The race continues at this agonizingly slow speed for about 30 seconds, accompanied by the sound of hooves thrashing the ground, until the horses reach the finish line.
This big, clunky machine gets exhausted just like a thoroughbred after a real derby race.
"Sometimes we have to put the sign up – the sign says these horses got tired, come back again," said Stevens. "The passionate fans know it happens. It's like a rainout.''
Sound of coins
Stevens bought the 32-year-old game in 2012 and made it the centerpiece of the D's second-floor Vintage Vegas section. He declined to say exactly how much he paid.
"It is definitely the most expensive machine we have by a long shot. It was under ($100,000), but it was a big number.''
The average new, coin-operated slot costs around $15,000-$20,000.
During an episode of Las Vegas-based reality TV show "Pawn Stars," Stevens declined to sell his 1985 Sigma for less than $80,000.
The purchase price is "the least important element" of Sigma Derby's overall cost, Stevens says.
"The amount of days it's down, the amount of repair and labor, the spare parts issues — those elements are really the big ones. It is far in excess of the capital costs."
Despite the costs, Sigma Derby survived the massive revamp of the D's slot floor, where 60 percent of games have been changed in just the past two years.
In addition to its destination status, the game has personal significance for Stevens.
It was the first gaming machine he ever played in Las Vegas, when he ventured into the Dunes, just shy of his 21st birthday.
Contact Todd Prince at tprince@reviewjournal.com or 702-383-0386. Follow @toddprincetv on Twitter.
How it works
The object of the game is to pick the two horses that will finish 1-2 in either order in the race. With five horses, there are 10 possible combinations and thus 10 buttons.
Players can bet as many as 20 quarters per combination. Ten people can play at one time.
The machine will dispense quarters to a winning combination.
"I kept on walking by these buckets and I am like, why do we have buckets in here?" said Jen Bell, who recently joined The D as new player development director. "It is fun to hear the coins come out."