Caesars Entertainment files lawsuit against bond holders
August 5, 2014 - 12:36 pm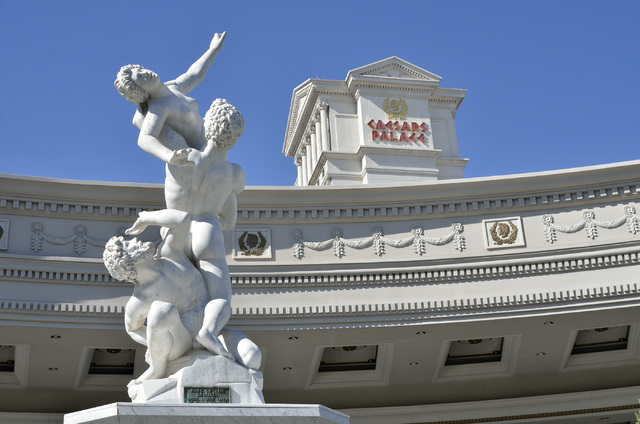 Caesars Entertainment Corp. filed a lawsuit Tuesday in New York against a group of the company's institutional investors, claiming the bond holders are trying to block the casino operator's debt restructuring efforts.
Caesars named more than two dozen investment firms, hedge funds, and management groups in the lawsuit, which was filed in the Supreme Court of New York. The defendants include institutional investors who hold second-lien notes issued by Caesars, along with Elliott Management Corp., which holds first-lien notes.
"Elliott appears to have the greatest ulterior motive in seeing that (Caesars) defaults rather than survives and thrives," attorneys wrote in the complaint.
In a statement, Caesars said the investors "have sought to injure" the company and the actions are "apparently designed" to push Caesars into default.
Caesars Entertainment, which operates nine resorts on or near the Strip and more than 50 gaming properties nationwide, has been attempting to restructure the company's gaming industry-high $23 billion in long-term debt.
In a statement, Caesars Chairman Gary Loveman said the company completed more than 50 capital markets transactions to improve the company's financial condition. Loveman said the company has also taken steps to enhance operating performance.
Caesars alleged that second-lien bond holders served the company with a "baseless notice of default." The complaint asks that court stop the activity.
"We refuse to be held hostage by speculators who appear to be betting against the long-term health of our enterprise as well as our more than 60,000 employees and the communities in which we operate," Loveman said.
Meanwhile, noteholders sued Caesars in Delaware's Court of Chancery late Monday night and are seeking to unwind several of the sales of the company's assets to affiliated subsidiaries.
Caesars announced an overall restructuring plan in May that eliminated more than $1 billion in debt that was due next year while providing a different ownership structure to pieces of the company. The company recently raised $1.75 billion in new debt associated with 2015 debt retirement, as well paying down $800 million of debt due in 2016.
The company also installed new management into Caesars Entertainment Operation Co., (CEOC), which operates 44 casino properties in 13 states — the largest chunk of the company's operating divisions. CEOC owns Caesars Palace, Caesars Atlantic City, Harrah's Reno, and much of the company's regional properties.
Casinos and properties held under CEOC owe roughly 80 percent of the company's overall debt.
Caesars other major operating division is Caesars Growth Partners, which is publicly traded on the Nasdaq as Caesars Acquisition Co. The business, which is 57 percent owned by Caesars Entertainment, includes The Cromwell, The Quad, Bally's Las Vegas, Planet Hollywood, Harrah's New Orleans, a 41 percent interest in Horseshoe Baltimore and Caesars Interactive Entertainment.
According to Reuters, Wilmington Savings Fund Society said the casinos were fraudulently transferred from the reach of creditors in what they said was preparation for a default.
Caesars Entertainment has said it was preparing the operating company for a stock market listing.
Caesars Entertainment has said the transfers allowed the company to build cash of $3 billion while eliminating its most debt-laden projects.
Noteholders said the moves were aimed at protecting key assets from the reach of creditors.
The Caesars complaint alleges that defendants' actions have included demand letters, disruptive appearances before gaming regulators and the transmission by second-lien holders of what Caesars believes is a baseless default notice.
"Neither Caesars nor (the operating company) have ever missed an interest or principal payment despite the extremely challenging environment," Loveman said. "The meritless actions taken by the defendants impede our ability to conduct rational negotiations with holders to further improve (Caesars) financial condition."
Caesars it would "continue to engage in constructive discussions" with creditors.
Shares of Caesars hit a 52-week low at one point Tuesday before closing at $12.71 on the Nasdaq, down $1.34 or 9.54 percent. Shares of Caesars Acquisition closed at $11.26, down 11 cents or 0.97 percent.
Contact reporter Howard Stutz at hstutz@reviewjournal.com or 702-477-3871. Follow @howardstutz on Twitter.