Companies shop cautiously at Global Gaming Expo
October 6, 2012 - 10:40 pm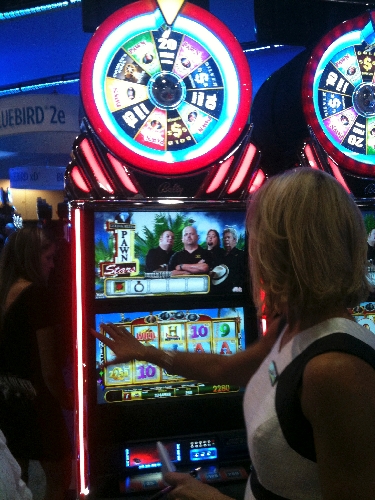 David Brake, general manager of the StoneWolf Casino in central Oklahoma, ignored high-priced themed slot machines at last week's Global Gaming Expo and focused on video poker.
Jack Fabre, director of gaming operations at the Shooting Star Casino in Mahnomen, Minn., checked out games offered at every slot machine manufacturer's G2E booth. But Fabre was somewhat discretionary in his shopping needs.
The two gaming managers, who operate American Indian-owned casinos in rural markets, know the properties would never be mistaken for Bellagio.
Neither would their budgets for new gaming equipment.
Still, at G2E, small gaming operations carried as much buying power as the corporate casino conglomerates.
The slot machine industry, which has suffered declining business since the recession, is looking for any upturn in sales going into 2013.
As such, manufacturers paid close attention to all potential customers at the three-day G2E trade show in the Sands Expo and Convention Center.
In previous years, high-tech advancements overshadowed the games themselves at G2E. But this year, colorful slot machine titles and pop culture themes dominated the trade show's 262,000 square feet of exhibit space.
At International Game Technology's booth, buyers tested slot machines themed after country singer Dolly Parton, reality star Judge Judy and the television series "Family Guy" and "CSI." Bally Technologies offered slot machines themed on NASCAR and the Las Vegas-based reality television show "Pawn Stars."
WMS Industries brought in Gene Simmons and Paul Stanley from the rock band Kiss to promote a slot machine themed after the group's hits. The company hired actors dressed as the Oompa Loompa characters from the "Willy Wonka & the Chocolate Factory" movie to hand out candy and help publicize the slot machine based on the motion picture.
Brean Capital gaming analyst Justin Sebastiano walked the trade-show floor with several casino company property managers to gain their thoughts.
"Overall, they seemed impressed with most of the product that was on display," Sebastiano said.
However, Sebastiano said large multi-property casino operators would continue to be frugal with their spending on new gaming equipment heading into next year.
"Those companies that have continued to replace their machines at consistent levels, despite the economic backdrop, will likely continue to do so," Sebastiano said.
Which makes casino operators like Brake and Fabre even more important.
Brake spent part of his time investigating the upgrades IGT was offering for video poker.
With just 224 slot machines, the StoneWolf, located in a truck stop halfway between Stillwater, Okla., and Tulsa, Okla., along U.S. Highway 412, wouldn't be a good fit for IGT's new slot machine themed after the marine life artist Wyland.
The StoneWolf caters to the interstate trucker crowd and locals.
"We're small, but we're in a competitive market," said Brake, whose casino floor could fit inside IGT's 21,600-square-foot G2E booth. "We'll try new games, but after 60 days we know if they're going to work or not."
An IGT slot machine themed after the HBO television series "Sex and the City," has drawn customers at StoneWolf.
"We want games that will keep a customer a machine longer," he said. "That's one reason we're only looking for upgrades."
The Shooting Star, which is in northwest Minnesota and 70 miles from Fargo, N.D., has 1,100 slot machines. Fabre has little more flexibility than Brake. He was looking at G2E to replace 10 percent to 15 percent of the Shooting Star's inventory.
"It really boils down to what catches my eye," said Fabre, who was waiting for an appointment with a representative from Spielo International. "We like to meet with everybody to see what they're offering. We try out a lot of games, and some just don't work for our property. Others do quite well."
Eric Dale, general manager of Baldini's Casino in Sparks, said smaller casinos have been relying more frequently on participation slot machines – games in which the manufacturer shares in the gaming revenues from a particular machine with the casino.
The participation games business model allows small casinos to install games with mass appeal at a cost much less than buying the newest slot machines.
Baldini's has just 533 slot machines, which means Dale has to be selective in the gaming floor's makeup. He expects the games installed in the casino to be played on multiple occasions by the same players.
"We'll try as many games as we can," Dale said. "Our customers are frequent visitors, maybe several times a week. So a slot machine at our casino has to be a game that someone wants to play on multiple occasions."
Dale admired the 22-foot-tall Kiss slot machine display. He also wondered whether the colorful signs could fit inside Baldini's, which has just 533 slot machines.
Last year's showstopper from Bally Technologies – a slot machine themed with the images and music of entertainer Michael Jackson – gained a loyal following after it was installed at Baldini's.
"(Kiss) might be a machine we would want to try out," Dale said.
A WMS spokeswoman said signs for the Kiss slot machine are typically 10 feet to 14 feet tall, but can be customized to fit a location.
At the Menominee Casino Resort in northeastern Wisconsin, slot machine manager Harley Lyons Jr. said 60 to 100 new games and titles per year are purchased to give customers fresh gaming options.
The casino, about 45 miles north of Green Bay, is in a competitive market.
"We look for good deals (at G2E), but we want to have the best games we can afford on our floor," Lyons said. "We're not big, but we like to keep up with the newest games."
Contact reporter Howard Stutz at hstutz@reviewjournal.com or 702-477-3871. Follow @howardstutz on Twitter.
The power of 'Pawn'
A few years ago, Rick Harrison was basically "a nerd running a pawn shop" when television cameras from the History Channel turned his family business into an internationally recognized product.
So why not put the whole group from the Gold & Silver Pawn Shop on a slot machine?
"It's definitely pretty cool, especially living in Vegas," said Harrison, who stars in the reality series with his father, Richard Harrison, son Corey Harrison and Adam "Chumlee" Russell.
The slot machine, developed by G2 Game Design and produced and distributed by Bally Technologies, was unveiled last week at the Global Gaming Expo. It could be on casino floors in early 2013.
The video game has a bonus feature where players can "pawn" an item with one of the show's stars for additional credits.
Rick Harrison said walking through a casino and seeing his likeness on a slot machine, "will probably be pretty surreal." Then again, the entire rise to fame has been somewhat unusual.
"It gets weirder and weirder," Rick Harrison said. "We started off with a little pawn shop and living the American dream. The American dream is pretty flexible. It's pretty exciting to see this come to fruition."
HOWARD STUTZ
LAS VEGAS REVIEW-JOURNAL