Conferees get first look at Las Vegas e-sports arena
October 26, 2016 - 5:03 pm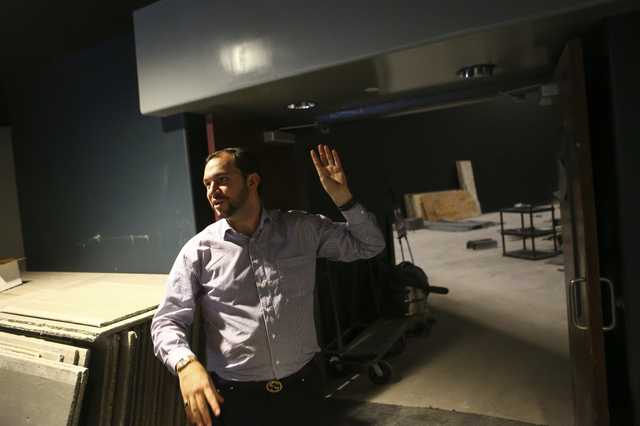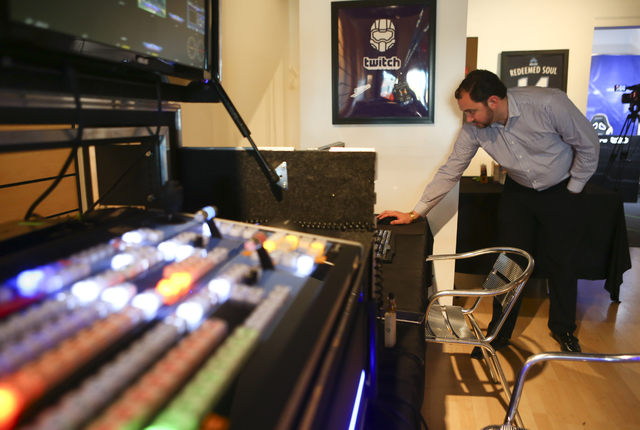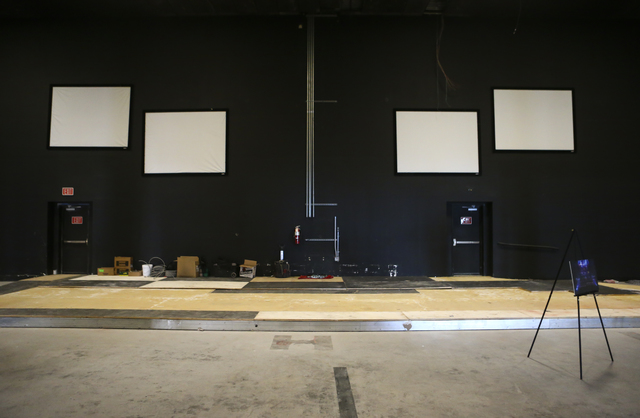 When Southern Nevada's first electronic sports arena opens its doors to the public next month, the public may be able to wager on the outcome of video-game competitions.
About 200 people attending a two-day conference on the business side of wildly popular e-sports competitions got the first look at the 15,000-square-foot arena space under construction at downtown's Neonopolis. Millennial Esports' as-yet-unnamed arena is scheduled to host the North American finals of the Halo Championship Series Open Circuit featuring a $25,000 prize pool Nov. 18-20.
The company's website says the facility will be able to seat up to 500 people.
A venue tour late Wednesday was the final event of the Naruscope E-Sports and Casino Resorts conference, produced by Las Vegas-based Narus Advisors.
Speakers and panelists addressed numerous issues and topics involving e-sports, including how video-game competitions can be integrated into casinos and how gamblers will someday be able to bet on competitions as well as the prospect of players betting against each other.
The popularity of e-sports has exploded over the past two years, with an estimated 115 million fans worldwide and anticipated growth to 212 million by 2019.
North America has the smallest share of fans, but that could change if some of the concepts outlined at the conference come to fruition.
Casino executives are interested in the concept as a way to attract younger people to resort properties.
Panelists discussed e-sports venues as adjuncts to race and sports books or as alternative use spaces in nightclubs.
Seth Schorr, CEO of Fifth Street Gaming, which operates the Downtown Grand, was one of the early believers in e-sports and developed a lounge for players.
"I think people are surprised by its presence when they see it at the Downtown Grand because it's in the center of the casino floor, the most important real estate on the property," Schorr said.
Schorr believes poker players may be able to relate to the potential of players wagering on themselves. He sees a potential model of providing a comfortable setting, allowing players to bet on themselves with a percentage of wagers going to the house.
State Gaming Control Board Chairman A.G. Burnett said regulations are in place for companies to apply for permission to establish wagering on video-game competitions. One of the concerns raised at the conference is whether sports books would be able to uncover collusion or throwing games.
But Burnett said he expects sports books would be able to monitor the integrity of matches the same way they watch conventional sports competitions — by watching the wagering patterns and red-flagging patterns that seem unusual.
Imari Oliver, vice president of sales and global partnerships with Esports WME, said casinos are paying more attention to e-gamers because of their propensity to spend some of their average household income of $65,000 a year on their video-game passion.
He said basketball star Magic Johnson, DJ Steve Aoki and the Philadelphia 76ers have invested in e-sports, teams or leagues because they see an opportunity to interest a demographic that spends more time playing and less time watching television.
"They're shifting from an emerging demographic to the mainstream," Oliver said.
He added that promoting e-sports is easy because most of it occurs through social media mentions embraced by participants and fans.
Some e-sports events already have been embraced by casino companies, including the League Legends Championship Series that was conducted at Mandalay Bay in April.
Next month, the industry will unveil its newest playground at Neonopolis.
Nick Fotheringham, vice president of content and development for Millennial Esports, said once curious casual viewers are immersed in the new arena venue he expects them to become active fans of players, teams and leagues.
"When they come in, they'll say, 'I don't know what this is, but it's amazing,'" he said.
Players will be on an elevated stage, backed by massive LED walls showing game play action with bleachers filled with fans getting commentary from eventcasters and an in-house DJ. The arena will have production studios that will provide events live on the internet.
"When players are in the spotlight and the action is on these screens … it's just a one-of-a-kind event," Fotheringham said.
Contact Richard N. Velotta at rvelotta@reviewjournal.com or 702-477-3893. Follow @RickVelotta on Twitter.