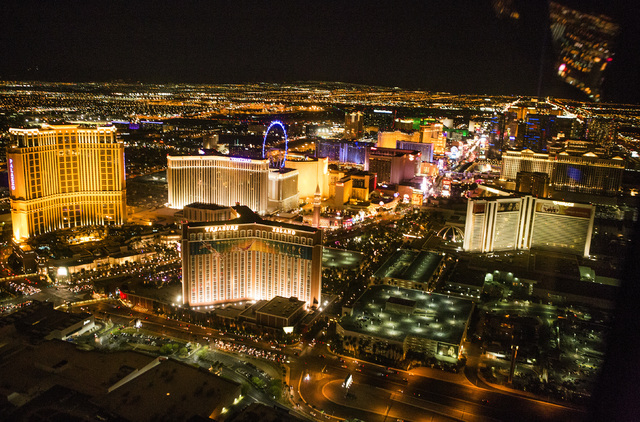 July was a great month for tourism and gaming, but it's hard to get too excited when last year's best was even better.
A drop in Strip baccarat win by casinos and a tough comparison against July 2016's stellar win totals resulted in a gross gaming revenue decline in July, the state Gaming Control Board reported Wednesday.
The Las Vegas Convention and Visitors Authority also reported a 1 percent decline in visitor volume to 3.8 million for July, even though five categories, including volume, were at the highest level of the year.
Statewide, gaming revenue fell 1.7 percent for the month to $998 million, paced by a 7.7 percent decline on the Las Vegas Strip to $565.6 million.
Big loser
Baccarat was the big loser on the Strip, with the board reporting win of $121.4 million, off 18.3 percent from July 2016. Players also were luckier than the house in blackjack which had a 17 percent decline in win to $74.2 million on the Strip.
Statewide, baccarat win was off 19.6 percent to $120.9 million and blackjack declined 12.3 percent to $100 million.
Most of the state's 16 monitored markets had win totals higher than in July 2016, but the Strip's dramatic decline and South Lake Tahoe's 14.8 percent drop in revenue took down the rest of the state.
Downtown Las Vegas, which has enjoyed double-digit percentage increases for most of the last 16 months, was up by 7.8 percent to $45.1 million.
Even though revenue was off statewide, July wasn't a bad month, but it paled in comparison to July 2016 when the state won $1 billion.
The three-month average for May, June and July, which presents a more accurate picture of gaming win trends because of swings in monthly revenue reporting, showed win flat statewide, up 0.8 percent, Clark County up 0.5 percent, but the Strip down 1.4 percent. Downtown Las Vegas's three-month trend line is up 8.7 percent, down from the double-digit percentage increases recorded over the last year.
For the calendar year, statewide win is up 2.6 percent and the Strip is up 1.3 percent.
Michael Lawton, senior research analyst for the Control Board's Tax and License Division, said it was difficult for casinos to match last year's July numbers.
"I'd say $998 million in win is a very good number and on most occasions it would be an increase so we can't be too disappointed in this month's results," Lawton said in an email.
"Baccarat was a driver for the decrease on the Strip and for the state," he said. "However, other games including 21 and sports pools did not help."
Big months ahead
Lawton anticipates a pickup in August and September numbers with two major fight cards on the Strip calendar, including Saturday's Floyd Mayweather-Conor McGregor bout.
On the tourism side, the 3.8 million people who visited in July represented the highest monthly total of 2017.
The LVCVA also reported the most room nights occupied in 2017 (4.3 million), the highest rate of occupancy (94.5 percent) and highest average daily auto traffic on major highways (132,693). Earlier this week, McCarran International Airport reported the highest month ever for passenger traffic at 4.3 million.
Contact Richard N. Velotta at rvelotta@reviewjournal.com or 702-477-3893. Follow @RickVelotta on Twitter.
July tourism indicators
July 2017 July 2016 Change
Visitor volume 3.789 million* 3.828 million -1%
Citywide occupancy 94.5%* 93.7% +0.8 point
Average daily room rate $125.97 $119.24 +5.6%
Room nights occupied 4.305 million* 4.33 million -0.6%
Convention attendance 469,127 351,791 +33.4%
Air passengers 4.326 million* 4.168 million +3.8%
Average daily highway auto traffic 132,693* 132,060 +1.1%
Clark County gaming revenue $848.6 million $867.7 million -2.2%
*Highest level of 2017