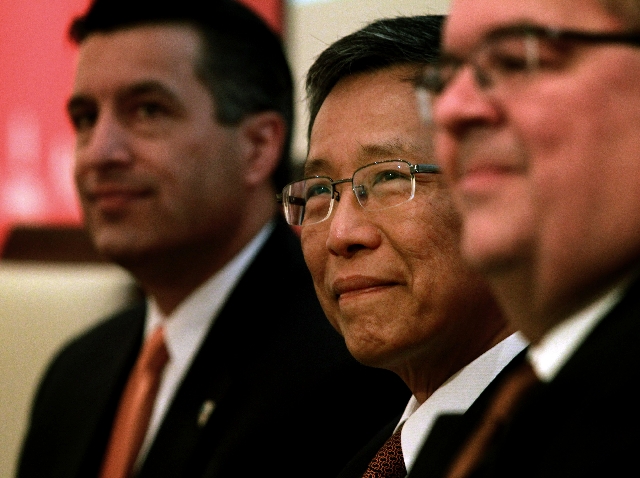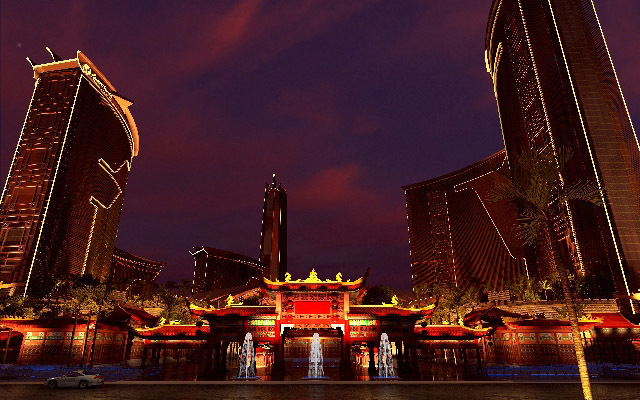 Representatives of Malaysia-based Genting Group were so sure about spending $2 billion to $7 billion to develop Resorts World Las Vegas on the 87-acre Strip site of the unfinished Echelon, they visited all ends of Nevada to make their pitch.
Labor Day weekend meant a trip to Elko for lunch with Gov. Brian Sandoval at the Star restaurant, where the executives, including Genting Chairman KT Lim, dined on chorizo sandwiches.
On a visit to Searchlight, the Genting contingent stopped by the home of Senate Majority Leader Harry Reid, D-Las Vegas, for a meeting that lasted a few hours.
The state's top elected leaders were impressed.
"This is a very successful and historic company," Sandoval said of Genting, which has multiple worldwide businesses and market capitalization of
$38 billion. "I wanted to let them know we were very interested in having them come here."
He wasn't alone.
News of the Strip's first major post-recession development brought the governor, two Clark County commissioners, tourism leaders, organized labor representatives, business leaders and officials from the University of Nevada, Las Vegas to the offices of architects Steelman Partners on Monday.
"This project will provide thousands and thousands of jobs," proclaimed Clark County Commission Chairman Steve Sisolak.
Resorts World officials cautioned that the complex is still being designed, and they did not discuss tangible numbers or an exact development timeline.
The hourlong news conference included two videos: a presentation on Genting's massive worldwide holdings and Steelman's conceptual treatment of Resorts World Las Vegas, an Asian-themed development with seven hotel towers surrounding an 8 million square-foot complex for gaming, dining, retail and entertainment.
"This is the type of vision that will help us revitalize the north end of the Strip," said Clark County Commissioner Chris Giunchigliani, who represents the area.
Genting also wants to bring a live panda habitat, a replica of the Great Wall of China, a 7.5-acre indoor water amusement park, tea gardens, outdoor red pagodas, theaters and other family-friendly attractions.
"The bar for success in Las Vegas is higher than anywhere else in the world, and we are ready to meet that challenge," Lim said.
Genting paid Boyd Gaming Corp. a bargain price of $350 million —
$4 million an acre — for the Echelon site, where construction of a 5,000-room, $4.8 billion development was halted in August 2008.
Genting Senior Vice President of Development Christian Goode said the unfinished Echelon buildings, including hotel towers, foundations and a parking structure, would be incorporated into Resorts World, which could expedite construction time.
"There is already a lot of money in the ground, and we don't want to see anything go to waste," Goode said. "We're actively engaged in the design process."
Construction is to start next year with the initial opening — 3,500 hotel rooms and a 175,000 square-foot casino — in 2016.
Genting operates the Resorts World brand in Singapore, New York, Malaysia, and Manila, with casinos in the United Kingdom, the Bahamas, and Australia.
Goode said the company's initial plan is to target Asian middle-class visitors with disposable income looking to travel in the United States.
"Las Vegas is one of those iconic cities," Goode said.
Sandoval said the investment by Genting could spur additional foreign investment in Nevada.
In September, the governor led a trade mission to China and South Korea to strengthen business ties between Nevada and two of Asia's largest economies.
"I'm really excited about the potential this project could have here," Sandoval said. "Other companies could get interested when they see this investment."
Las Vegas hasn't seen a new hotel-casino opening since the Cosmopolitan of Las Vegas was unveiled in December 2010.
Resorts World's scheduled opening, with the redevelopment of Sahara by SBE Entertainment, could add more capacity to an already saturated market with more than 150,000 hotel rooms, one Wall Street analyst said.
Wells Fargo Securities gaming analyst Cameron McKnight said Genting has a strong high-end customer market, and many of those players already visit Strip casinos operated by Wynn Resorts and Las Vegas Sands Corp.
Resorts World, he said, could take business also from MGM Resorts International and Caesars Entertainment Corp., which each operate 10 Strip resorts.
"The Las Vegas long-term recovery thesis has centered on zero supply growth," McKnight told investors. "New rooms on the Strip could potentially impact existing supply and temper (revenue per available room) growth. That said, the exact positioning and design of the Resort World property remains to be seen."
The optimistic Sandoval, however, said Resorts World just might turn "conventional wisdom on its head."
Contact reporter Howard Stutz at hstutz@reviewjournal.com or 702-477-3871. Follow @howardstutz on Twitter.