Governor plans to leave on trade mission to Australia on Monday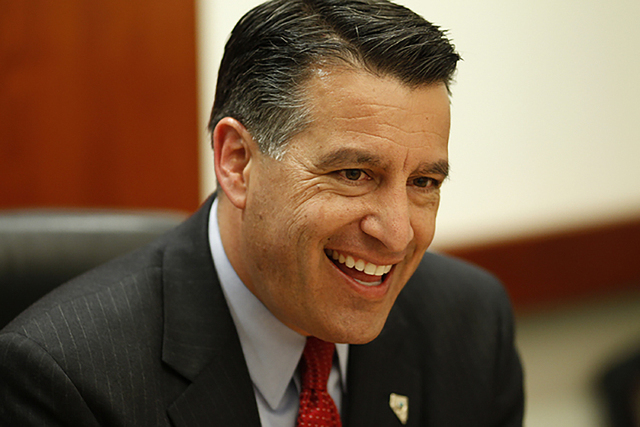 CARSON CITY — Gov. Brian Sandoval plans to leave Monday for Australia along with more than 30 Nevada representatives on a mission designed to enhance trade partnerships that will focus on water technology and commercialization, tourism and gaming.
The Nevada Trade Delegation will also discuss mining, research and educational collaboration, and unmanned technology on the trip that will run through Aug. 6.
The delegation includes representatives from the Governor's Office of Economic Development, the Nevada System of Higher Education, Nevada's mining industry, WaterStart, the Nevada Department of Tourism and Cultural Affairs, Las Vegas economic development agencies, as well as business owners who are interested in strengthening or pursuing trade and export partnerships in Australia.
WaterStart is Nevada's catalyst for inventive technologies that optimize the use and preservation of the state's water resources.
With scheduled stops in Melbourne, Sydney and Brisbane, Sandoval and the delegation will be meeting with high-ranking government officials, leading research institutions and industry representatives to not only highlight the state of Nevada, but also solidify research and export partnerships.
In 2015, Nevada's trade with Australia totaled $149 million, making Australia Nevada's 10th largest trade partner with exports to Australia totaling $104 million and imports valued at $45 million for a trade surplus of $59 million.
Manufacturing accounts for 98 percent of Nevada exports to Australia, and 94 percent of imports. Of Nevada products that were manufactured in the state and exported to Australia, gaming equipment accounted for $33 million of the total. Medical equipment and supply imports from Australia to Nevada totaled $14 million.
Among those going on the trip will be Dale Erquiaga, chief strategy officer for Sandoval; Steve Hill, executive director of the state economic development office; Dana Bennett, president of the Nevada Mining Association; Alma Derricks, vice president of sales and marketing for Cirque du Soleil; and many others representing higher education, mining, gaming and tourism.
Sandoval has gone on several trade missions as governor, most recently in October 2015 when he went to China. He has also visited Canada, Mexico, Israel and Europe.
Contact Sean Whaley at swhaley@reviewjournal.com or 775-461-3820. Find @seanw801 on Twitter.