INTEL: Google Glass ban, Canvas Pop expansion and a slip of the tongue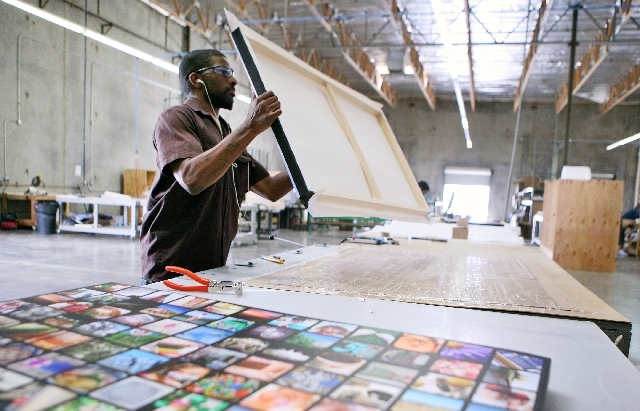 Caesars won't have any of that. And we'd bet most other casinos won't, either.
The New York Times reported recently that a Caesars Entertainment Corp. spokesman said, "We will not allow people to wear Glass while gambling or attending our shows."
No, the spokesman wasn't referring to all glass, he was referring to Google's wearable computer that happens to be called Glass. Computers and recording devices are prohibited in casinos, he noted to the Times.
The device won't be on the market for months, but it is in development. About 10,000 pairs of the frames with a tiny computer attached to the right earpiece are being tested. With Glass, users can access the Internet, take photos and film video.
• • •
CanvasPop is expanding again.
The canvas printing company expanded into 27 European countries last month and plans to increase its Las Vegas workforce exponentially as a result.
CanvasPop started in Las Vegas with a staff of 10. Soon, 20 people will staff the local production center.
By Christmas, the company expects to have 80 to 100 Las Vegas employees.
"The nice thing is we set up in a way that we'll do all the production in our Las Vegas facility," said co-founder Nazim Ahmed.
After production, CanvasPop ships by FedEx to France, then its products are distributed around Europe from there.
"We have a lot of experience selling in Europe," Ahmed said.
His former company, DNA 11, sells products all over the world, so Ahmed has previous exporting experience.
CanvasPop's only plan for its 17,000-square-foot Las Vegas facility is to make it larger.
"This is our large volume production center. We've added volume and invested heavily in retrofitting the space," Ahmed said.
• • •
Henderson's Bob Cooper has another career path paved for him when he's ready.
At a recent groundbreaking event to commemorate FedEx's new distribution center, Henderson's economic development manager accidentally referred to City Councilwoman Gerri Schroder as "congresswoman."
After a quick laugh and good-natured ribbing from some attendees, the incident seemed to be over. Then, Cooper joked to Schroder, "When I retire I'm going to be your campaign manager."
• • •
As many of you know, local politicians often have representatives appear at public events on their behalf where these people give business owners certificates from the politician in question.
Interestingly, U.S. Rep. Joe Heck and Sen. Dean Heller, Republicans who represent Nevada, have representatives who hail from California, as noted after both men recently drove away from a local event in their California-registered vehicles.
Really? There wasn't anyone in the state qualified to represent you?
Go Nevada.
Do you have a news tip for Intel?
Email lcarroll@reviewjournal.com.
Be sure to include contact information.