Nevada and Strip gaming revenue fall in January
February 26, 2016 - 12:28 pm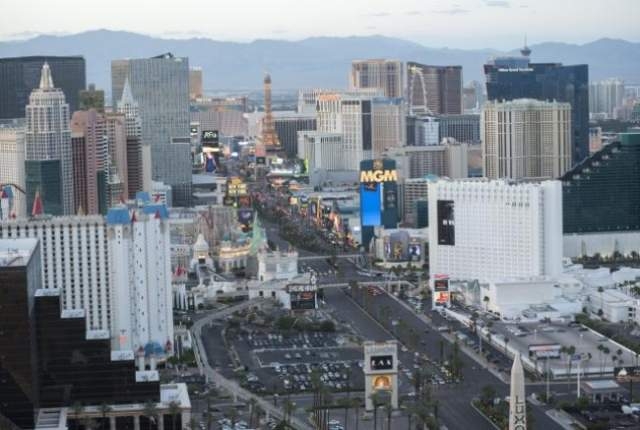 The new year didn't start off as planned for Nevada casinos.
But other areas of the resort industry are doing just fine.
Statewide, gaming revenue fell 2.87 percent in January to $925.3 million, according to figures released Friday by the Gaming Control Board.
On the Strip, gaming revenue was down 7.7 percent to $532.3 million.
Stifel Nicolaus Capital Markets gaming analyst Steven Wieczynski said the January numbers reflect the importance Strip casino operators have placed on nongaming revenue, which now accounts for almost 65 percent of a hotel-casino's bottom line.
Wieczynski said gaming companies are focused on a "resurgent group/convention travel business" to drive nongaming revenue production, such as hotel rooms, dining and entertainment.
"We believe those operators with greater capacity to properly accommodate larger groups and those with premium nongaming amenities are best positioned to thrive in the current operating environment, all else being equal," Wieczynski said.
January included the New Year's Eve holiday and the Consumer Electronics Show that takes over the Strip the first week of the year.
Wells Fargo gaming analyst Cameron McKnight said the soft gaming revenue numbers contrasted with strong visitation numbers that were driven by CES.
"Conventioneers and in particular CES week attendees are not typically gamblers," McKnight said.
Gaming Control Board Senior Research Analyst Michael Lawton said the January gaming totals weren't a surprise given the event calendar on the Strip.
January 2015 was helped by two Ultimate Fighting Championship events, a heavyweight-boxing match and the weeklong runup to Super Bowl 49. This January had just one UFC event and the runup to Super Bowl 50 fell entirely into February.
"We knew that soft events take away from (wagering) volume," Lawton said.
Clark County as whole saw gaming revenue decline just 3.3 percent, due in part to double digit increases from casinos on the Boulder Strip — which includes Henderson — and North Las Vegas.
Macquarie Securities gaming analyst Chad Beynon the 8.8 percent January increase for downtown casino market, highlighted the area's continued resurgence.
As with January 2015, the monthly results did not include any revenue from the Chinese New Year holiday, which fell entirely into February.
On the Strip, baccarat revenue of $101.4 million was a 26.3 percent decline from a year ago while the amount wagered on the game was down 20.3 percent.
Brent Pirosch, director of gaming consulting for CBRE, suggested that January and February be evaluated together, mainly because of the fluctuating calendar surrounding Chinese New Year.
"This year, the January (baccarat) volumes were very weak," Pirosch said. "February's baccarat number will have to be $167.4 million to break even with 2015's January-February total. That is not an impossible number, but it would have to be more than 30 percent above February 2015 to break even, and the baccarat trends have been weak thus far."
Table game revenue not including baccarat was $172.3 million, down 5.5 percent. Wagering was off 20.3 percent. Revenue from slot machines grew less than 1 percent to $258.5 million while the amount of money wagered on slot machines was off 7.9 percent.
Despite the down revenue totals, gaming taxes collected in February based on January's revenue totals grew 19.6 percent to $81.7 million. Lawton said marker collections from high-end players in previous months helped push up the totals.
For the first eight months of the fiscal year, gaming tax collections are up 3.75 percent.
Contact reporter Howard Stutz at hstutz@reviewjournal.com or 702-477-3871. Find @howardstutz on Twitter.