Nevada's casino gaming win dips for first time in 6 months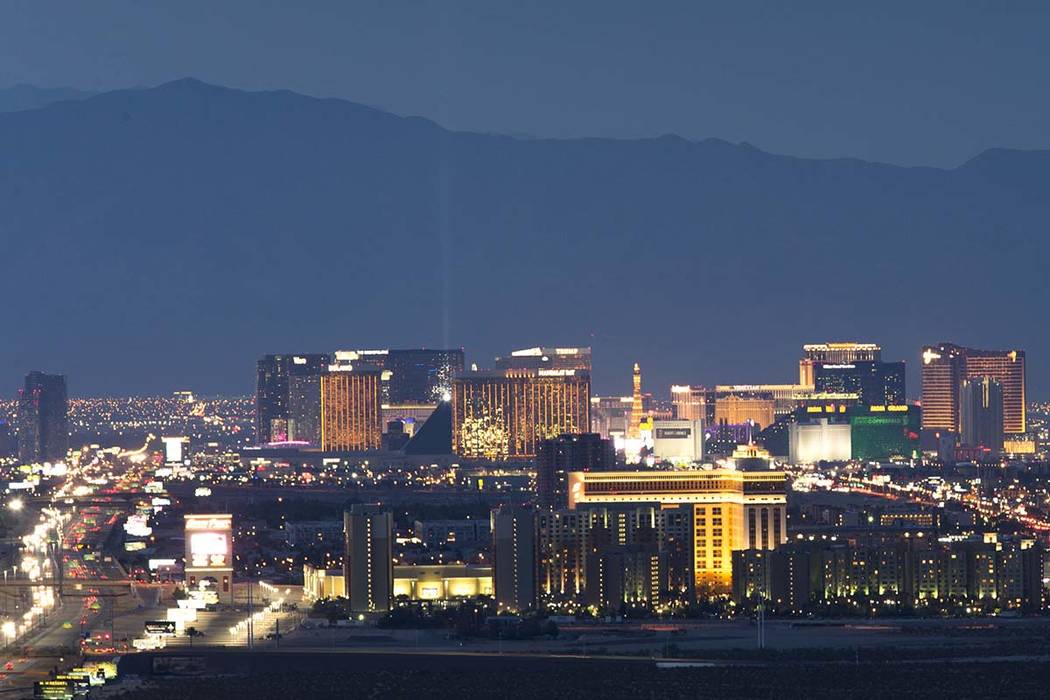 One fewer weekend day and a weak convention calendar produced a lackluster visitation month for Southern Nevada in July, the Las Vegas Convention and Visitors Authority reported Thursday.
Year-over-year visitor volume was down 3.4 percent — the biggest decline by percentage for the year — to 3.7 million people for the month. Convention visitation was off 19.5 percent to 408,000, also the biggest decline by percentage of 2018.
Citywide occupancy declined 3.7 percentage points to 90.8 percent and the average daily room rate fell 4.3 percent to $119.08.
Two bright spots involved transportation. McCarran International Airport boardings and deplanings climbed 2.3 percent to 4.4 million passengers, while traffic on major highways leading to Las Vegas was down 1.3 percent from last year to 130,920 vehicles a day, the highest monthly total of 2018.
July's double-digit percentage decline in convention visitation, the third month in which that has occurred in 2018, resulted from some trade shows skipping Las Vegas this year and others moving their shows to different months.
The Association of Woodworking and Furnishing Suppliers and its 18,500 delegates as well as the IDEA Health & Fitness Association (10,000 attendees) rotated out of Las Vegas this year. The World Pet Association (20,000 attendees), which met last year in July, was in June this year, and the Black Hat security conference (17,400) was in August this year.
State casino gaming win showed its first decline in six months in July on a tough comparison against last year, the state Gaming Control Board reported Thursday.
The board reported the state's casinos collected $996.4 million, off 0.2 percent from the $998 million won in July 2017.
Strip win was down 5.8 percent to $533.1 million, while downtown Las Vegas improved 8.2 percent to $48.8 million for the month.
It was the second straight July in which a relatively strong win total was upstaged by totals from the previous year.
The three-month gaming revenue trend for the state, generally a more accurate gauge of win activity because it eliminates volatile swings resulting from calendar comparisons, shows the state's 435 licensees' win up 3.1 percent for May, June and July compared with those months in 2017.
Michael Lawton, senior research analyst for the administration division of the Control Board, said all 20 markets monitored by the board are ahead of last year's pace for the first seven months of 2018. He said lower baccarat volumes contributed to win falling short of July 2017's totals.
"Last July nearly recorded $1 billion in win, and we came up just shy of matching that number this month," Lawton said.
"Game and table win was the reason statewide win was off, which was due to baccarat and mini-baccarat recording lower volume amounts, but the decreases were primarily the result of lower hold," he said. "Due to slot collection timing, July benefited compared to last year; however, it wasn't enough to make up for the lower hold percentages recorded by baccarat, min-baccarat, twenty-one, craps and roulette."
Contact Richard N. Velotta at rvelotta@reviewjournal.com or 702-477-3893. Follow @RickVelotta on Twitter.
July tourism indicators
July 2018 July 2017 Change
Visitor volume 3.66 million 3.789 million -3.4%
Citywide occupancy 90.8% 94.5% -3.7 points
Average daily
room rate $119.08 $125.97 -4.3%
Room nights occupied 4.155 million 4.305 million -3.5%
Convention attendance 408,000# 469,127 -19.5%
Air passengers 4.426 million 4.326 million +2.3%
Average daily highway
auto traffic 130,920* 132,693 +1.1%
Clark County
gaming revenue $839 million $848.6 million -2%
*Highest level of 2018
#Lowest level of 2018