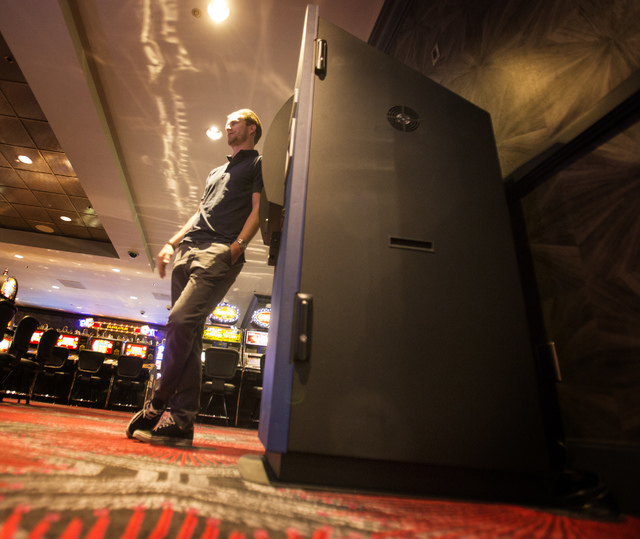 A tall blue box tucked in the rear of The D casino in downtown Las Vegas could soon shake up the gambling industry.
That's the hope of Derek Stevens and Jordan Kelley, who met Wednesday on the casino floor as they prepared to launch the first Bitcoin ATM ever placed in a casino.
Standing against a wall next to the hotel gift shop, which accepts the virtual currency, the 5-foot, 7-inch Robocoin machine was powered up Thursday, allowing customers to transform Bitcoin into cash and cash into Bitcoin.
"I'm anxious. I'm excited about it," Stevens, the casino's owner told Kelley, CEO of Las Vegas-based Robocoin. "But it's not something you can project that easy."
Robocoin can hold upward of $500,000 in cash. Kelley likes to think of rich foreign businessmen storing loads of cash in Bitcoin before traveling to Las Vegas and emptying their online wallets in the form of dollars at the casino.
"This is going to change the international gaming market considerably," he said. "It's going to add enormous value from a gaming perspective."
Robocoin made international headlines by launching the world's first Bitcoin ATM in a Canadian coffee shop in October. The machine conducted $100,000 worth of transactions in the first 8 days and $1 million in the first 29 days, Kelley said.
The company took off. Robocoin started selling its ATMs around the globe, having shipped 55 — 20 of them now in operation — to places such as Singapore, Japan and Australia. Six are in the in the United States.
Kelly called the machine at The D "lucky No. 7."
Robocoin recently moved its headquarters to an office at The Ogden condominiums, where nine employees work on the software. The machines are manufactured in Arizona, and Robocoin has a team in Reno. Kelley declined to discuss revenue figures.
The D started accepting Bitcoin for nongaming transactions in January, and Stevens said the virtual currency has drawn people from Europe and Asia, a crowd he did not expect.
"It's broadened our target base," said Stevens, who helped revitalize the Fremont Street casino formerly known as Fitzgeralds. "I wouldn't even know how the hell to target certain areas of Europe or certain areas of Asia."
Stevens said he received approval to install the machine from the Nevada Gaming Control Board after a review of the security of Robocoin transactions.
A customer must set up a Robocoin account before depositing or withdrawing cash. That process includes typing in a phone number to receive a verification text message, punching that verification code into the machine, creating a PIN, sliding in a government-issued ID card, and placing a hand over a scan for a palm vein pattern, or "biometric authentication," before the machine takes a picture of the customer.
Kelley said all that takes less than 5 minutes, and once set up, customers can use the Bitcoin ATM with phone and PIN verification.
In part because of the volatility of the virtual currency, regulators have not allowed Bitcoin for gambling.
"We are very clean on this," Stevens said of the Bitcoin ATM. "This gets to be a whole other ball game where it becomes more transnational base. If people are taking Bitcoin and turning it into a currency, then they're free to use it however they want to like anybody else who has dollars in their pocket."
Kelley said he expects to have another Bitcoin ATM in Las Vegas by the end of June and at least five more by the end of the year, including some at other casinos.
A Las Vegas native who graduated from The Meadows School, Kelley, 27, has close ties to the gaming industry.
His father, Kevin Kelley, recently stepped down as executive vice president of Station Casinos. Kevin Kelley's sister is married to Station CEO and Chairman Frank Fertitta III, Jordan Kelley's uncle and godfather. His grandfather, Robert Kelley, was general manager of the former Las Vegas Hilton, now LVH.
"Having a machine in a casino is a testament to how far Bitcoin has come," he said. "We've built the most compliant Bitcoin ATM in its space, and we shine a very compliant light on Bitcoin."
More and more Southern Nevada companies have started to accept Bitcoin, and the ATM is a promising sign for cryptocurrency enthusiasts.
"It's great for visitors coming to Las Vegas," said Julian Tosh, who runs BitCoinsInVegas.com. "Bitcoin is a global currency. Las vegas is a global destination. People can come here with their Bitcoins and be funded for entertainment and gambling in the local currency. It's really good for the tourism industry. This makes it easier for people to spend Bitcoins in our local economy."
Contact reporter David Ferrara at 702-387-5290 or dferrara@reviewjournal.com. Find him on Twitter: @randompoker.