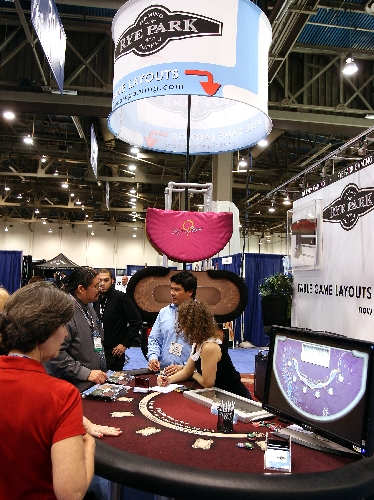 Many Global Gaming Expo attendees almost naturally gravitate to the exhibitors with displays the size of houses and flashing lights by the thousands.
But much of the nuts and bolts of industry — in some instances literally — are found in booths about the size of closets.
Because they are relatively small and privately held, the Las Vegas-based companies exhibiting in these spaces are not widely known. Selling items such as light bulbs, game layouts and cash-handling machines, they operate with a glamour deficiency but are vital components of any casino.
In several instances, they cement the city's connection to the world as the U.S. head offices of foreign companies. As such, they provide some ballast to the local economy because their fortunes do not rise and fall with the fortunes of the Strip alone.
The following is a cross-section of those who exhibited.
Rye Park Gaming
Casinos regularly replace their table game layouts as the color wears off, players spill drinks on them or burn them with cigarettes.
Rye Park Gaming President Randy Ying tries to convince casino managers that aesthetics matter, too.
"We think we can liven up a normally boring part of the casino," he said.
He will come up with custom designs and different color schemes well beyond the traditional green. But for good measure, he also pitches his layouts as using a dying process that retains the color longer.
Ying started the company in 2003 in Tempe, Ariz., and moved to Las Vegas early last year. Although the company had a branch office here before that, he now wants to boost his local presence after selling more elsewhere in the Southwest.
Besides the layouts, Rye Park Gaming builds casino furniture such as tables and rolling drink carts, many on a custom basis.
YWS
With massive and grandiose having gone into hibernation, design work now focuses on the more mundane questions of function.
"A lot of the conversations we have with casino owners revolve around what's working and not working, what can we do to improve operations," said Jon Sparer, a principal with the YWS architecture firm. "There is very much a tightening of the control over budgets."
For example, YWS is redesigning the entrance to Planet Hollywood Resort, which Harrah's Entertainment acquired this year. It is the only property on the Strip that not only downplays the entrance through obscure signs, but elevates it above street level and creates a bypass for pedestrians. Work is to start in January.
Other adjustments might come from converting a high-limit poker room to a lounge or switching a steak restaurant to a more informal barbecue format.
"If you can't do the smaller project, you will have trouble staying busy," Sparer said.
Astrosystems
Although the Astrosystems once again bought a G2E booth to display its cash-handling hardware, managers are much more excited about gasoline stations these days than casinos.
Regardless of how the economic cycle turns, the company sees an ongoing slide for bill acceptors as the industry increasingly installs ticket in-ticket out machines. The one bright spot is selling replacements at lower prices than the original manufacturer.
Coin acceptors have already largely disappeared.
As a result, operations manager Mike Welter said, the demand for bill acceptors at gasoline stations that charge customers $1 to pump up their tires looks much more promising, as does the expanding use of do-it-yourself checkout stations at supermarkets and discount retailers.
But on the gaming floor, he said, "We can go after the small manufacturers. We don't pursue the big guys like Bally (Technologies), IGT (International Game Technology) and Aristocrat (Gaming)."
Astrosystems is a U.S. subsidiary of China's Astrotech Group, which makes electronic devices ranging from appliance controls to pest control devices through other subsidiaries.
 Secure Mobile Destruction
When a representative of a client walked up to the booth of Secure Mobile Destruction, Vice President Alex Thomson cheerfully greeted him with the line, "We've destroyed for you."
For 11 years, the North Las Vegas company has driven its semi-trailers to casinos to obliterate unneeded tokens, chips or casino coins. Not only can the detritus be recycled, he said, but the work can be done on site within view of casino managers if they wish.
But similar to Astrosystems, Secure Mobile Destruction has seen its market erode due to ticket in-ticket out technology. When cashless gaming first came into vogue about six or seven years ago, Thomson said, the company saw a burst of token destruction, but demand is slowly fading.
The Bright Group
Best known among equipment makers for it wiring harnesses, Bright Group is trying to live up to its name.
Its main push is for light-emitting diode signs and slot machine toppers to replace ones lit by conventional bulbs or fluorescents. Although the company normally sells to manufacturers, President and general manager Martin Glazman said he hopes to convince casino managers that the savings from longer life and cooler operations, reducing air conditioning bills, make the up-front costs worth it.
The Bright Group parent company, which is based in Sydney, chose Las Vegas last year as the base for its U.S. subsidiary.
"The owners determined that if they were going to grow, they had to have a presence here," Glazman said.
That has included not only sales and front office people, but a warehouse and some final assembly work.
In addition, Bright Group has a manufacturing wing in China.
BMM Compliance
The slot machine makers put a lot of effort into an enticing exterior. BMM Compliance worries about what happens inside.
The firm, started in Australia in 1981, moved its head office to Las Vegas eight years ago because of its pre-eminence in the industry, particularly on the regulatory side. BMM tests machines, for state agencies or casinos, to ensure that they are operating and paying out according to standards.
The industry slowdown of the past couple of years has reached testing services, too, Senior Vice President Richard Williamson said, so the firm has pushed to broaden its base. In June, for example, BMM became part of the first test lab in South Korea, part of growing presence in Asia.
Contact reporter Tim O'Reiley at
toreiley@reviewjournal.com or 702-387-5290.