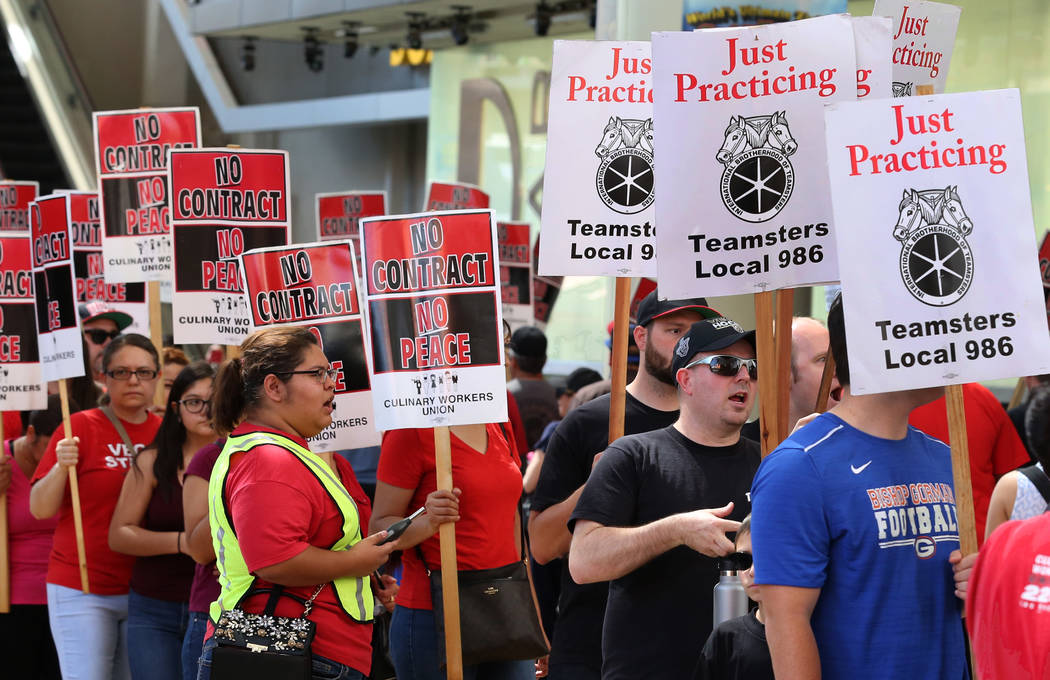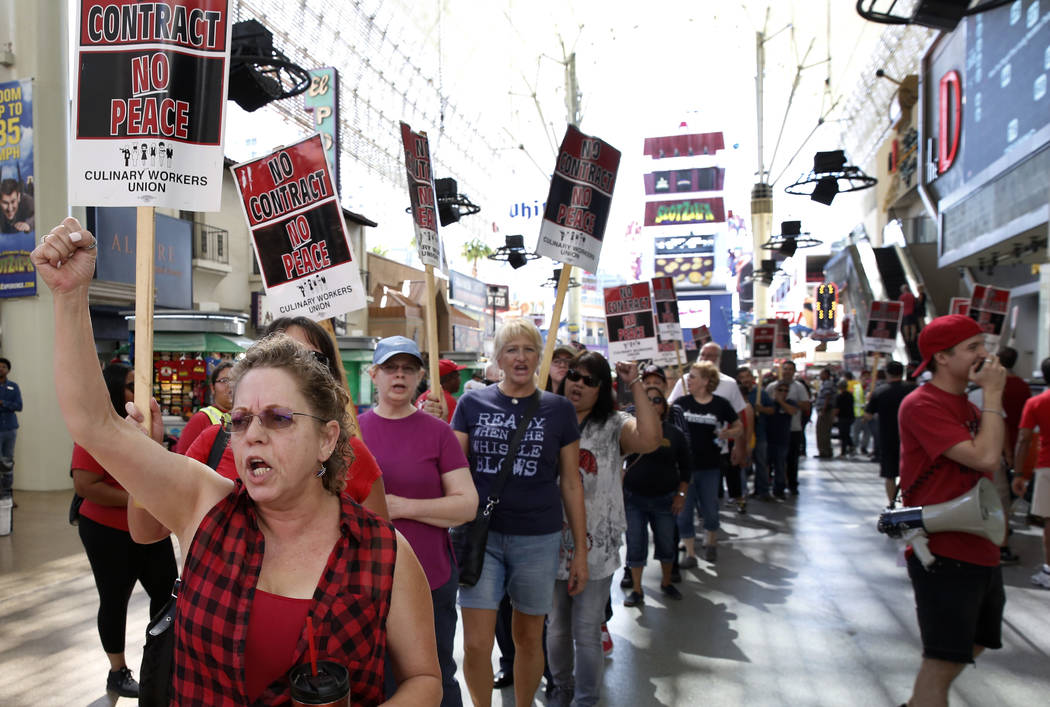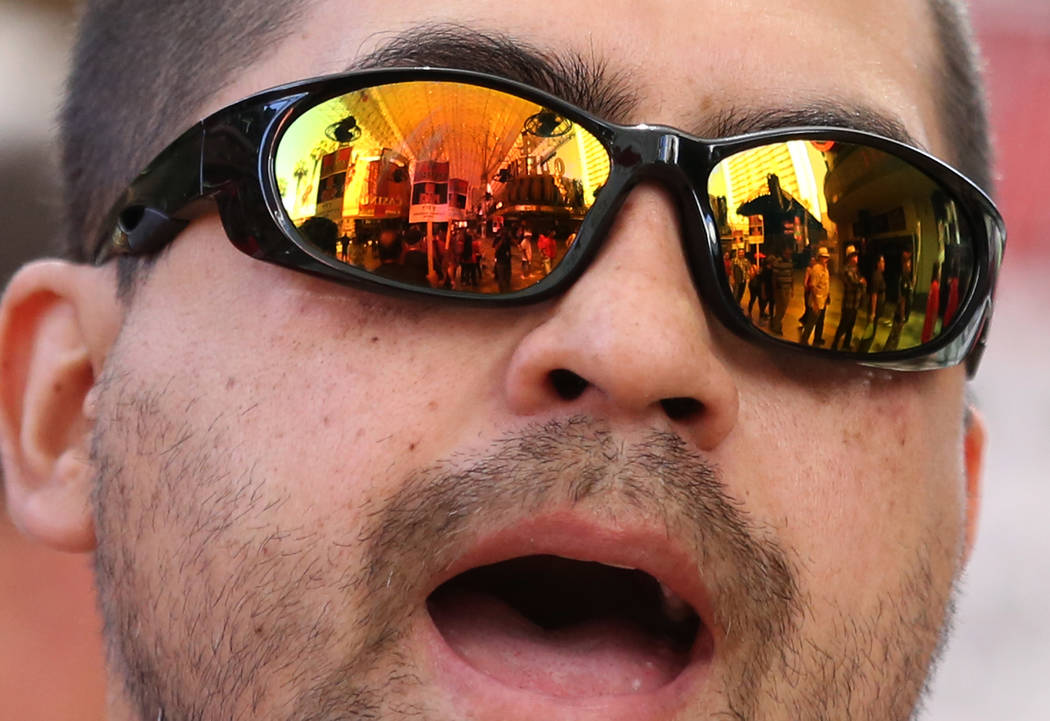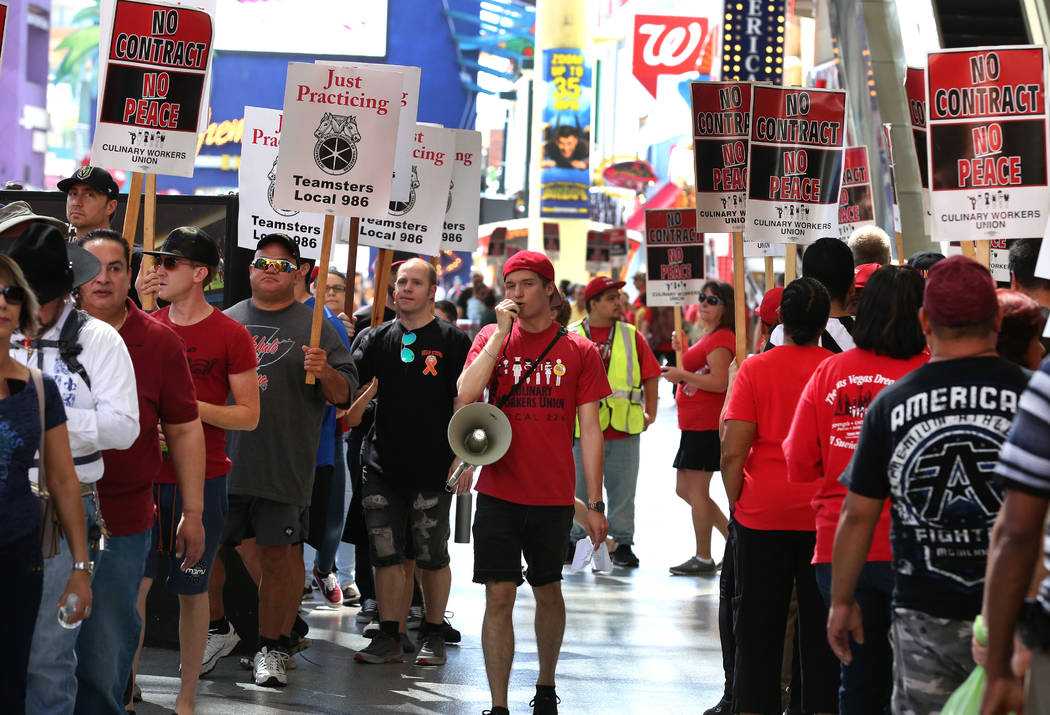 Culinary union pickets took to the streets in 111-degree heat to protest the failure to reach agreement in contract negotiations for new five-year collective bargaining deals at two Las Vegas resorts.
Executives with the off-Strip Westgate say they were "dismayed" that their property was the target of a demonstration by hundreds of union pickets Friday afternoon. Earlier in the day, a smaller group marched in front of D Las Vegas downtown.
Culinary Local 226 spokeswoman Bethany Khan said meetings would continue with D Las Vegas management July 13. No date has been set for talks to resume with Westgate, which issued an emailed statement Wednesday.
"We have a nearly 50-year history with the Culinary union and have always been able to find common ground that balances the interests of our union team members and the operational needs of our resort," the company's statement said.
Demonstrators were spread out along the sidewalk on both sides of the main entrance to the Westgate on Paradise Road just west of the property.
Several protesters had bullhorns and were shouting, "If we can't get it, shut it down," and "No contract, no peace," as they marched.
Several in the picket line wore name badges identifying themselves as employees of Treasure Island and Golden Nugget, which also are without contracts.
Oscar Diaz, a baker at the hotel since 1981 and a participant in the Culinary's 1984 strike in Las Vegas, was on the picket line and said he's confident negotiators will reach an agreement soon.
But Westgate officials, who had no comment on the protest Friday, said they were disappointed.
"It's important to note that we accepted the union's request to hold off on negotiations with us until they finished with some of their larger partners; however, we are now dismayed that they are calling for a picket line of our resort before giving us the opportunity to properly negotiate this agreement," the Westgate statement said. "In addition, contrary to erroneous reports in the media, negotiations have not stalled and we look forward to continuing this long-standing relationship."
But a union spokeswoman disagreed.
"Workers feel insecure when contracts aren't settled," Khan said in a direct message. "The Westgate and the D should reach a tentative agreement so that workers will be protected by their union contract and can continue focusing on providing quality service and hospitality."
Union employees have been working without a contract since June 1 when the previous agreements expired. The union has come to terms with major Strip properties belonging to Caesars Entertainment Corp. and MGM Resorts International and those deals have been sealed with ratification votes.
Tentative agreements also have been reached by workers at the Stratosphere, who will have a ratification vote Monday, and downtown's Plaza. No date has been set for that vote.
Union officials said talks also have been set next week with the management of the Tropicana and with two downtown Boyd Gaming properties, Fremont and Main Street Station.
Thirteen properties with a total of about 8,000 workers still haven't reached agreements, including the D, Westgate, Strip properties SLS, Tropicana and Treasure Island and eight downtown Las Vegas resorts.
Khan indicated picket lines targeting those properties are being considered and the union doesn't plan to give those resort managers notice where and when they'll picket.
Contact Richard N. Velotta at rvelotta@reviewjournal.com or 702-477-3893. Follow @RickVelotta on Twitter.