WSOP.com claims market leadership in Nevada
September 17, 2014 - 9:53 pm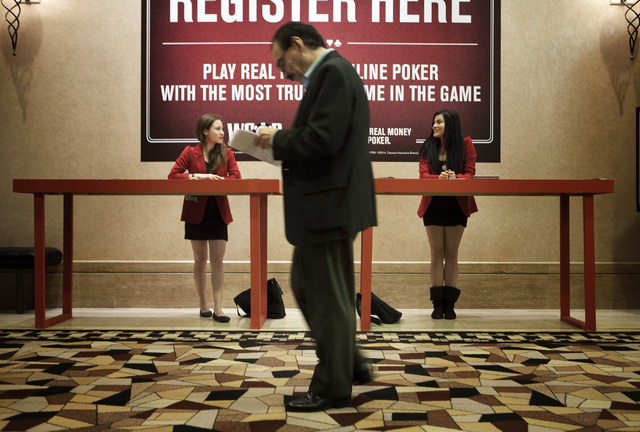 Analysts have been dis­appointed by the numbers produced from Nevada's 17-month-old online poker network.
Caesars Interactive Entertainment doesn't share that view.
The company, a division of Caesars Entertainment Corp., launched WSOP.com a year ago Friday. While it didn't provide revenue figures, WSOP.com officials said the website quickly rocketed to become the market leader in Nevada because of its ties to the World Series of Poker.
"We have a long-term view of this business," Bill Rini, head of online poker for WSOP.com, said Wednesday. "We're constantly evaluating what we do, and we will continue to make incremental improvements into the product."
In its first year, WSOP.com has dealt more than 15 million hands of cash poker, and more than $363 million has been wagered. The website also has operated 14,564 tournaments in Nevada.
WSOP.com has registered more than 100,000 player accounts in Nevada.
The state has two other online poker websites. Station Casinos-owned Ultimate Poker launched in April 2013, and Real Gaming, which is affiliated with the South Point, launched in February.
The sites collected a combined $950,000 in gaming revenue in July after cracking the $1 million mark in June.
Caesars Interactive also operates a WSOP.com site in New Jersey. The combined Caesars-WSOP online products have produced $23.9 million in gaming revenue through August, second highest of the six websites tied to Atlantic City casinos.
"We found there are two entirely demo­graphic differences between players in Nevada and New Jersey," Rini said. Younger players have signed up in New Jersey, but older players have enlisted in Nevada.
He said Caesars Interactive hopes an agreement can be reached between Nevada and New Jersey to share player pools.
Revenue aside, WSOP.com officials said the first year showed that a regulated online gaming market can be operated successfully. Rini said the company is watching to see if other states legalize the activity.
The biggest jump in play on WSOP.com came during this summer's six-week-long World Series of Poker at the Rio. The 45th annual event marked the first time live poker in a Las Vegas casino mixed with the legal pay-to-play online poker.
One of WSOP.com's milestone moments came through an event during the World Series of Poker that attracted 1,235 players, the largest event in the brief history of legal online poker in the United States. The tournament, held on June 15, awarded 25 seats in the World Series of Poker's Main Event, a value of $250,000.
WSOP.com signed up hundreds of players during the 2013 World Series of Poker, but the online version was still being tested by Nevada gaming regulators. In addition to the tournament tied to the Main Event, WSOP.com offered two tournaments that each awarded a guaranteed $200,000 in prize money.
"We showed the power of the brand," Rini said.
Caesars Interactive is planning several online poker events in Nevada to coincide with the anniversary.
In addition, the company signed 2012 Main Event champion Greg Merson to serve as the company's first brand ambassador. Merson, who also was named the World Series of Poker Player of the Year in 2012, was an online poker player before moving over to live tournament play.
"Greg is a terrific ambassador for the game of poker," Rini said. "He loves the game, is passionate and opinionated about its future, and he will help us spread the word about our offerings."
Rini said WSOP.com is planning to launch several enhancements in the coming months, including a new geoloaction tool that verifies a player's location through Wi-Fi.
WSOP.com recently launched in-person deposits and withdrawals at the Rio.
Rini said WSOP.com will roll out on both iOS- and Android-compatible gaming systems this year, as well as a link that allows player to connect their accounts to mobile devices.
Contact reporter Howard Stutz at hstutz@reviewjournal.com or 702-477-3871. Follow @howardstutz on Twitter.