Wynn Las Vegas president recommended for Nevada gaming license
Updated September 11, 2019 - 5:24 pm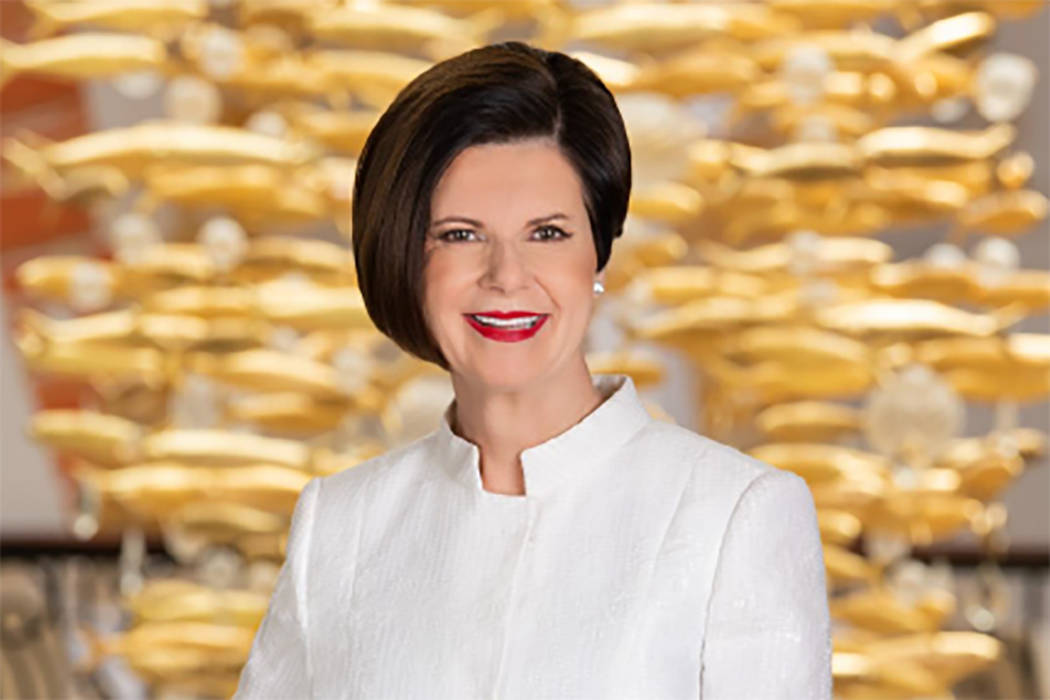 New restaurants, convention space and a possible connector to Resorts World Las Vegas are coming to Wynn Las Vegas and Encore, the company's president told regulators Wednesday.
The state Gaming Control Board unanimously recommended Wynn Las Vegas LLC President Marilyn Spiegel for licensing as a key employee of the Strip property, and in her testimony before the three-member board, she gave details about plans at the north Strip property.
Spiegel said the revamped Tom Fazio-designed 18-hole golf course at the property would reopen Oct. 11. She also said that the company's new convention facility, which features an outdoor overlook of the golf course's 17th and 18th greens, would more than double the company's meeting space in Las Vegas. The new venue, with 300,000 square feet of salable space, is expected to open in February, and the indoor space will be brightened by skylights.
Spiegel also noted that she expects the company will develop a connector across Las Vegas Boulevard to Resorts World Las Vegas, the 59-story, 4,000-room resort being developed by the Genting Group, due to open in late 2020.
"Encore is consistently a challenging footprint and so when Resorts World opens, I know I will see much more foot traffic and we're putting into our capital plan to have some kind of crossover in terms of the street and when the Drew (formerly Fontainebleau) comes, that will add more," Spiegel told the board. "I think we will be a net gainer rather than a net loser of our hotel guests, although as we know in Las Vegas, people go everywhere."
The Control Board's licensing recommendation is expected to be considered for final approval on Sept. 26.
Regulators questioned Spiegel about her tenure as president of the company from 2010 to 2013. She was licensed for the role in 2011 but left the company and briefly served as a member of the board of directors of Caesars Entertainment.
She received a surprise text from Wynn Resorts CEO Matt Maddox inviting her to return.
The company had been rocked earlier in the year by the scandal of Steve Wynn's departure as chairman and CEO over accusations of the sexual harassment of women employees. Wynn has denied the harassment allegations.
Several executives left the company in the wake of Wynn's departure, including President Maurice Wooden.
Spiegel had another incentive to return: the appointment of Phil Satre, with whom she had worked for several years at Harrah's Entertainment properties, to the board of directors.
Satre was licensed as a Wynn director last month.
"I felt that I had left the Wynn in a good place on 2013 and coming back, I think that we have a clear-cut idea what we're going to do now," Spiegel told board members.
"When I came back, it had much more to do with my personal desire to get back in the game," she said.
"Earlier this year, I had a confused workforce that lacked the confidence that the team had had when I left and my goal is to instill that confidence because I think all performance is improved when people are ready and willing and sure that they can perform. That is one of my key initiatives."
Spiegel said she meets weekly with Maddox and can reach out to Satre if necessary. The company is pressing ahead with property improvements and putting the past behind it.
Spiegel also told regulators that it will open a Mexican restaurant by Chef Enrique Olvera and Daniela Soto-Innes in the first quarter of 2020 in the space formerly occupied by Andrea's. Delilah, a supper club that is a partnership with The h.wood group, will open in the space that was formerly known as the Chairman's Club. An as-yet-unnamed Thomas Keller restaurant is coming to the Wynn Golf Club later in 2020, she said.
On the gaming side, Spiegel said casino revenue has risen from higher slot and table handles.
"We're constantly editing the slot floor because of the interesting customer changes," Spiegel said. "I like the idea of bringing in some stadium games because that's new. The mobile app has not been particularly successful. I doubt that we'll be on the forefront of mobile gaming."
She said the company has taken a conservative approach to the management of the company's nightclub venues, the XS Nightclub and the Encore Beach Club.
"We often have our club employees say we're much too restrictive and that's just the way we'll always be because this is our license that we're talking about and we're not going to veer off the path in terms of when there is a high-profile club performer," she told the board.
In another Wynn matter, the company said in a Securities and Exchange Commission filing that it is refinancing existing debt and credit facilities with a private offering of $750 million in senior notes due in 2029 for projects in Las Vegas, Macao and Boston.
Analyst Joseph Greff of J.P. Morgan, in a report to investors Wednesday, said early returns on Wynn's third quarter indicate significantly lower VIP gaming turnover resulting from the ongoing trade war between the United States and China, disruptions resulting from protests in Hong Kong and low hold in direct VIP operations.
Greff's report also said Las Vegas table game win percentage is "significantly lower" than expected for the first two months of the quarter and that Encore Boston Harbor is not at full run-rate levels after opening June 23.
Contact Richard N. Velotta at rvelotta@reviewjournal.com or 702-477-3893. Follow @RickVelotta on Twitter.
Retiring chief honored
Gaming Control Board members on Wednesday honored Karl Bennison, chief of the board's Enforcement Division, who is retiring at the end of this month.
Chairwoman Sandra Morgan and members Terry Johnson and Phil Katsaros applauded Bennison's 25-year career with the board as well as his military service.
Bennison served in the Army Reserve, was commissioned through ROTC at the University of Nevada, Reno, and transferred to the Nevada National Guard, serving as a commissioned officer and helicopter pilot. He joined the Army Reserve in 1982 and left the Army National Guard in 1996.
Bennison attended Eldorado High School in Las Vegas and UNR and got his first job in the gaming industry as a parking valet at Circus Circus Reno, eventually being hired by the Control Board and working his way up the ranks to chief of enforcement.
Morgan said a replacement for Bennison has yet to be selected.