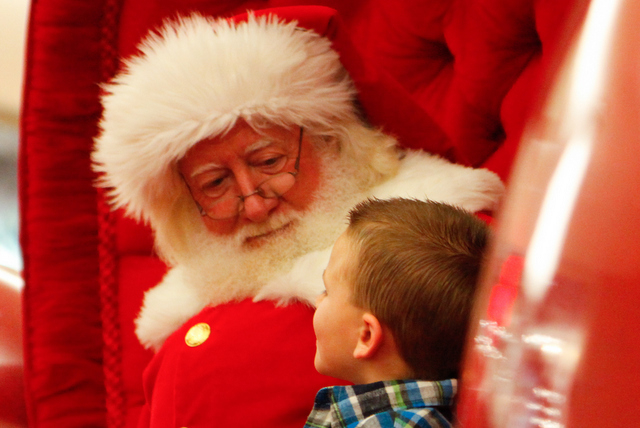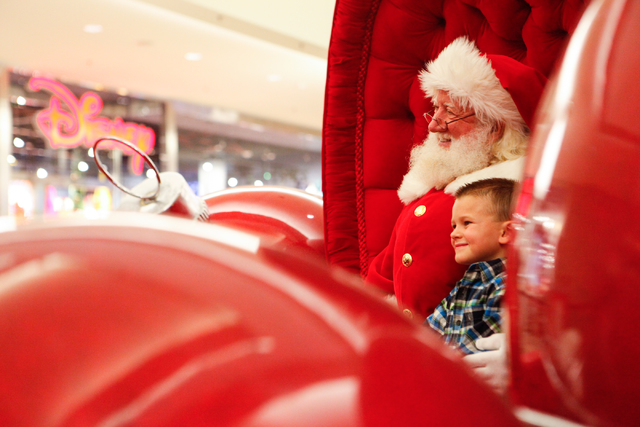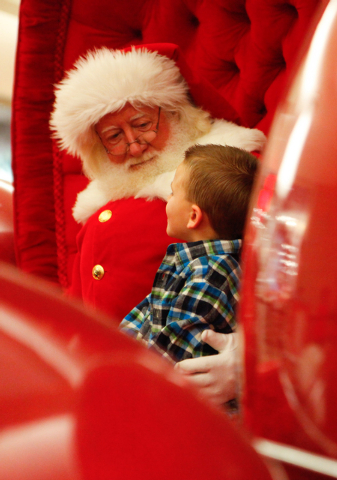 Real beards and squeaky-clean backgrounds are musts for mall Santas.
Without both, aspiring Clauses don't stand a chance.
"It isn't easy to get into one of these major malls," said Las Vegan Bob Morris, who has worked as a Santa at the Galleria at Sunset in Henderson for 10 years. "The screening process is unbelievable."
From drug testing to extensive background checks, the process is "very, very strict," Morris said.
National photography companies that specialize in holiday events such as Christmas and Easter supply the Clauses and bunnies to malls.
Morris is a seasonal employee of Cherry Hill Photo, a 52-year-old agency that supplies Santas to the United States, Canada, Great Britain and Puerto Rico.
Christmas photo season begins the first or second week of November, depending on where Halloween falls, and lasts through Christmas Eve, Galleria at Sunset marketing director Heather Valera said.
On average, Clauses will see 13,000 kids each season.
"You definitely have to be very patient, not only with kids but with animals, too," Valera said.
As a professional Santa Claus for more than a decade, Morris has seen it all, from cherubic babies to quadruplets to a kinkajou and "a Capuchin monkey who kissed me on my lips."
He's heard it all too.
"She thinks you're creepy," a young boy told Morris this year, to explain why a little girl was crying.
"That's what makes this whole thing a lot of fun," Morris said. "You never know what they're going to say."
Santa shifts typically reflect mall hours, about 10 a.m. to 9 p.m., which are extended as Christmas draws near.
Two actors typically work each day, though the two are never seen at the same time.
When it's time to clock out, Santa "goes to feed the reindeer," and another Santa returns.
Morris, who is a business consultant the other 10 months of the year, says Santas don't make much money, but he does it to spread Christmas cheer.
"And not just young children, but teenagers, young adults and young lovers. Even people into their 90s," Morris said. "It's a Santa experience. It's fun not only for the people — it's fun for the Santas."
Contact reporter Kristy Totten at ktotten@reviewjournal.com or 702-477-3809. Follow @kristy_tea on Twitter.