City pools still paying extra for lifeguards as summer approaches
Updated May 1, 2023 - 7:17 pm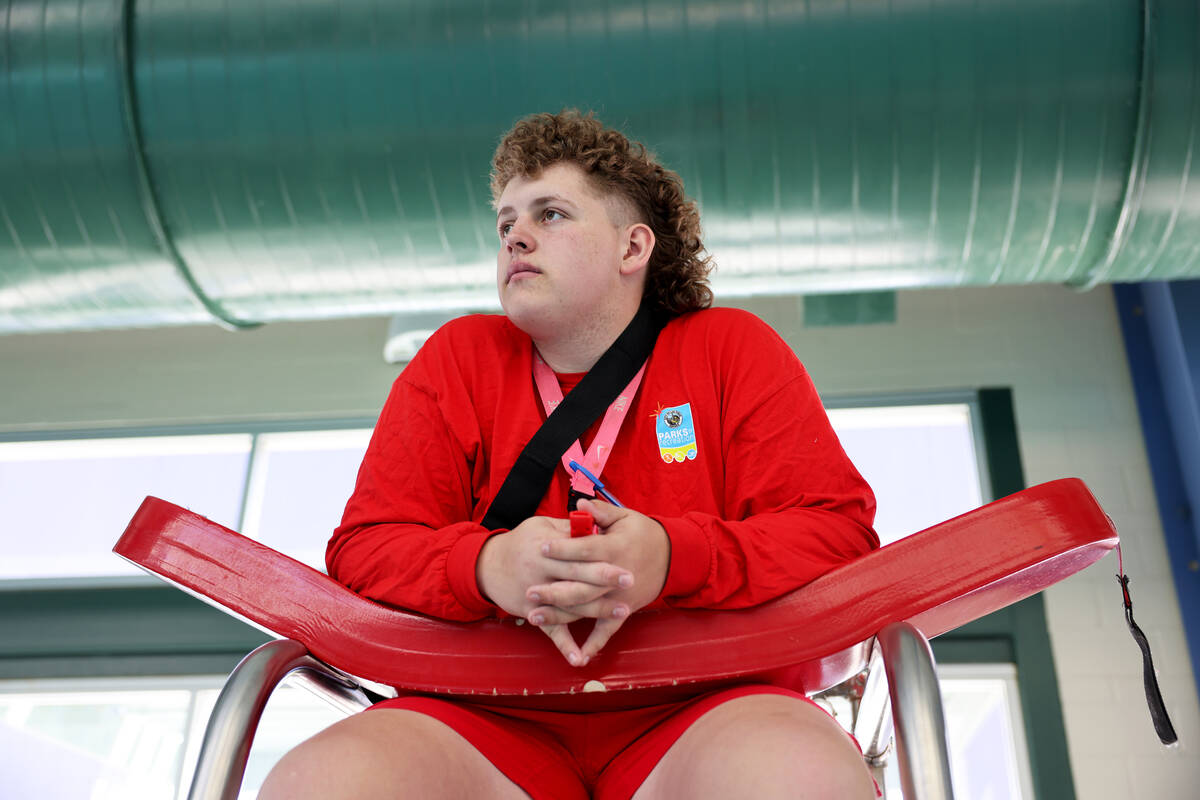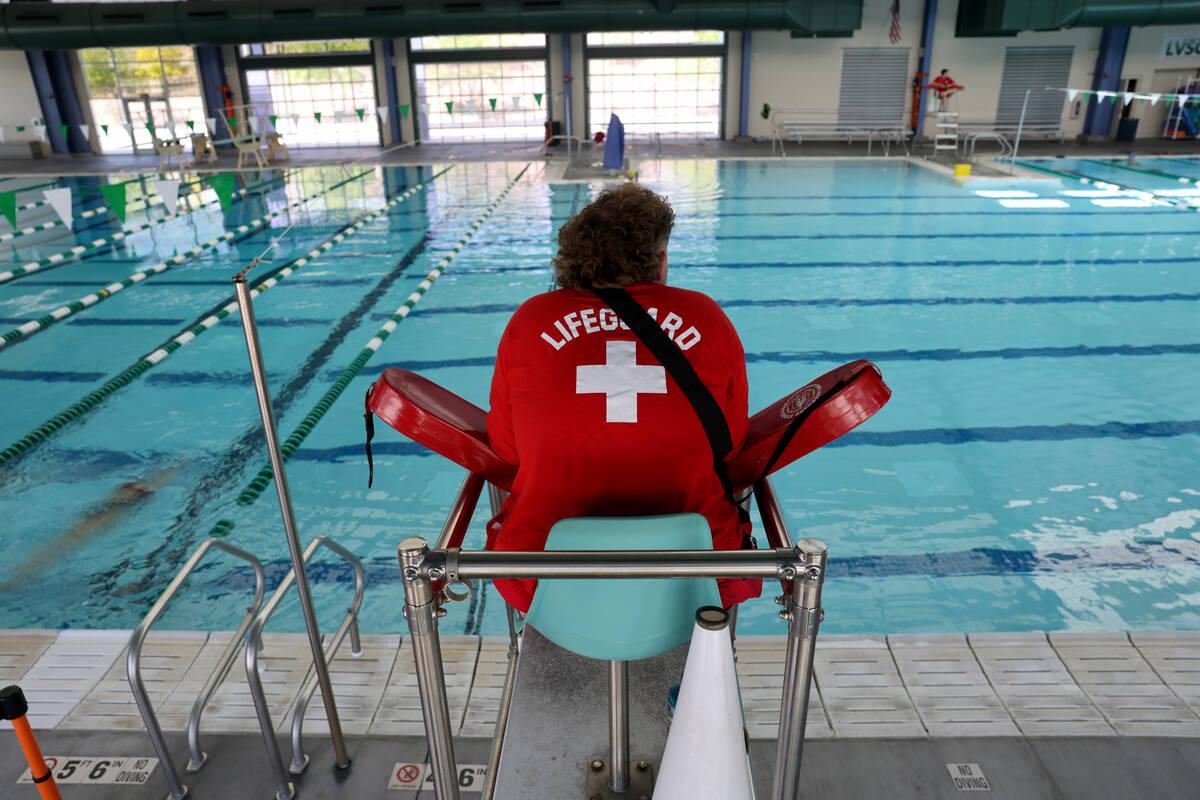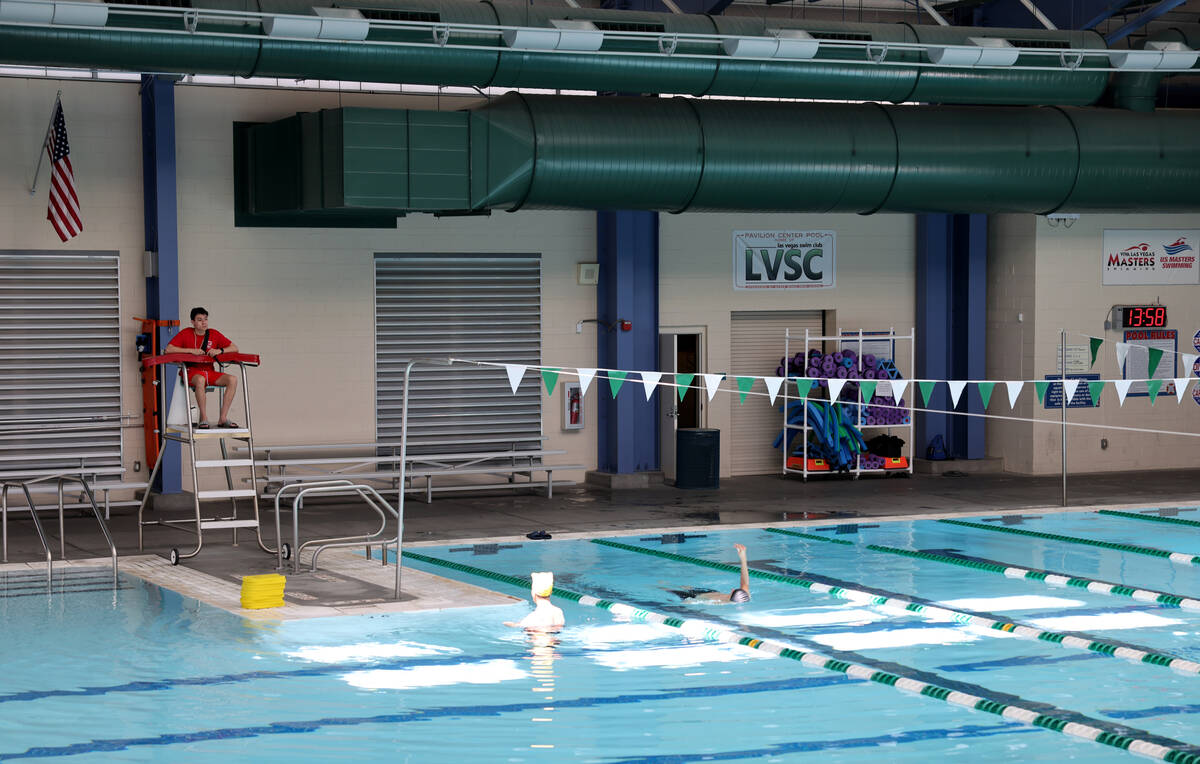 Rachel Harmon remembers a time when every lifeguard certification class was fully enrolled and the city of Las Vegas had no trouble hiring for the pools' busy season.
Now, the city is lucky to get three students in the class. As the summer draws nearer, the aquatics team is searching for workers to fill the approximately 100 open positions required to keep pools across the valley open and fully operational, said Harmon, an aquatics specialist with the city.
And like last year, when increased wages and retention bonuses were first brought in, they will have to pay extra.
The city will pay lifeguards a $15 an hour base wage, up from $12 last year, and up to $800 for a retention bonus, up from $500. The extra cash perks were needed because of mixed results last year, Harmon said.
The city also will pay for a new hire's lifeguard certification class — a change from last year — as it competes with other municipal and casino pools.
"It didn't work out too well last year, so we're doing more of the same thing this year, but one thing we added were the free classes," Harmon said. "A lot of people aren't working as much as they used to, so $160 is pretty hefty to pay for a class (when) you don't even know if you're going to get (the) job."
It's déjà vu for some pool operators. Last year, several public pools in the Las Vegas Valley started shortening hours and even implementing daylong closures as they grappled with a shortage of lifeguards. Now, many are increasing their incentives as they combat Las Vegas' tight labor market.
North Las Vegas' Parks and Recreation Department said its biggest hiring push is in the aquatics department. Recreation Supervisor Angela Johnson said she wants to hire at least 40 lifeguards to operate the city's three pools.
Johnson said she is expecting to hire enough people this year so they don't have to cut pool hours.
North Las Vegas is offering an hourly minimum of $16, with free certification classes, up to $500 in retention bonuses and the ability to work more than 29 hours a week if the employee is only there for the summer.
"It's a struggle to get lifeguards just because I think a lot of the high schoolers don't realize you don't just walk in and get hired today," Johnson said. "It takes a little bit of a process — obviously the lifeguard class is a 40-hour class. So it's something you have to be wanting to do because it's not an easy class."
Las Vegas plans to host an Aquatics Hiring Fair on May 6 from 9 a.m. to noon at the Municipal Pool on East Bonanza Road, where job seekers can complete the entire process from an interview, swim test and hiring to onboarding.
Harmon said if the job fairs and incentives aren't successful at bringing in applicants, then the city may have to cut pool hours and services again.
"When I got certified in the '90s, my coworkers were my swim team members," Harmon said. "We were all in lifeguard training class together. But now, the lifeguard training classes aren't even full. It's sad."
Others see labor market loosening
Meanwhile, other summer-related businesses are feeling more confident as their hiring ramps up.
Emily Sowers, executive director of the Bill and Lillie Heinrich YMCA in central Las Vegas, said that the location's lifeguard staff is almost fully hired and it expects summer camp counselor positions to be fully staffed as well.
Sowers attributes the success to the nonprofit's Train to Work program that paid for lifeguard essential skills training. She said the free program was so successful that they're referring some of the candidates to local hotel-casino pools.
"This is a significant difference in what we've experienced the last few summers, so we're feeling really confident about our aquatic staffing situation this summer," Sowers said. "Last year, we had several positions to fill leading up to our outdoor pools' opening. We are in a much better place in 2023 than we have been in the last couple years."
At Desert Pines Golf Club, Senior General Manager Bill Wickboldt said the busy spring season that typically ends about mid-June is well-staffed compared with the pandemic era.
"We went through the same thing during the pandemic that the Strip went through, where it was difficult to staff," Wickboldt said. "But I've seen this spring, and we've got a really great team in place and we've got enough of them, so I'm encouraged by our circumstances."
The course often hires young people, often UNLV students in the PGA golf management program, and retirees, who want the perks of playing golf for free.
Still, the Arcis Golf-operated course raised wages and added health benefits for part-time employees to attract applicants this year, he said.
"We definitely heard the labor market over the last few years," he said.
McKenna Ross is a corps member with Report for America, a national service program that places journalists into local newsrooms. Contact her at mross@reviewjournal.com. Follow @mckenna_ross_ on Twitter.