Coding school launches in Las Vegas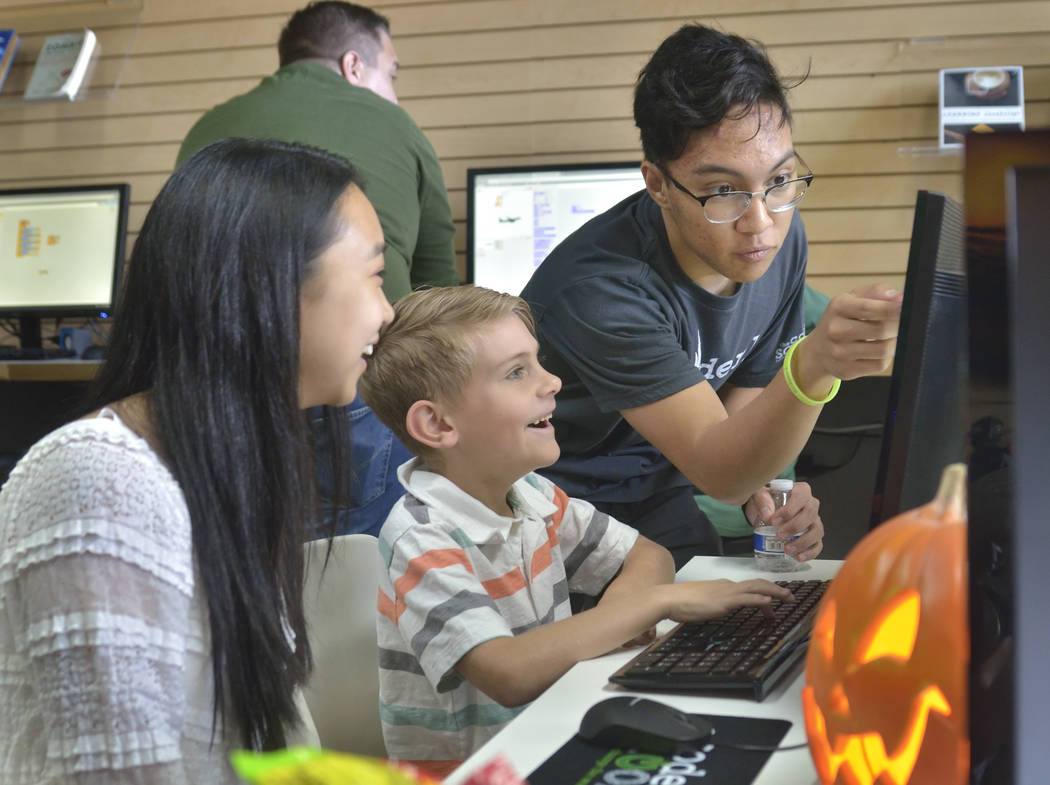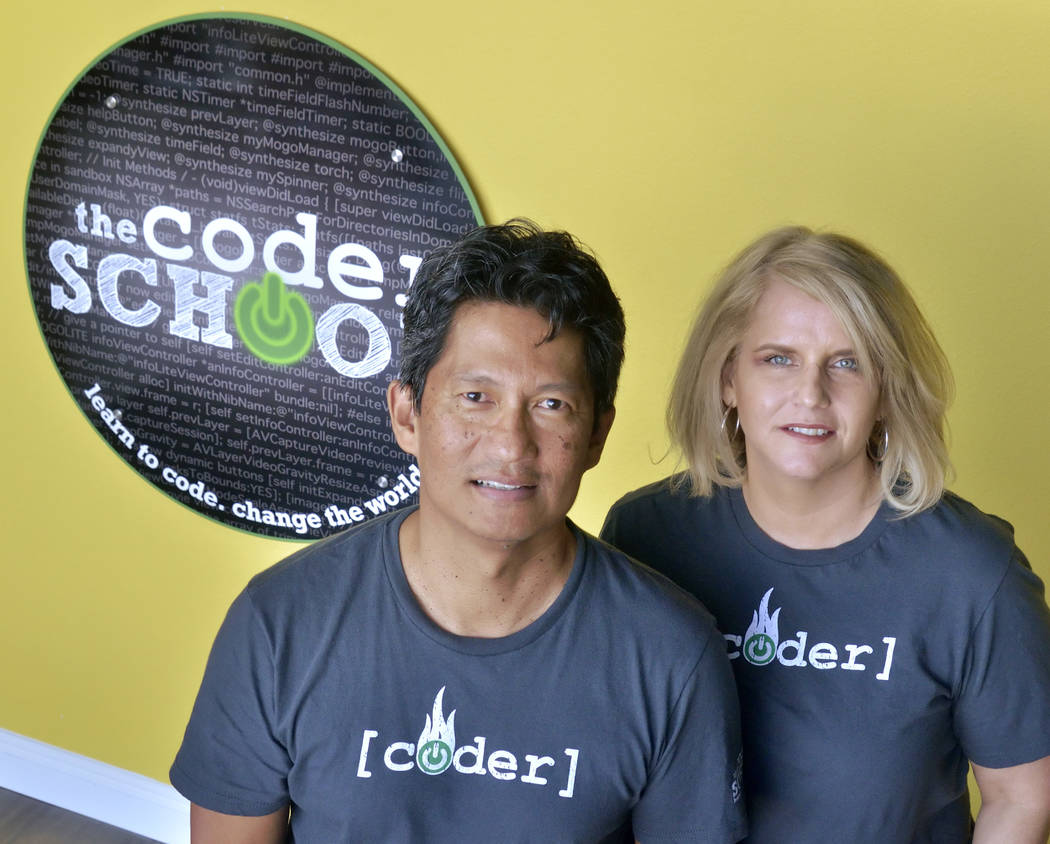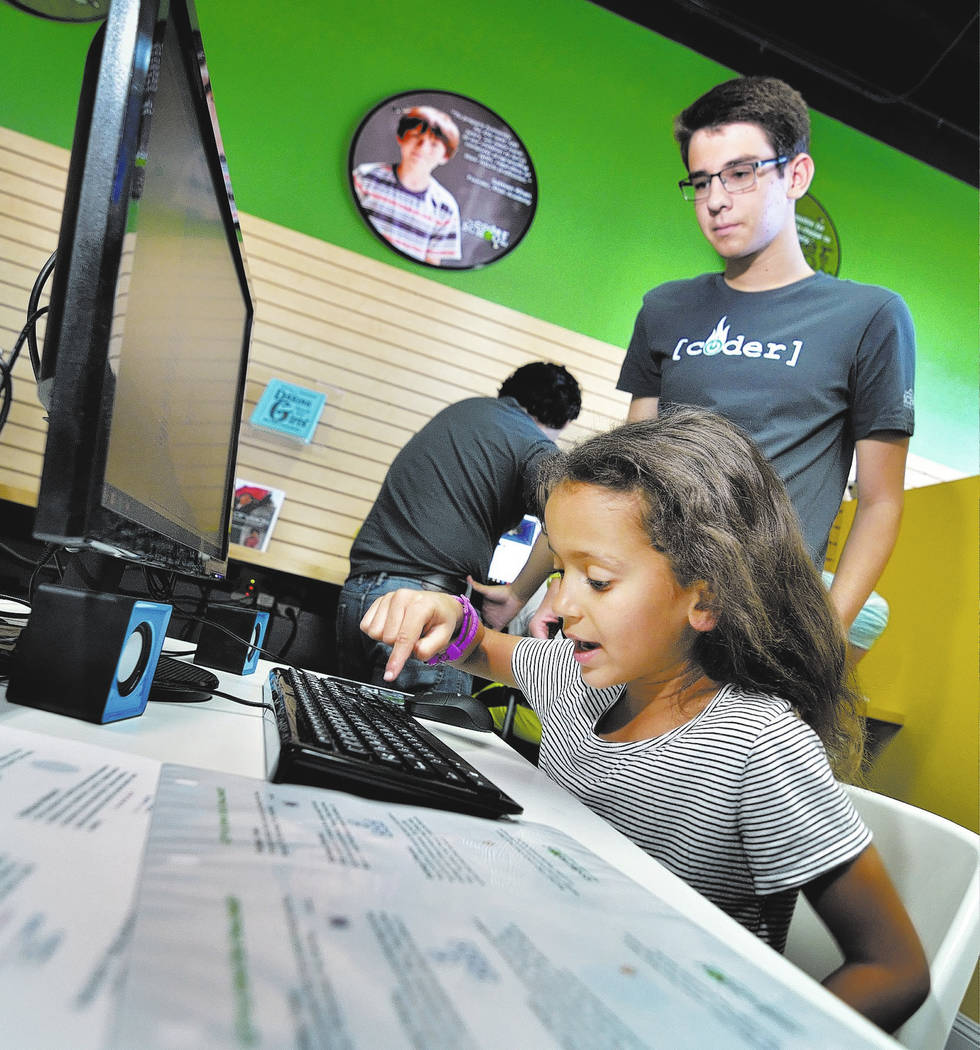 As a computer science teacher in the Clark County School District, Danielle Mateo knows how much of a difference coding can make in a student's life.
"Coding teaches students how to think," she said. "It teaches problem-solving and logic. … Even if you don't want to be a computer engineer, it's a lifelong learning skill that helps you become successful."
Couple Danielle and Noel Mateo are hoping to bring this skill to more students across the valley through theCoderSchool, a franchise that teaches students how to code with personalized lessons from coaches. The Mateos hope the program will lessen the coding skills gap in Nevada and help students find a creative, lucrative career.
A new way to teach
The Silicon Valley-based franchise theCoderSchool was founded in 2014 and has since grown to more than 20 locations. The Las Vegas location was launched Saturday, bringing in about 50 students to its Summerlin office. The Mateos' school is the first theCoderSchool in Nevada and is open to people between the ages of 7 and 18 after school and on weekends. The program also offers coding camps over holiday and summer breaks.
"I think it's an exciting development that programs like these are becoming available" in Las Vegas, said Janet Runge, enrichment coordinator for entrepreneurial programs at UNLV. "If one of the reasons tech companies say they aren't locating here is because the talent isn't here, let's start programs that develop that talent."
Students at theCoderSchool can work one-on-one or two-on-one with coaches, who use a customized, project-based approach to teach various coding languages, including HTML, CSS, Python and Javascript.
"If the student wants to make a video game or code something with music, (they can)," Danielle Mateo said. "Because they're building what they want to build, they're interested. … That's the great thing about coding. It's so creative."
Skills gap
Danielle Mateo has seen an influx of technology-related jobs in Las Vegas in recent years but said there's a lack of local training opportunities for coding. She hopes theCoderSchool can give local students more career options.
"Not everyone wants to go into the service industry," she said. "A lot of students (who are interested in coding) go out of state for an education. We wanted to provide a place where they could learn how to code in Las Vegas, and we could keep them in state."
Bob Potts, research director for the Governor's Office of Economic Development, said the information technology space needs more education and training, largely because so many careers in the governor's new Nevada plan, an economic plan that lays out seven key industries, use IT in some form.
"Whether it's clean energy, health care … it doesn't matter," he said. "You need qualified IT people in those tech sectors."
Data from the economic development office show that the number of application software developers in Nevada falls about 4,700 employees short of the national average. Potts said initiatives like theCoderSchool can help lessen the skills gap.
A ranking the agency compiled of the most in-demand occupations in the state looked at nearly 800 of them. Out of the top 15 jobs, five are computer-related, including the number-one ranked position, application software developer.
While the Bureau of Labor Statistics reports the average wage in Nevada is $21.65 an hour, application software developers make $48.38 on average. Computer system analysts make $38.23, and network and computer systems administrators make $38.07 an hour, according to GOED.
"There's a huge demand for these workers," Potts said. For those interested in working in the IT space, "there will be a home for you. … There's opportunity and a future."
Contact Bailey Schulz at bschulz@reviewjournal.com or 702-383-0233. Follow @bailey_schulz on Twitter.
TheCoderSchool is located at 9330 W. Sahara Ave. in Village Square. Hours of operation are 3 – 8 p.m. Tuesday through Thursday and 10:30 a.m. – 3:30 p.m. Saturday and Sunday. TheCoderSchool will also be open 9 – 5 p.m. during school breaks and is available in the morning by appointment if a student would like to try a free lesson.