CES traffic off to moderate but manageable start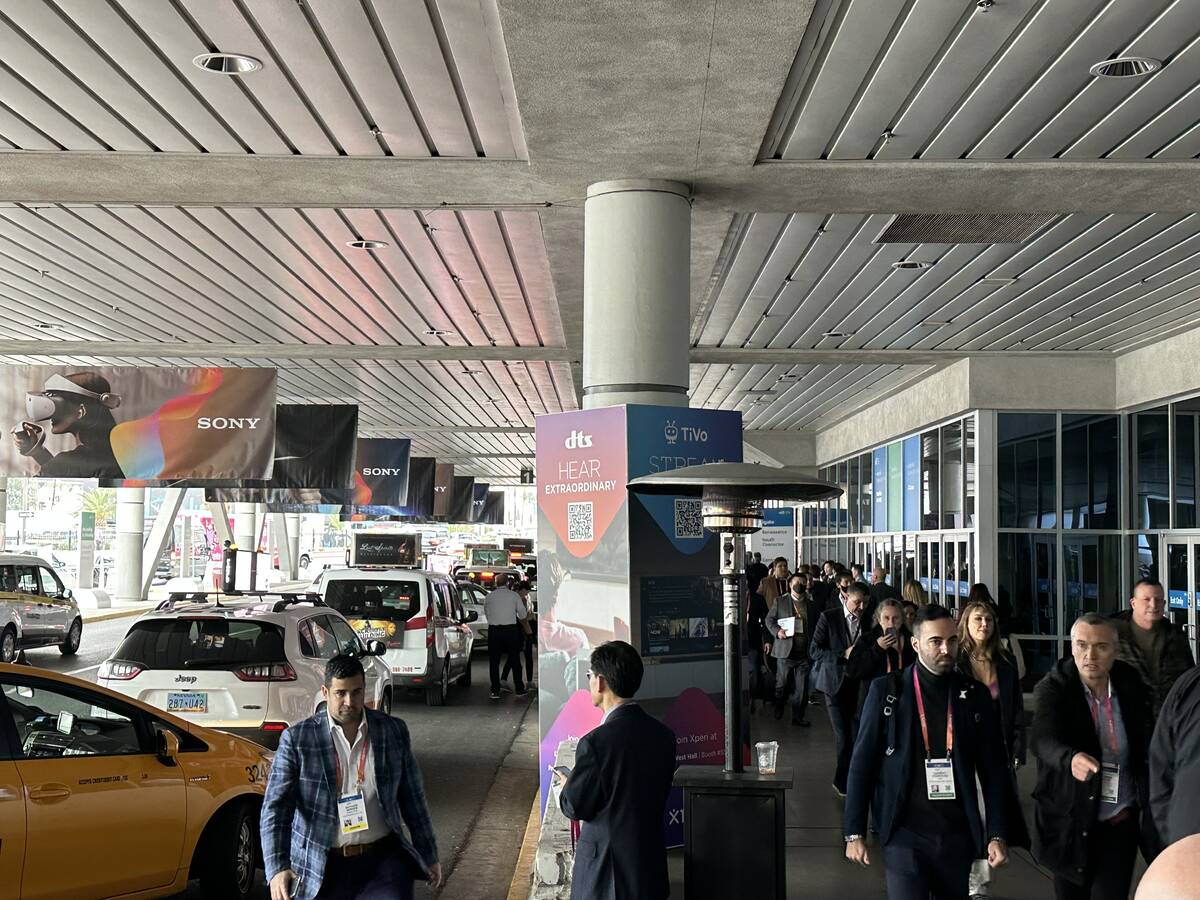 The first day of CES 2023 was off to a moderately busy start Thursday morning at the Las Vegas Convention Center.
Attendees arrived via various transportation modes at the main hub of the multi-facility show that is expected to draw around 100,000 people.
Traffic congestion around the convention center saw mild build-ups for those arriving via personal vehicle or ride-hailing services. Buses, including Regional Transportation of Southern Nevada vehicles, dropped attendees off at the front of central hall. Those buses transported conventiongoers from 11 resorts between the Las Vegas Strip and downtown.
Taxis mainly dropped off attendees at the curb of the north hall of the convention center, which was guided by a mix of Metropolitan Police Department officers and facility staff.
While getting in and out of the taxi area was a relatively controlled and easy process, hailing a cab to arrive at the convention center was another story.
"It took a long time," said Chris Allen, a CES attendee from Utah. "There were just no cabs. So it just took a long time to get one."
Allen estimated it took him 25 minutes to get a taxi ride from his hotel south of the convention center, but once he was picked up, it wasn't too bad of a ride traffic wise.
Allen attended CES in 2020 just before the early onslaught of the COVID-19 pandemic. Although 100,000 people are projected for this year's show, down from the more than 170,000 from 2020, he said the traffic was comparable.
"It's similar," Allen said. "I know there's supposed to be less people this time, but it seemed similar."
After arriving at CES the main transportation attraction is the Boring Co.'s Convention Center Loop. The $47 million, 1.7-mile loop transports conventiongoers to and from the west, central and south halls of the convention center in Tesla model vehicles free of charge. The loop turns what is normally an up to 45-minute walk between the two farthest points into a ride taking just few minutes.
The Las Vegas Convention and Visitors Authority didn't have a projected ridership for the loop, but in 2022 the system transported between 14,000 and 17,000 passengers per day, with an average trip taking less than two minutes, according to the Boring Company.
Jeff Puckett, a first-time CES attendee from Colorado, said he didn't have to wait long for his Tesla at the west hall to travel to the central hall.
"I pretty much walked up to the lane and was able to jump right into a car," Puckett said. "It makes it really easy to get between the convention centers. I think it's fantastic. It would be great if they could get this thing going all around town. … It's very convenient and a fun ride from place to place."
Most lines to hop into a Tesla were just a few people deep before noon Wednesday, with staff shuffling arriving and departing attendees in an orderly fashion.
Aside from the loop, Puckett and his wife road the Las Vegas Monorail on Wednesday night to travel between the different resorts. Although he said the monorail wasn't a bad experience, he said the loop expanded throughout the Resort Corridor would be a much better option.
"It (monorail) did take awhile, so it would be nice to be able to go point-to-point," Puckett said. "If we pick a restaurant in one area of town and are able to get to that area more quickly… I think I prefer this (loop). It's faster and more convenient. You're not having to wait for a train, like I said, I just jumped right in."
Puckett's hope could soon become a reality as some portion of the Vegas Loop could be operational sometime in 2024.
The Vegas Loop at full build out will be a 29-mile tunnel network with over 50 stations, including at Allegiant Stadium, Harry Reid International Airport, various Strip resorts and downtown Las Vegas sites.
Plans are to build out the system in portions, later connecting them to create a seamless tunnel system. Boring Co. President Steve Davis has said he expects five to 10 stations will come online within the first six months of construction, with 15 to 20 stations planned to be added each year until full build out is met.
LVCVA President and CEO Steve Hill hopes some portion of the loop is ready for Super Bowl LVIII, slated to be held at Allegiant Stadium on Feb. 11, 2024.
"I think it's still a possibility," Hill told the Review-Journal in October. "We are working to try and make that happen."
Contact Mick Akers at makers@reviewjournal.com or 702-387-2920. Follow @mickakers on Twitter.