Culinary double threat behind new Strip restaurant
February 23, 2015 - 11:18 pm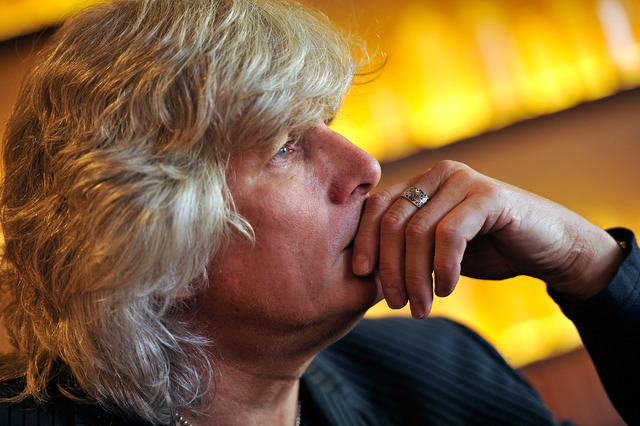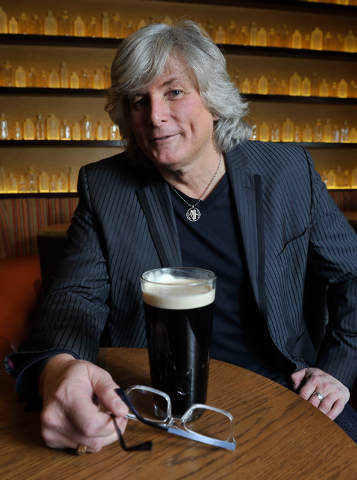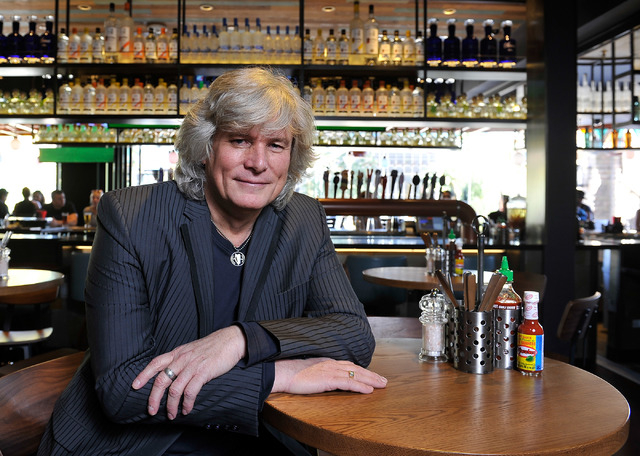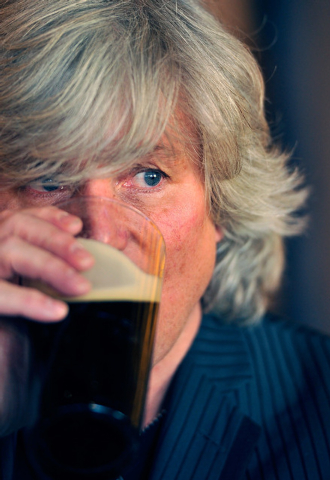 He's a culinary double threat — part food scientist with a doctorate in flavor and fragrance chemistry and part restaurant marketer who launched the McDonald's Dollar Menu and McCafe about 15 years ago before creating the Smashburger chain in 2007.
Now, Tom Ryan has unleashed all his flavorful innovations and foodie creativity at his sprawling 18,000-square-foot Tom's Urban restaurant on the Strip, which offers a kaleidoscope of his takeoffs on ethnic-based and comfort food temptations from a monster-sized "Big Ass Egg Roll" and Xiangxiang Crispy Duck Wings to Hangover Slopper and a Truffled Maine Lobster Roll.
Ryan, the former worldwide chief concept officer for McDonald's who even spent three years at Procter &Gamble right after college, opened his third Tom's Urban in New York-New York less than two months ago after he debuted the restaurant in Denver in 2012.
"It's like a pressure valve that I use to express a lot of ideas," said Ryan, who, at 58, has shoulder-length gray hair, a boyish grin and a college student's earnest enthusiasm.
The man with 2,000 cookbooks in his home library opened the second Tom's Urban at LA Live, the sports arena and entertainment district built by Anschutz Entertainment Group in downtown Los Angeles.
His aim at Tom's Urban is to put a modern spin on age-old American comfort and ethnic-based dishes, and purvey them to the masses without the pretense of fine dining.
"The art of innovation is taking something familiar and bringing it romance," he said this week.
When Ryan said he became chief concept officer for McDonald's, the job took him away from innovating and creating new dishes and forced him to perform too much administrative duties.
"It took me out of play from creating new foods, new ideas, new concepts," said Ryan, who left McDonald's in 2003. "I missed the ability to create and innovate on behalf of customers."
After leaving McDonald's, Ryan became chief branding officer at Quiznos, the large submarine sandwich chain before launching Smashburger eight years ago.
Creating Smashburger allowed Ryan, who lives in Denver and also has a home in Minneapolis, to scratch his food creating and restaurant marketing itches. The quick-service, casual better burger concept has grown to 310 locations, including eight in the Las Vegas Valley.
Ryan's fingerprints are all over the Smashburger brand, from fashioning the menu to designing the decor of the 2,000-square-foot, fast-casual concept with the tight kitchen and small presence. In 2013, he even created a pizzeria called Tom's Live Basil Pizza in Denver.
Cynthia Kiser Murphey, New York-New York president and chief operating officer, recruited Ryan to open Tom's Urban after visiting the restaurant in downtown Denver's Larimer Square.
"We were invited to play," Ryan said.
In Las Vegas, the Tom's Urban street-front access takes up a healthy stretch of the Strip next to the Shake Shack burger restaurant around the corner from the park and plaza that will lead to the new $375 million arena being built by the partnership of MGM Resorts and Anschutz Entertainment Group. The restaurant opened Dec. 23.
Ryan's love for food science and restaurant marketing can be traced back to his college days when he was studying for doctorate at Michigan State University. The Grand Rapids, Mich., native made sure he had a business college professor on his Ph.D. committee.
"I messed around in the College of Business," Ryan recalled.
"I consider myself a hybrid. I consider myself a bellwether (for consumer trends) and I love playing with the food," he said.
The married father of three children, 25, 23 and 19, still enjoys working with his chefs at Tom's Urban to create comfort foods with a modern edge, whether it's low-country shrimp and grits (Cajun shrimp, crispy pork belly and creamy cheese grits) or Buffalo chicken sliders.
Even the restaurant's large space, created by his team working with MGM designers, reflects Ryan's dual personality of creative and marketing, with entrances off the Strip and from the casino, lots of street side and interior seating and intimate or rowdy sections. The divided themes are knitted together in a seamless fashion, with globe lights and beetle-kill wood decorating the interior.
He enjoys visiting tables and chatting with customers about his dishes.
And he relishes telling the story about how he landed on the Tom's Urban name.
"I love the name, 'Urban,' but I couldn't get the www.urban.com domain," he said. "So I called it, 'Tom's Urban,' and that was one way to get the domain."
Contact reporter Alan Snel at asnel@reviewjournal.com or 702-387-5273. Follow @BicycleManSnel on Twitter.