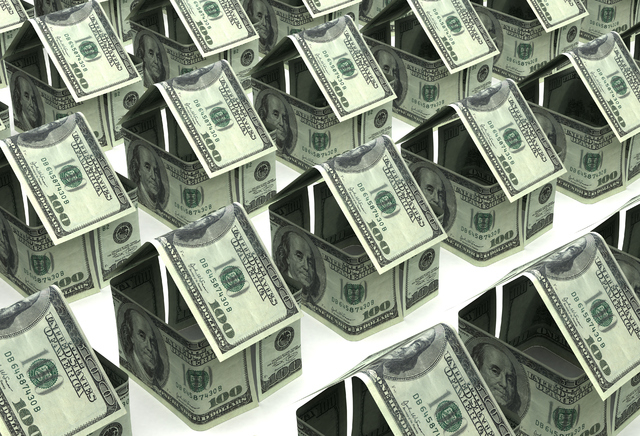 You knew Nevada's housing numbers looked bad during the downturn.
But you probably didn't know just how ugly things got compared to pretty much everywhere else. Or that when California sneezed, Nevada got the full-blown flu.
New figures from the U.S. Census Bureau show that the Silver State's housing crash topped busts in every state save our neighbor to the west. What's more, Clark County hung with the worst of them for value drops and homeownership declines.
The latest rankings are also cautionary reminders amid 2013's 30 percent jump in local median prices, industry experts said.
"You don't want to repeat history. You want to see what happened and how far we fell," said Kolleen Kelley, a Las Vegas sales broker who's president-elect of the Nevada Association of Realtors. "(The numbers) also kind of tell everybody that maybe a lot of people who bought shouldn't have bought."
And most people who bought have felt serious pain. The Census report shows that Nevada's median home value plummeted nearly 40 percent, or $99,400, to $161,300 from 2007 to 2012. That was second only to California's $102,600 drop. Clark County's median fell even more, dropping 40.4 percent, or $106,300. Clark's value decline ranked No. 5 among the nation's biggest counties, behind four California counties.
In retrospect, at least, the lower values are no surprise, Kelley said.
"We were much higher than we could ever sustain as far as pricing goes," she said. "If you look at income, it was not logical that we could stay at the high level we got to."
Nor is it a shock that Nevada's in lockstep with California, observers said. For one thing, the entire West attracted more than its share of new residents and investors, which helped push up prices and set up big falls across the region, said Brian Gordon, a principal in local research firm Applied Analysis.
But California and Nevada in particular share a symbiosis they won't shake as long as the Silver State has one of the West's least-diversified economies, said Steve Brown, an economist who's director of UNLV's Center for Business and Economic Research. A third of Southern Nevada's tourists came from California in 2012, according to figures from the Las Vegas Convention and Visitors Authority. And 26 percent came from Southern California alone. Compare that to Arizona, which sent Las Vegas just 6 percent of its tourists last year.
California is also an important source of new Nevadans, particularly retirees, Brown said.
"In the housing market at least, we have become a suburb of California," he said.
That trend wasn't great for Las Vegas, but it may have helped deflect housing troubles in the state's rural areas.
The Census Bureau didn't offer Nevada-specific numbers, but it noted in general that cities lost a lot more value than less-populated markets. Forty-three of the 50 biggest counties lost value from 2007 to 2012, while 37 of the 50 smallest counties posted steady values in the period.
That's partly because of simple economics. Rural regions typically don't have land shortages that push up real estate values. And with more limited job growth and economic activity, there's less pressure on housing supplies and prices. Where there's no feeding frenzy, there's no price jump — and no price slump.
"Major metro areas during the run-up experienced increased interest not only from end users but also investors, as job markets expanded at a rapid pace," Gordon said. "Those markets benefited from economic expansion, but they were equally harmed during the downturn. Some rural communities didn't benefit quite as much during the run-up, but they also weren't as impacted during the downturn."
Plus, rural areas didn't attract investors from California and other states, Kelley said. Those investors heated up markets such as Las Vegas, setting those cities up for trouble once housing cooled.
Nevada's rural pockets in particular have also benefited from more stable sectors such as mining and ranching, Kelley said. Still, some outlying communities did struggle. Consider Nye County, home to Pahrump, and Lyon County, near Reno. Joblessness in those areas surged to between 13 percent and 15 percent in 2009, when unemployment in Las Vegas and the rest of the state hovered at around 10 percent. That's because their status as bedroom communities to big cities made them rely more on new-home construction.
The recession's toll didn't stop at home values.
Clark County ranked No. 5 in its drop in homeownership, the Census study said. Its share of homeowners fell from 57.62 percent to 53.79 percent between 2007 and 2012. But there's not much hand-wringing among experts over that stat. Yes, there are always concerns about community stability when fewer people invest financially in their neighborhood.
But Brown said the drop in homeownership freed locals from pricey mortgages and left them with more discretionary income. That's partly why improvements in state and local taxable sales have handily outstripped growth in incomes and tourism, Brown said.
Besides, home-buying isn't for everyone, and too many locals were in houses they couldn't afford anyway, Kelley said.
"Not everybody is a homeowner. Some people like renting because it gives them the flexibility of going somplace totally different without having to sell something to get there," she said.
Contact reporter Jennifer Robison at jrobison@reviewjournal.com. Follow @J_Robison1 on Twitter.