Drone technology on display ahead of Las Vegas conference
September 5, 2017 - 4:43 pm
Updated September 5, 2017 - 11:01 pm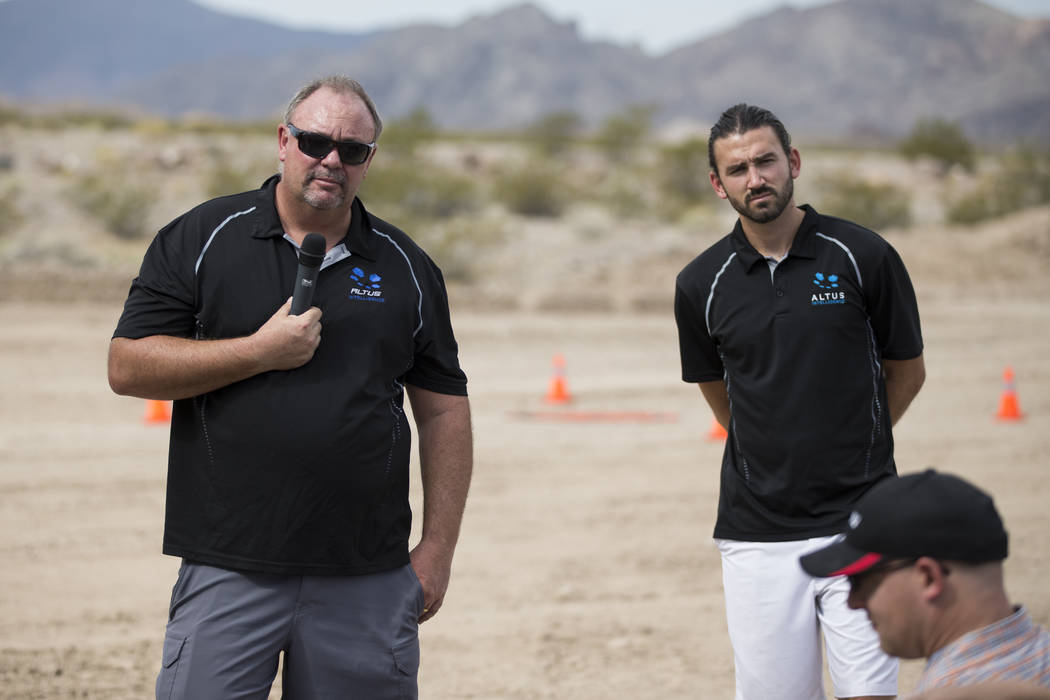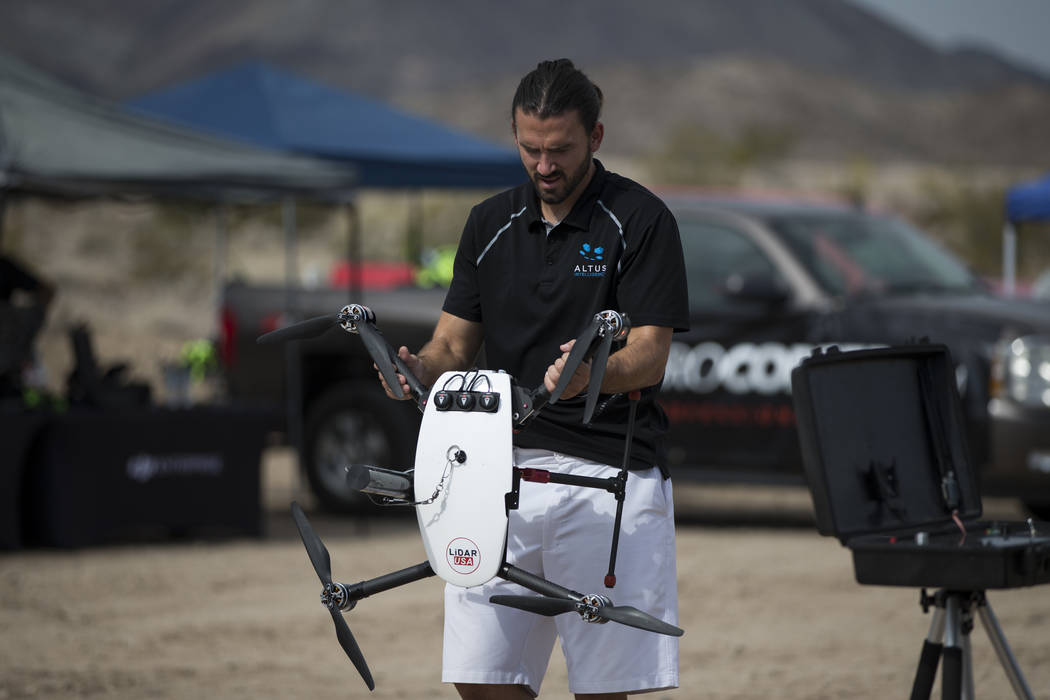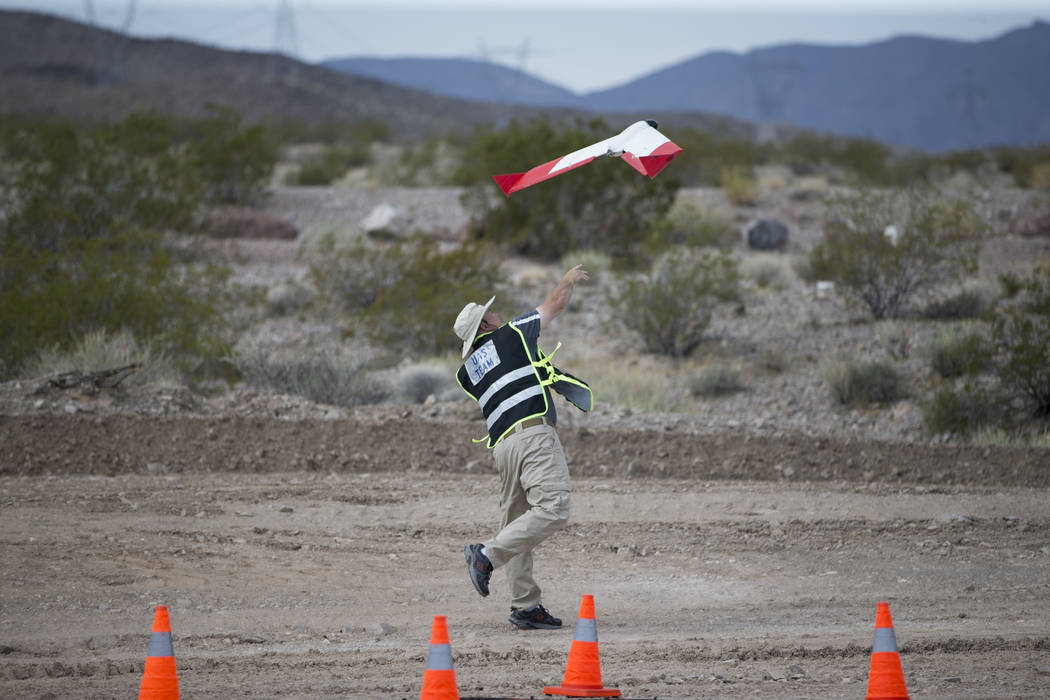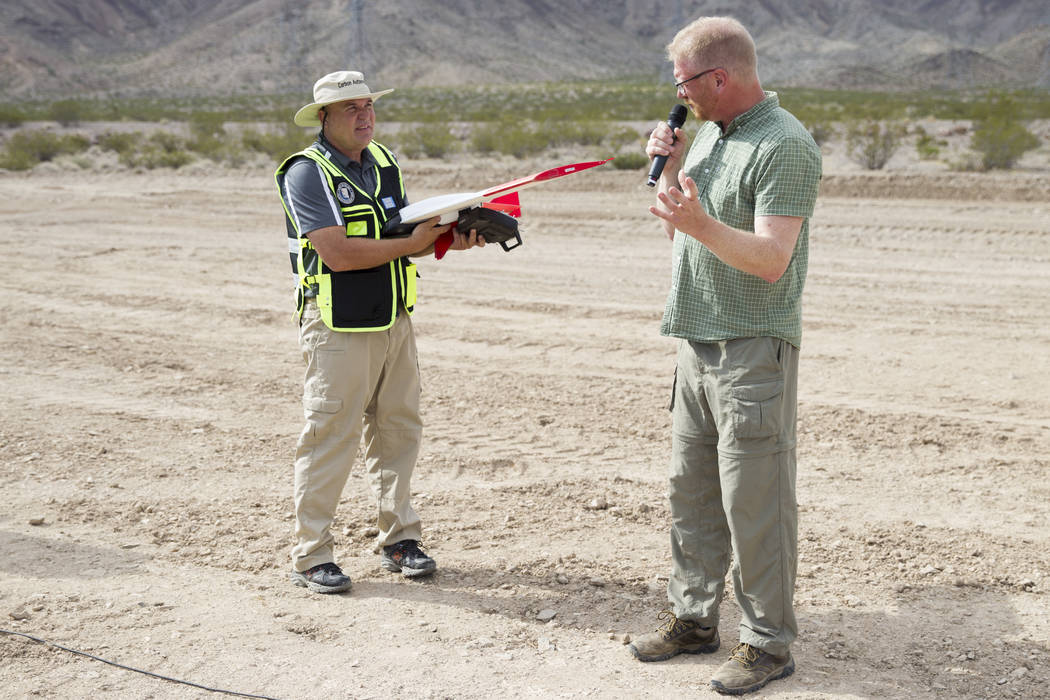 For its third annual conference, InterDrone hosted drone demonstrations Tuesday.
InterDrone, a conference dedicated to commercial drones, runs Wednesday through Friday at the Rio. But during the pre-conference day Tuesday, four companies displayed their technology at the 6-acre Henderson Unmanned Vehicle Range urban drone-testing site, located at 1125 Nevada State Drive.
"You can show a drone or a system, but when audiences can see a particular technology and capability in action, that's really where somebody takes that experience back. This is what they're going to remember about Nevada and that particular technology," said Chris Walcah, director of all testing sites in Nevada for unmanned aerial systems.
About 4,000 people and more than 150 exhibitors are expected to attend InterDrone. The conference kicks off Wednesday with a recorded welcome video message from Gov. Brian Sandoval, followed by opening keynotes from Michael Huerta, administrator of the Federal Aviation Administration, and Brian Krzanich, CEO of Intel Corp.
Huerta's message
The U.S. technology sector, including Nevada's drone industry, has long been plagued by waiting for regulatory policies to catch up. The FAA made major progress last year with implementing regulations for the type of commercial drones allowed to fly, where operators can fly them and the certification process needed to legally operate one.
But since then, the FAA has been stuck trying to keep up with industry needs, said Derek Lyons, a speaker at InterDrone and CEO of Florida-based Beyond the Drone, an advisory services company.
"Manufacturers can't even tell you how good their stuff is, because there's no criteria," Lyons said.
Last year at InterDrone, Huerta announced the administration would develop a new proposal for unmanned aircraft to fly over crowds by the end of that year. That proposal has yet to materialize.
Lyons said he doesn't want to hear any empty timelines for new initiatives in Huerta's opening keynote Wednesday.
"The best-case scenario is that he'll only talk about things that they've (the FAA) accomplished," Lyons said. "If he starts talking about what the next thing is going to be, that's the worst-case scenario, because they don't know." The FAA is juggling a slew of initiatives, and they all take time, he said.
Classes and panels
The Wednesday morning keynotes will launch more than 100 classes and panels through Friday.
The programming delves more deeply into some of the issues introduced in the previous two years, such as:
— Implementing drones into infrastructure inspection, construction, mining, precision agriculture and public safety.
"We have far more speakers that are coming from industry this year, speaking about their experience with drones," said InterDrone Chairman Ted Bahr. "In the past most of the speakers were manufacturers, or consultants, or legal experts, or others who were directly involved in the drone industry, as opposed to a vertical industry like mining or agriculture itself."
— Counter-UAS, or the commercial development of defense systems against UAS threats.
About 100 companies have come up with different technological solutions to keep drones out of areas where they shouldn't be, like over prisons, nuclear plants or stadiums full of people, Bahr said. Only some of these companies will be exhibiting at the show.
— Securing drone data.
"Securing data and cybersecurity issues generally always affect any new technology," said Lisa Ellman, a speaker at InterDrone and partner and chair of the Global Unmanned Aircraft Systems Group at Washington, D.C.-based Hogan Lovells law firm.
"Cybersecurity is a very important issue for the industry to consider and be on top of, and we'll only see more of that to come."
Contact Nicole Raz at nraz@reviewjournal.com or 702-380-4512. Follow @JournalistNikki on Twitter.
Expected turnout for InterDrone 2017:
4,000 attendees
150 + exhibitors
InterDrone 2016:
3,518 attendees
155 exhibitors
InterDrone 2015:
2,797 attendees
100 exhibitors
On-site pricing:
One day pass: $295
— includes all classes, panels, sessions and expo
Two day pass: $395
— includes all classes, panels, sessions and expo
Expo only pass: $100
— or $75 online before the show