Las Vegas rooftop solar financing plan proposed despite PUC decision
January 19, 2016 - 6:28 pm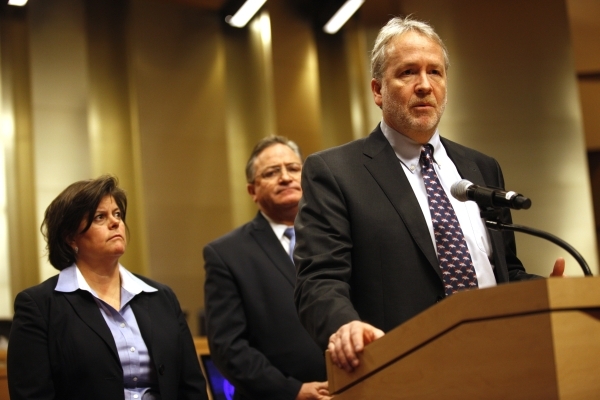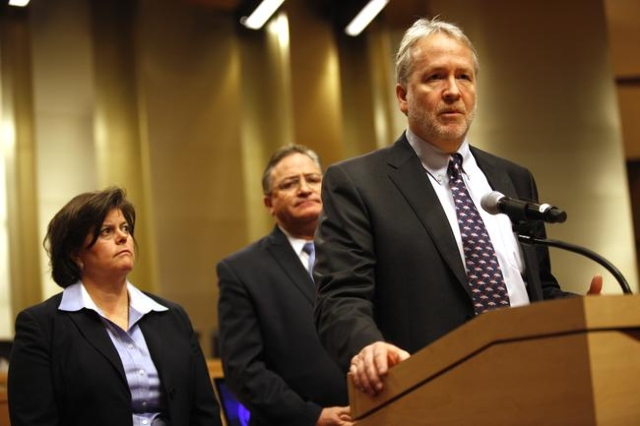 Las Vegas Mayor Pro Tem Steve Ross proposed a financing plan Tuesday that he hopes will encourage residents to continue to install rooftop solar despite the state Public Utilities Commission's recent net metering decision that makes it more expensive.
Ross called the PUC's move the catalyst in moving forward with the plan, which he said has been in the works for several years.
"We need programs and policies that make sustainability the obvious choice for our residents and businesses," Ross said during a press conference at City Hall.
According to Ross, the ordinance would create an "energy improvement district," which would operate like a citywide special improvements district. Homeowners could opt in to a financing program that would spread the upfront cost of the pricey panels and their installation — which can run between $15,000 and $20,000 — over about 20 years. The loan would be tied to the property and not to the homeowner.
Las Vegas is the first municipality in Nevada to propose such a move. Ross said he expects the ordinance to come in front of the City Council for approval by early spring.
The goal of the program is to encourage people who might be hesitant to move to solar energy because of the new rate structure by spreading out the upfront costs over several years, he said.
But he admitted the proposed ordinance "would not address the impact the Public Utilities Commission rate change is having on the solar industry in Southern Nevada."
Net metering customers of Nevada Power, part of NV Energy, have seen their monthly service charge climb to $17.90 from $12.75 under the new tariff. The monthly service charge will continue to rise, reaching a rate of $38.51 by Jan. 1, 2020. Credits for excess generation from rooftop solar systems also will decline over the next five years.
The move has met swift backlash from both customers and rooftop solar providers.
Hundreds of customers angrily voiced their concerns last week during a PUC meeting, and two major rooftop solar companies, SunRun and SolarCity, said they would no longer sell or install systems in Nevada as a result of the new rate structure.
Ross said he disagreed with the decision from the commission and threw barbs at the PUC while announcing the proposed finance program.
"Thousands of jobs are leaving our community because of this move. This concerns me and is absolutely unacceptable," Ross said.
The mayor pro tem also called the decision from the PUC a "huge" step backward in regards to sustainability.
"What are we trying to tell the world? That we don't care about solar?" Ross asked. "We should be the solar capital of the world, and we're going to continue to go that direction in the city of Las Vegas."
Contact Colton Lochhead at clochhead@reviewjournal.com or 702-383-4638. Find him on Twitter: @ColtonLochhead