MGM Resorts activates solar power array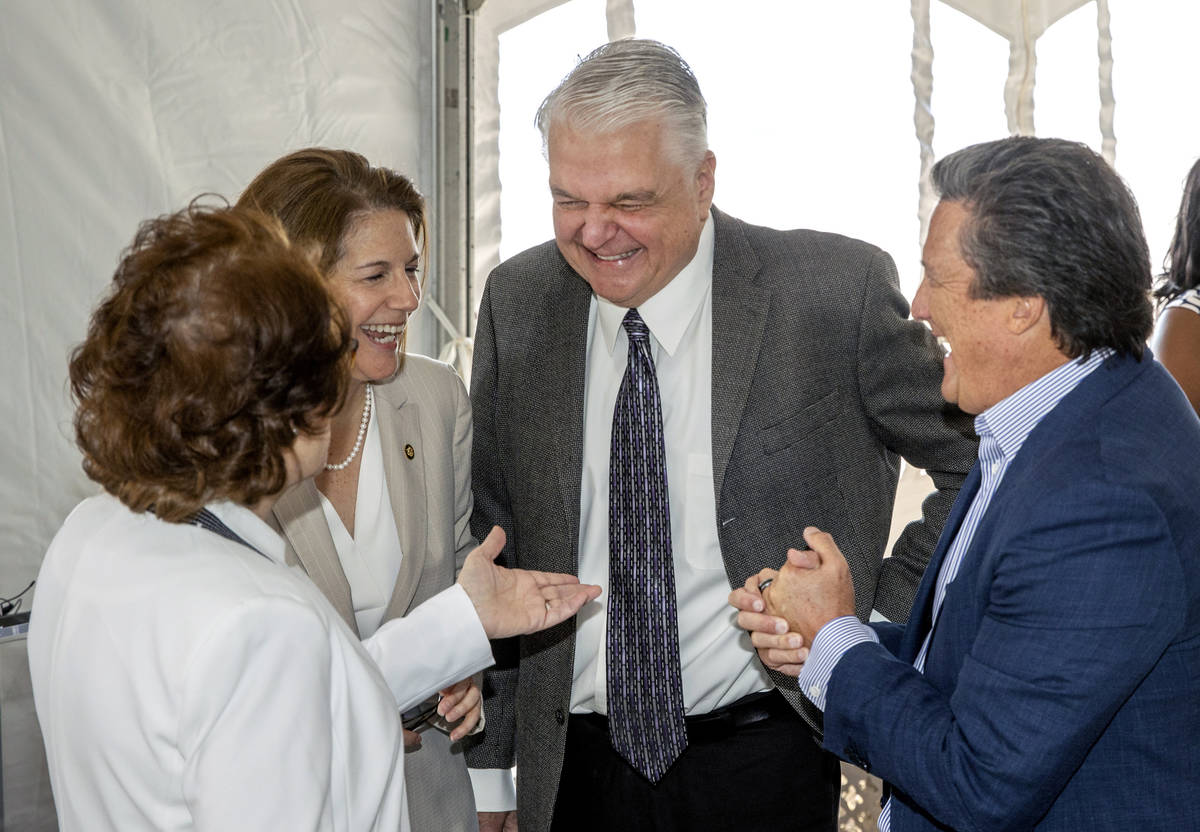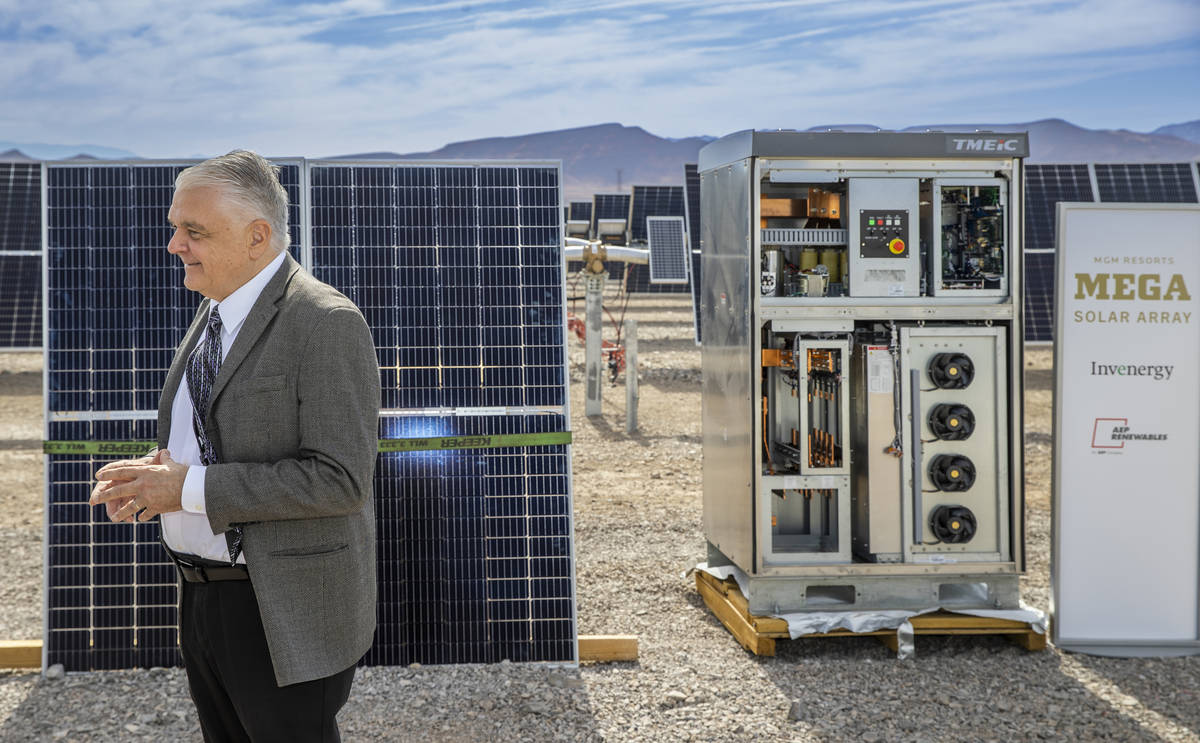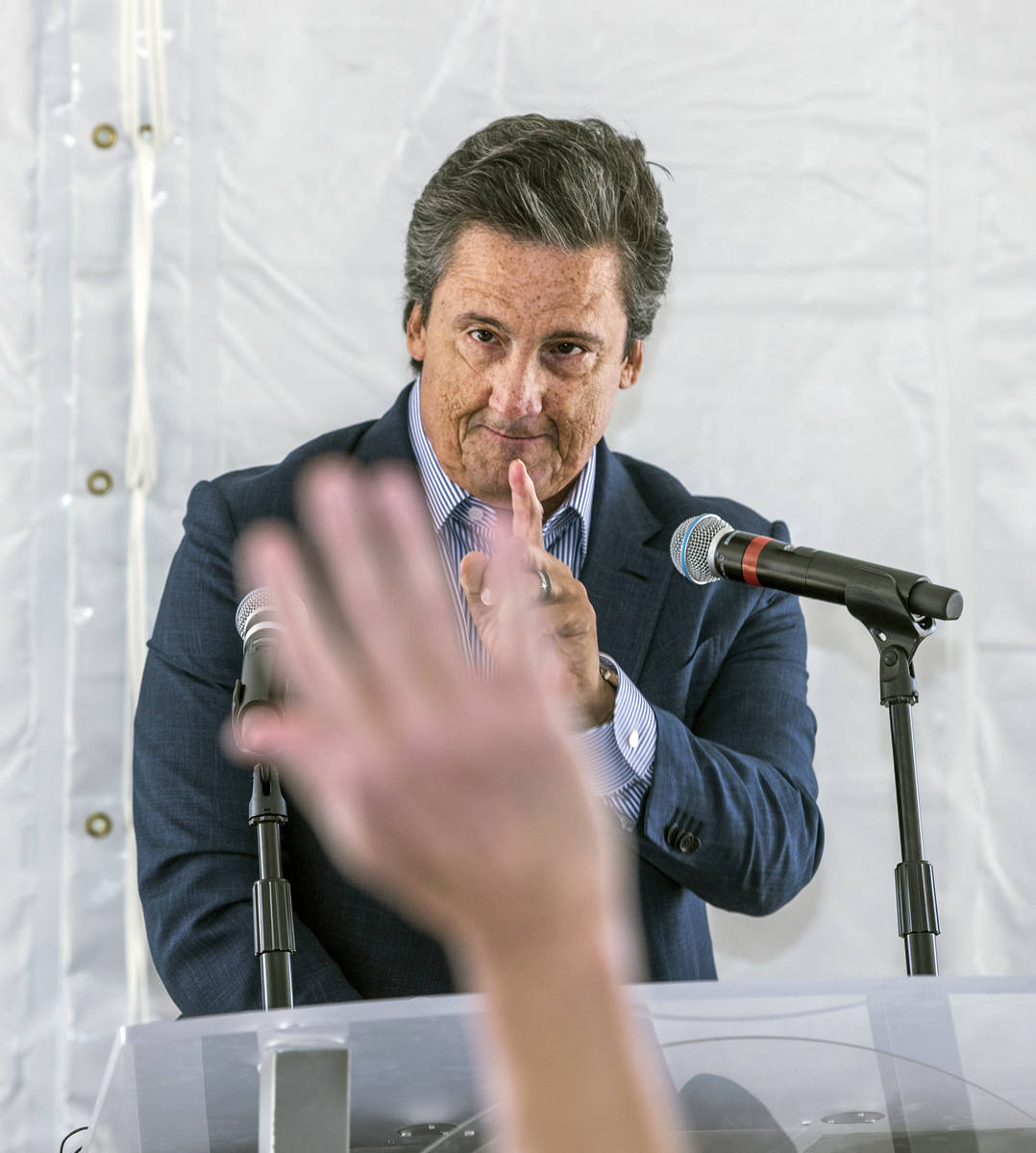 MGM Resorts International on Monday launched a 100-megawatt solar array designed to power 13 Strip properties and 36,000 hotel rooms.
Gov. Steve Sisolak, Sens. Catherine Cortez Masto and Jacky Rosen, D-Nev., and MGM Resorts CEO Bill Hornbuckle were among those who took part in the event.
"Today is a culmination of a transformation towards environmental sustainability that's been happening across the Strip for several years now," Hornbuckle said. "The work we're doing in this area is truly transformational. It's changing Las Vegas as we know it today."
Sisolak touted the Nevada and MGM Resorts' green energy efforts as he stood in front of the crowd of a few dozen inside a tent off of Highway 93, just steps away from the project site.
"The Las Vegas Strip, as you all know, is home to some of the most iconic sights and structures in the world, including glittering lights and neon that adorn them. Powering those lights and much of the Strip with clean energy helps solidify Nevada's role as a national leader in renewable energy. Visitors the world over need to know that Las Vegas isn't just Sin City, it's renewable energy as well."
Cortez Masto used the occasion to underscore the importance of transitioning to clean energy.
"It has already been a tremendously hot summer. As we've talked about, the effects of climate change are clearer than ever here in Las Vegas and across the country," Sen. Cortez Masto said Monday. "We must prioritize investments in clean energy and workers who both rely on and benefit from this infrastructure."
The Mega Solar Array project was developed in partnership with Invenergy, a developer and operator of sustainable energy projects, and structured through a 20-year power purchase agreement.
Earlier this year, Invenergy sold a 75 percent interest in the project to AEP Renewables, a subsidiary of American Electric Power, one of the nation's largest electric companies. Invenergy Services, a subsidiary of Invenergy, will provide operations and maintenance and balance-of-plant services under a long-term agreement.
The power-up plan will provide a long stride toward the company's energy sustainability goals. Hornbuckle said the company is aiming for a 50 percent cut in emissions by 2030.
MGM's Mega Solar Array is located on 640 acres in the desert north of Las Vegas. The 323,000-panel array marks the hospitality industry's largest directly sourced renewable electricity project worldwide, according to an MGM Resorts release.
It is expected to produce up to 90 percent of MGM Resorts' Las Vegas daylight power needs. Among the properties powered by the project will be Aria, Bellagio, Mandalay Bay, MGM Grand and The Mirage.
Contact Dylan Svoboda at dsvoboda@reviewjournal.com. Follow @dylanksvoboda on Twitter.