Nevada governor declares state of emergency after fuel pipeline leak
Updated February 10, 2023 - 11:01 pm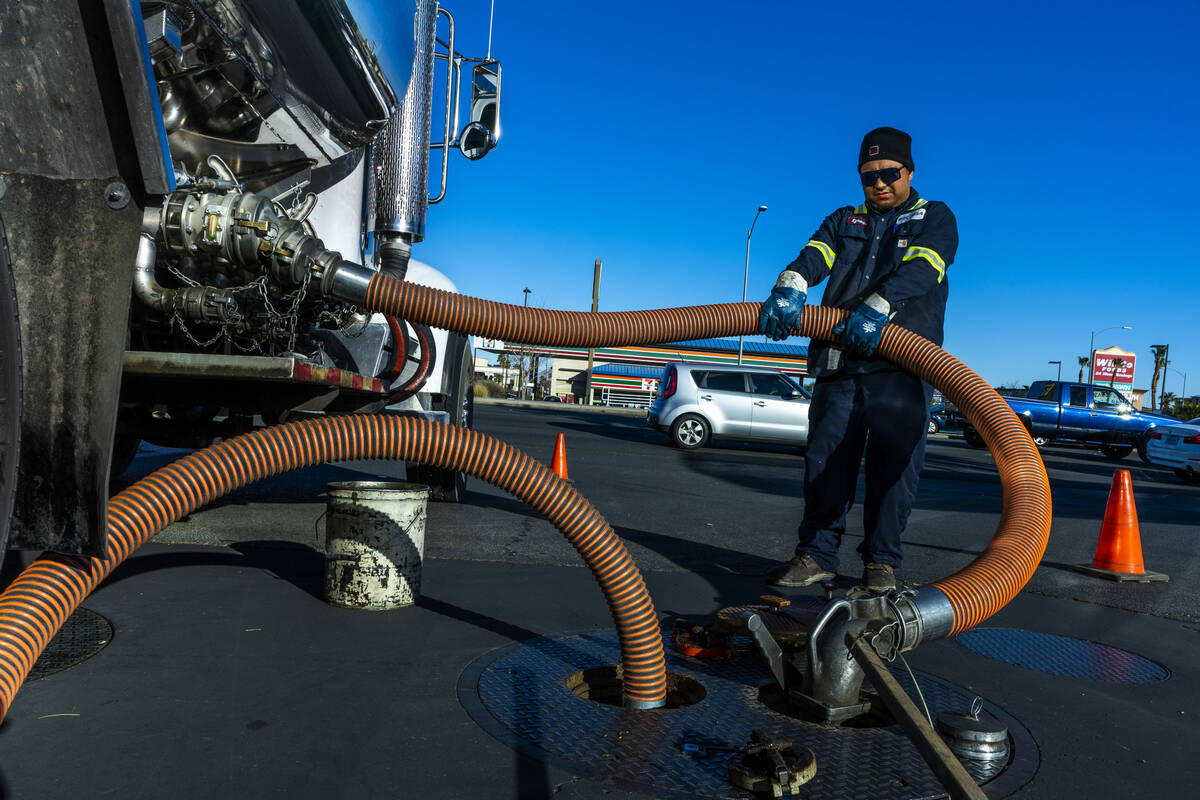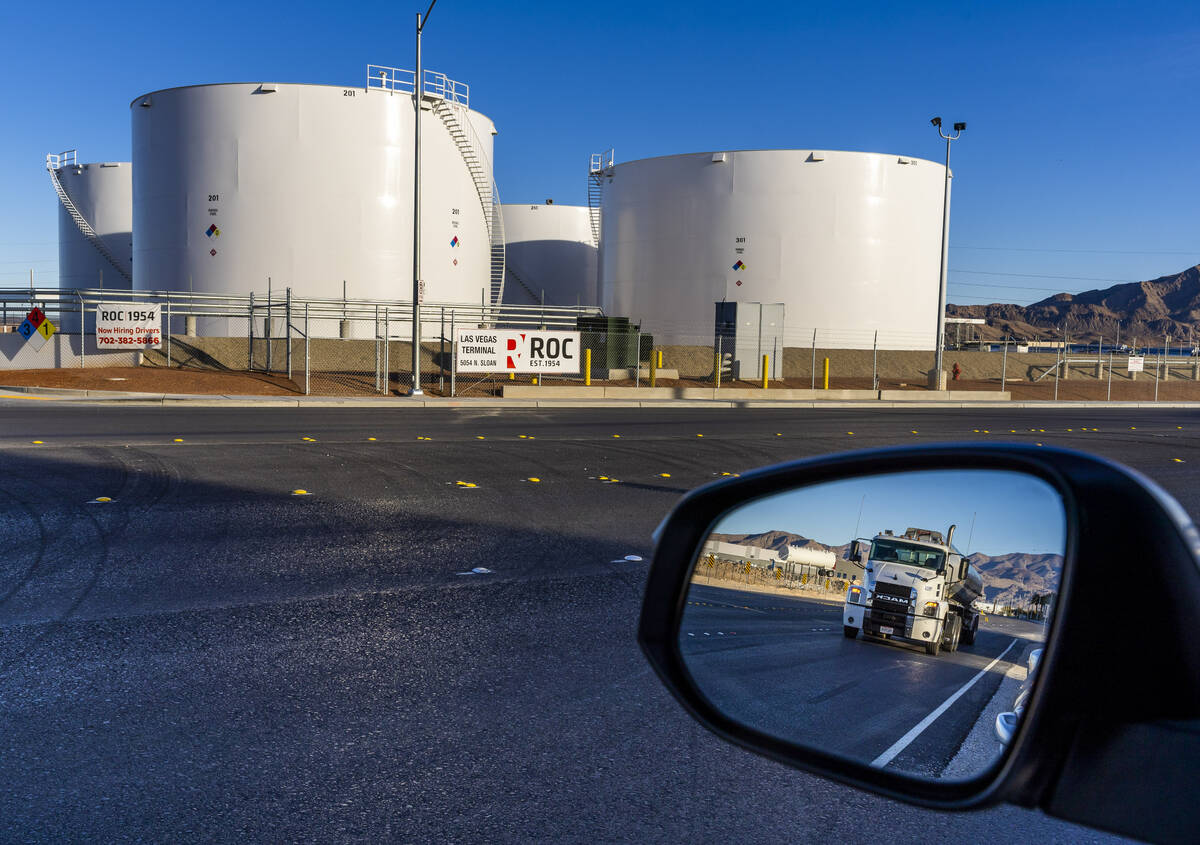 Gov. Joe Lombardo declared a state of emergency Friday night after a leak was detected Thursday in a pipeline that supplies fuel to Las Vegas.
The leak of about 205 gallons of gasoline from an above-ground pipeline was detected at a pumping station in the Watson neighborhood of Long Beach, California.
The Kinder Morgan energy company shut down its 566-mile CalNev pipeline to investigate a release, according to a statement from the company. The pipeline supplies gasoline, diesel and jet fuel to locations throughout California and Nevada, including Las Vegas, according to the company's website.
"To avoid any unnecessary shortages, I strongly urge all Las Vegas residents to avoid panic buying while awaiting repair timeline updates," Lombardo said in a statement.
Clark County also declared a fuel emergency late Friday.
"This leak has not impacted the supply of fuel, but rather the method in which this fuel normally comes into Southern Nevada," a county statement read.
Lombardo's declaration directed the Nevada Department of Agriculture to request from the Environmental Protection agency, "any necessary fuel waivers to expand the available fuel options."
According to the declaration it will expire in 15 days unless it is renewed.
Quite a line due to the gasoline panic at Sam's club at arroyo crossing here in Las Vegas @LasVegasLocally pic.twitter.com/5KulJD5Ti5

— Emperor Batsteg (@batsteg) February 11, 2023
Katherine Hill, Kinder Morgan's corporate communications manager, said that only the pipeline that delivers unleaded and diesel fuel to the valley has been affected and that the leak has not had any effect on jet fuel deliveries to Harry Reid International Airport.
A report filed by the company Thursday said that Kinder Morgan contained the spill and that there were no reported injuries as a result of the incident.
"The appropriate regulatory agencies have been notified, and an investigation into the cause and quantity of the release will be conducted. We are working closely with our customers on potential impacts," the statement said.
Kinder Morgan is not the only fuel supplier for Las Vegas, which also receives gasoline from refineries in Salt Lake City, according to the U.S. Energy Information Administration.
Clark County spokesman Erik Pappa said the county believes it has an adequate supply of fuel and "does not anticipate an immediate impact on gas availability."
Too early to know impact on Vegas
It's too early to know just how the leak and pipeline shutdown will affect fuel availability and prices in the Las Vegas Valley, said John Treanor, spokesman for AAA Nevada.
Treanor said winter usually brings lower demand for fuel, but the question comes down to supply.
"Any disruption to service in Southern California could potentially affect us, but we just don't know what it's going to do yet because we don't know the other factors around it," Treanor said.
Local drivers flock to stations
Many Las Vegas Valley residents flocked to gas stations after hearing about the pipeline as they looked to refill their cars before gas prices go up.
At the Costco on Martin Luther King Boulevard early Friday evening, the line for gas wrapped around the building and nearly extended out of the parking lot. A similar scene played out at a Sam's Club gas station in The Arroyo Market Square shopping center in southwest Las Vegas.
The pipeline shutdown isn't what drove Tyler Stewart to get gasoline, but he wasn't surprised by the long line given the news. He said crowded gas stations are a familiar sight to him after the COVID-19 pandemic.
"It was kind of like this when gas prices started going down, up and down all over the place for COVID a while back anyway," Stewart said.
Noelle Daniel went to fill up after her daughter-in-law told her about the pipeline's leak. She said she wished she knew about the shutdown earlier so she could have avoided the crowd.
Daniel said the higher gas prices and cost of living makes her want to move back to Detroit, her hometown.
"When I first came out here (to Las Vegas) 25, 26 years ago, I never would've guessed that it would end up like this," she said.
In May 1989, repairs following a train derailment in San Bernardino, California, caused the CalNev pipeline to rupture, causing a fiery explosion that killed two people and injured 31 others, according to news stories from the time.
Contact Mark Credico at mcredico@reviewjournal.com. Follow him on Twitter @MarkCredicoII. Contact Colton Lochhead at clochhead@reviewjournal.com. Follow @ColtonLochhead on Twitter. Staff writer David Wilson contributed to this report.
https://res.cloudinary.com/review-journal/image/upload/v1676080789/Updated_GAS_PIPELINE_FEB11.jpg