Nevada regulators say SolarCity can't participate in rate hearings
August 31, 2016 - 9:18 am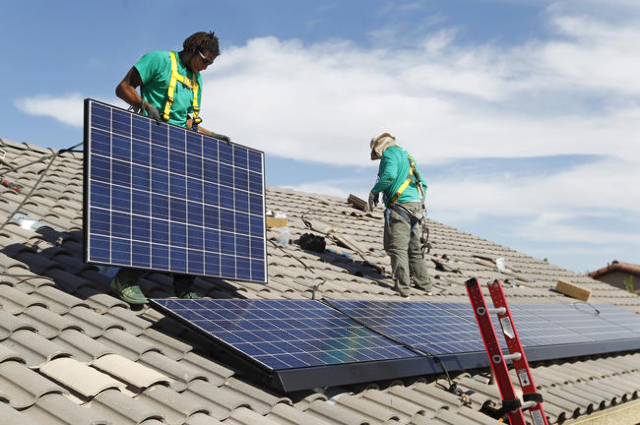 CARSON CITY — State utility regulators have excluded the rooftop solar company SolarCity from participating in a case that could restore more favorable net metering rates to as many as 32,000 residential rooftop solar customers in Nevada.
Expressing disappointment over the Monday ruling, former consumer advocate for the state of Nevada and current SolarCity Chief Policy Officer Jon Wellinghoff said: "The presiding officer has excluded the one party that the people of Nevada actually chose of their own volition, their solar provider. It makes no sense to exclude these Nevada ratepayers from the table given SolarCity has been fighting for the grandfathering of these solar customers from day one."
Solarcity said in a Wednesday statement that the "unprecedented procedural action" by the Nevada Public Utilities Commission "deprives thousands of Nevada solar customers and their chosen energy provider from having a voice in determining fair and just policies for all existing rooftop solar consumers in Nevada."
PUC Chairman Paul Thomsen's order found that SolarCity did not have a direct and substantial interest in the dockets.
NV Energy in late July made a filing with state utility regulators to grandfather residential net metering customers who installed systems or had approved applications pending by Dec. 31, 2015 in under the original, more economically viable, rates.
The proposal would protect rooftop solar customers for 20 years.
NV Energy, which does business as Nevada Power in Southern Nevada, asked the PUC to act within 90 days. Utility regulators previously rejected a proposal to grandfather in existing net metering customers under the rates that existed prior to Jan. 1 of this year.
Contact Sean Whaley at swhaley@reviewjournal.com or 775-461-3820. Find him on Twitter: @seanw801
RELATED
SolarCity stopping Nevada sales, installations after PUC ruling
SolarCity cuts 550 Nevada jobs, blames new net metering rate
Rooftop-solar employees make show of support for referendum