NV Energy $348M electrification plan runs into obstacles
Updated March 24, 2023 - 9:09 pm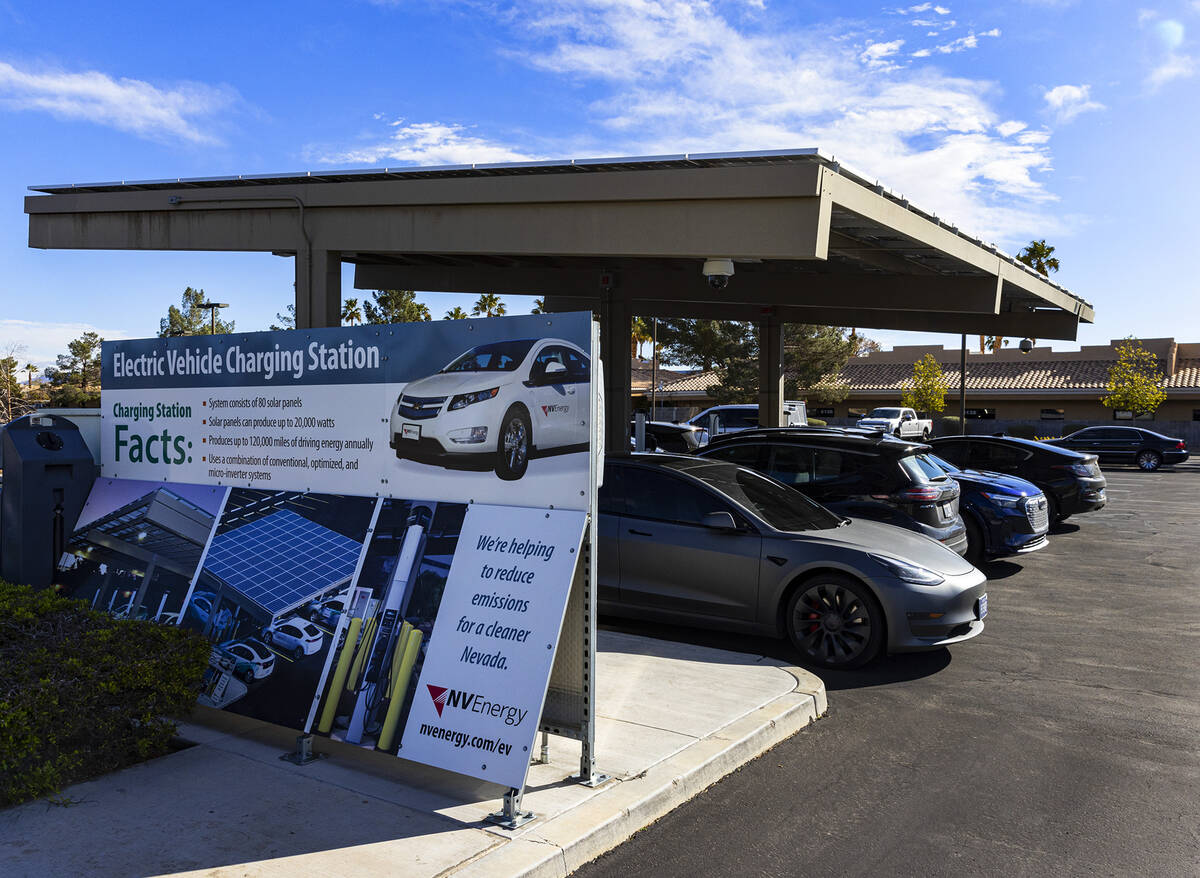 Only a portion of NV Energy's $348.5 million plan to accelerate the state's transportation electrification was approved on Thursday.
The Public Utilities Commission said the utility did not prove its plan had a reasonable budget for ratepayers to cover, approving just $70.1 million of its Transportation Electrification Plan, or TEP.
PUC Commissioner Tammy Cordova said during its meeting that the plan was too broad.
"It appears to me that NV Energy proposed spending in every area that could be considered transportation electrification, rather than gathering data (and) conducting analysis about where utility spending on transportation electrification will provide the greatest benefits," Cordova said.
NV Energy will have until the end of 2024 to allocate the $70.1 million, which will mostly focus on creating electric charging stations for school buses and along highways. But opponents of the plan, and even PUC's decision Thursday, say the utility missed an opportunity to create EV access for residents.
The Nevada Conservation League described the TEP budget as "poorly constructed."
"The limited set of programs focused on interstate charging and electric buses illustrates a missed opportunity to accelerate transportation electrification for all NV Energy customers, particularly those who live in multifamily housing," Kristee Watson, NCL's deputy director, said in an emailed statement.
Other advocacy groups such as Southwest Energy Efficiency Project, Western Resource Advocates and the Sierra Club issued statements expressing disapproval in NV Energy's proposal and the PUC order.
"Today's decision creates an imbalance where some EV uses are robustly supported by NV Energy while others are entirely neglected," Deborah Kapiloff, transportation electrification policy analyst at Western Resource Advocates, said in a statement. "Most notably, those who want to install EV chargers at their homes or workplaces should not have to wait until 2025 for the state to approve such common sense policies."
Budget breakdown
The PUC approved three programs under the proposed TEP. The first program would spend $31.9 million to place 110 chargers suitable for school buses, the second program would cost $22.7 million for 80 EV chargers along highways and the last program will allocate $1 million toward putting solar panels and battery storage equipment at certain EV charging sites. And $14.5 million of the will go toward management and contingency costs.
An NV Energy spokesperson said it received Thursday's order from the PUC and is "currently evaluating" the details. The company didn't immediately respond to questions on the budget critiques from PUC commissioners.
But in previous filings, NV Energy has defended its $348.5 million budget, which was described as "intentionally broad" and included "maximum expenditures" because of the legislative intent for these plans to accelerate electrification transportation in Nevada.
NV Energy was required by the Legislature in the 2021 omnibus energy bill, Senate Bill 448, to create two transportation electrification plans, which includes TEP. The first plan, called the Economic Recovery Transportation Electrification Plan, was approved for $100 million, and it will place 1,000 EV charging stations throughout the state by the end 2024.
NV Energy is scheduled to file its next TEP proposal in 2024.
While the PUC only approved a portion of NV Energy's plan, it noted that it's a step in the right direction.
"This is still an approximately $70 million budget for transportation electrification, which is clearly important to the commission," Hayley Williamson, PUC chair, said during the meeting. "I think that this is a really prudent course."
Contact Sean Hemmersmeier at shemmersmeier@reviewjournal.com. Follow @seanhemmers34 on Twitter.