Prius remains green-car leader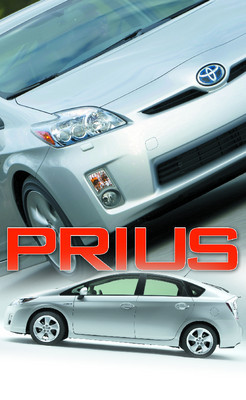 It's unusual that a decade-old nameplate could be called "iconic," but the Toyota Prius has rightfully earned this distinction.
With more than 1 million of these gasoline-electric cars whirring their way around the globe, the Prius is acknowledged as the car that took its unique fuel-sipping technology from pie-in-the-sky science experiment into the mainstream. It has also proven to be one of the most practical and cleanest ways, so far, to significantly reduce emissions and fuel use.
The new 2010 Prius, which arrives in June, maintains the outgoing edition's ideals, a base price of $22,700, as well as its general shape. It also closely copies most of the 2009 car's key dimensions, but does display updated and more attractive front and rear styling along with a distinctive crease that extends from front to rear fenders. In addition, minor roofline adjustments, plus some clever battery hardware repackaging, have led to a 5 percent gain in passenger space, particularly in the rear cabin area where it was most needed. Perhaps it's the redesigned (and more comfortable) seats, the expansive new instrument panel or the fact that up to three sets of golf clubs (formerly just two) can be stowed in back, but the new Prius feels roomier than the tape measure indicates.
The car now rides on a stiffer platform that has been engineered to deliver a more stable and comfortable ride. This was indeed confirmed in a head-to-head comparison between old and new models.
Contributing to the new Prius's sense of competency is its improved gasoline/electric-motor duo. A 98-horsepower 1.8-liter four-cylinder engine is teamed with a 27-kilowatt electric motor to produce 134 horsepower. The 2009 Prius is rated at 110 horsepower. Since vehicle weight has only increased by about 100 pounds, the new Prius's 22 percent gain in output can be felt the moment the gas powerplant kicks in under acceleration.
In addition, the torquier 1.8 is more efficient, operates at lower revolutions per minute at higher road speeds and functions without the use of a power-robbing accessory belt since the air conditioning, power steering unit and even the water pump are now electrically operated.
The standard continuously variable transmission helps the Prius achieve a rating of 51 miles per gallon in the city and 48 mpg on the highway, up from 2009's 48/45 city/highway numbers. These are ballpark numbers, though, since how you drive is important to the savings. For example, Prius chief engineer Satoshi Ogiso, who attended the car's press event in California, achieved an average 71 mpg on a measured driving loop.
To this end, Toyota has installed three separate operating modes in the Prius that encourage thrifty habits. Normal mode is for general everyday driving, while Eco mode reduces power and air conditioning output to maximize fuel savings (in the 10 to 20 percent range, according to Toyota). Finally, the EV selector allows the car to function for up to 1 mile on battery power alone as long as the top speed is less than 25 mph. A dashboard display monitor tracks your "green" status and will also tabulate average fuel economy over specific intervals or per trip.
The Prius arrives with an impressive array of standard gear, however, the optional content list really impresses, starting with a unique power moonroof/solar panel that runs an electric fan to lower the interior temperature on hot days. Also available is remote air conditioning activation that precools the vehicle for up to three minutes before entering.
More than just a hybrid eco-leader, the new Prius combines operating economy, pricepoint, comfort and overall performance into one complete package that makes the leap from science fiction to mainstream motoring.