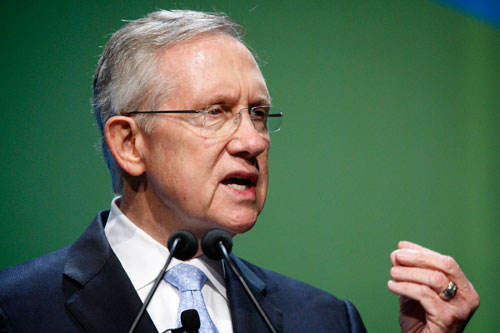 Senate Majority Leader Harry Reid took a break from stumping for renewable energy at Tuesday's National Clean Energy Summit to slam NV Energy for keeping its Reid Gardner coal-fired plant open 50 miles outside of Las Vegas.
Reid's comments came just days after he criticized the utility for not agreeing to buy power from ENN Mojave Energy LLC, a Chinese company that has proposed a major solar energy manufacturing and generating plant near Laughlin, but is finding few takers for its planned output.
Reid isn't alone when it comes to the Reid Gardner plant. NV Energy has also drawn the ire of the Moapa Band of Paiute Indians, whose reservation is near the plant, the Sierra Club and the Nevada Conservation League.
Tribal Chairman William Anderson said pollution from Reid Gardner causes respiratory problems and other ailments for the 320 Paiutes who still reside on their ancestral lands. The plant carries the name of a former energy company employee unrelated to the senator.
Reid, who in his opening remarks at the summit called the power plant a "dirty relic," said the only solution is to "close the plant – not halfway. We want all the boilers shut off."
Paiutes and conservationists gathered in front of Bellagio before the summit began to rally against NV Energy as part of an ongoing campaign to close the plant.
Reid said closing the plant by next year would save ratepayers money, a projection based on a Sierra Club report in June. According to the environmental group's financial analysis, closing Reid Gardner could save the company and customers $59 million.
In a statement, NV Energy said Reid Gardner is the company's only Southern Nevada coal facility and operates in an "environmentally responsible manner." Company spokeswoman Jennifer Schuricht said the plant recently implemented technology that captures 99.9 percent of particulate emissions.
Reid said NV Energy should focus on sustainable alternatives. "There is no clean coal," Reid said. "There's cleaner coal, but no clean coal."
NV Energy also has 44 renewable energy projects, eight of which are currently in the pipeline.