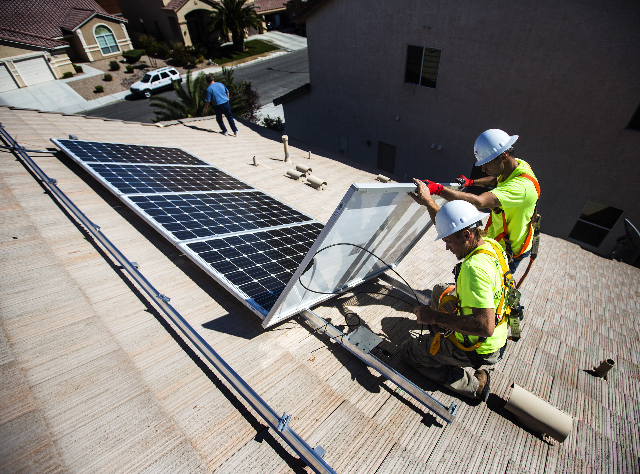 CARSON CITY — A coalition of rooftop-solar companies has submitted a proposal to the Nevada Public Utilities Commission asking the panel to adopt Nevada's existing net metering rate as an interim tariff through Dec. 31.
The Alliance for Solar Choice, in its filing with state regulators, said the new rate proposed by NV Energy for future rooftop-solar customers filed July 31 "proposes 16 new tariffs that include exorbitant new fixed charges for net metering customers and an unprecedented proposal to impose demand charges on residential customers for the first time."
The coalition said that NV Energy's proposal would have a devastating impact on solar customers and threaten the state's 6,000 solar industry jobs.
The Legislature directed the PUC to adopt a new rate for future net metering customers, who receive a credit for the excess electricity they produce from their rooftop-solar systems. Lawmakers declined to raise the existing net metering cap of 235 megawatts, which could be reached as soon as the end of this month. The new tariff would take effect by Dec. 31.
Rooftop-solar officials say a new but reasonable interim tariff is needed to keep the industry thriving in Nevada if the 235-megawatt cap for the existing program is reached in the next few weeks. But they oppose NV Energy's net metering rate proposal for its Nevada Power customers in Southern Nevada. The utility has proposed its new rate be adopted on an interim basis starting Sept. 15.
The PUC will consider interim tariffs at a workshop Friday.
"NV Energy's proposal is voluminous, complicated, extreme, unprecedented, and requires opportunity for discovery and more than a single day of hearings," the coalition filing says.
As one example, the filing proposes an increase in the monthly fixed charge for residential solar customers to $18.15 from the current $12.75, a 42 percent increase, the filing says.
The group also takes issue with a proposal for a new "demand" charge for rooftop-solar customers and suggested it was the first step toward imposing such charges on all residential customers.
NV Energy says the demand charge is meant to cover the cost of infrastructure and new generation capacity that all of its customers rely upon to ensure an uninterrupted power supply even at peak demand times.
The only utility to adopt a mandatory demand charge for residential solar customers is the Salt River Project in Arizona, where there was a 95 percent drop in solar applications, the filing says.
Bryan Miller of Sunrun Inc., a member of the solar coalition, said recently there is evidence to suggest that NV Energy, part of Berkshire Hathaway Energy, has a long-term plan to apply such charges to all customers.
NV Energy said in a response: "Rate structures that include a demand charge send transparent price signals and accurately reflect the cost of serving customers. A demand charge has been in place for our commercial customers for more than 50 years. We have not made the decision on whether we will be proposing a three-part rate structure for our residential customers."
The solar filing says: "The commission should take time to carefully consider whether Berkshire's proposal is good for Nevada ratepayers or just Berkshire's shareholders."
Contact Sean Whaley at swhaley@reviewjournal.com or 775-687-3900. Find him on Twitter: @seanw801.