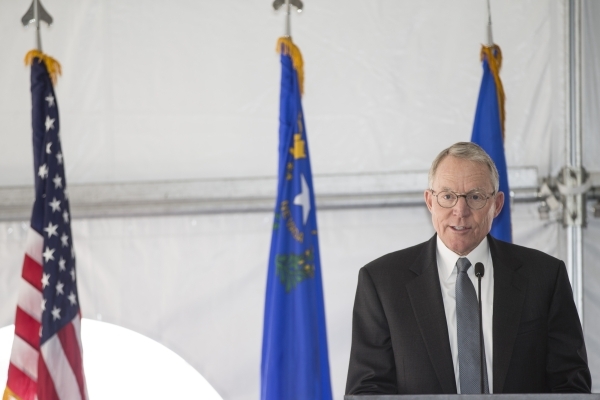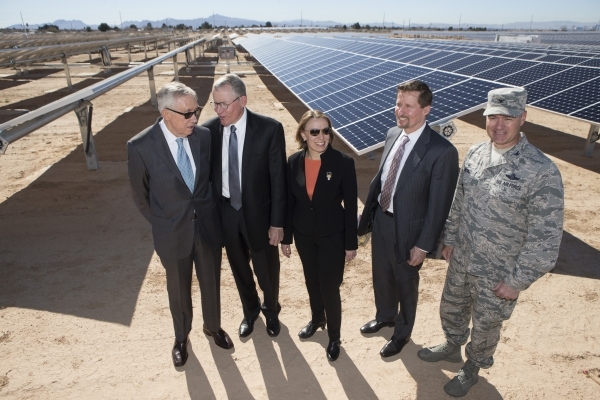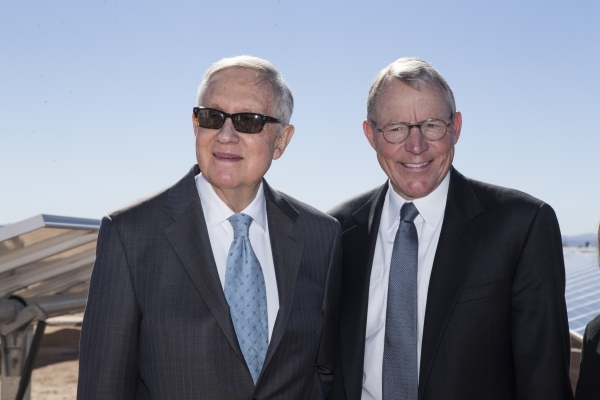 Nevada's seemingly contradictory renewable energy policies were in focus Tuesday as officials dedicated the first utility-scale solar facility to be owned and operated by NV Energy.
The Nellis Solar Array II project, at Nellis Air Force Base, completed initial testing last fall and now sends solar-generated electricity from the 15-megawatt plant to the base.
U.S. Sen. Harry Reid, Assistant Secretary of the Air Force Miranda Ballentine and NV Energy President and CEO Paul Caudill attended the ceremony.
The dedication came just days after state utility regulators approved new, less favorable rates for 17,000 Nevada rooftop solar customers of NV Energy. Rooftop solar companies say the new rates, phased in every three years over 12 years, will drive the industry out of Nevada and take thousands of jobs with it.
The Nevada Public Utilities Commission approved the new rates to address a subsidy paid by nonsolar customers, but rooftop solar owners and companies disputed that the subsidy exists.
At the Nellis event, Reid supported a ballot referendum backed by rooftop solar advocates to return Nevada's net metering program to the original, more favorable rate structure that existed before Jan. 1. He also supported a second measure to abolish NV Energy's monopoly as Nevada's electricity utility and allow consumers to choose how they get their power by 2023.
"People believe they have a right to put solar panels on their roofs," Reid said. "It's extremely important for the consumer to change the old model and have a new model."
Asked about Reid's comments, Caudill said: "It's not about pro-solar or anti-solar, it's simply about who pays for it. It's also not about profits. NV Energy, despite what you might read, does not profit from any decision that the Public Utilities Commission makes on net metering."
With the Nellis Solar Array II project and the 13.2-megawatt Nellis Solar Star project, Nellis Air Force Base can run exclusively on renewable energy during daylight hours.
On another renewable energy front, Gov. Brian Sandoval and 16 other governors on Tuesday announced the Governors' Accord for a New Energy Future, an agreement to promote clean energy, clean transportation choices and a modern electrical grid.
The accord will let the participating governors' states collaborate, learn from one another and leverage partnerships in energy planning and policymaking.
In a telephone press conference announcing the agreement, Sandoval said Nevada brings its Electric Highway program to develop electric car charging stations on the 448-mile route linking Southern Nevada with Northern Nevada's largest city.
The project is the first in an effort to give electric vehicle owners access to charging stations statewide, he said.
Sandoval also said one-third of the state's renewable energy is exported out of state, a process helped by the construction of transmission lines connecting Nevada's grid to grids in other states.
The participating governors' senior advisers will convene shortly to discuss steps to pursue shared priorities and commitments in the accord.
Contact Keith Rogers at krogers@reviewjournal.com or 702-383-0308. Find him on Twitter: @KeithRogers2
Contact Sean Whaley at swhaley@reviewjournal.com or 775-461-3820. Find him on Twitter: @seanw801