Tour promoting climate change awareness stops in Las Vegas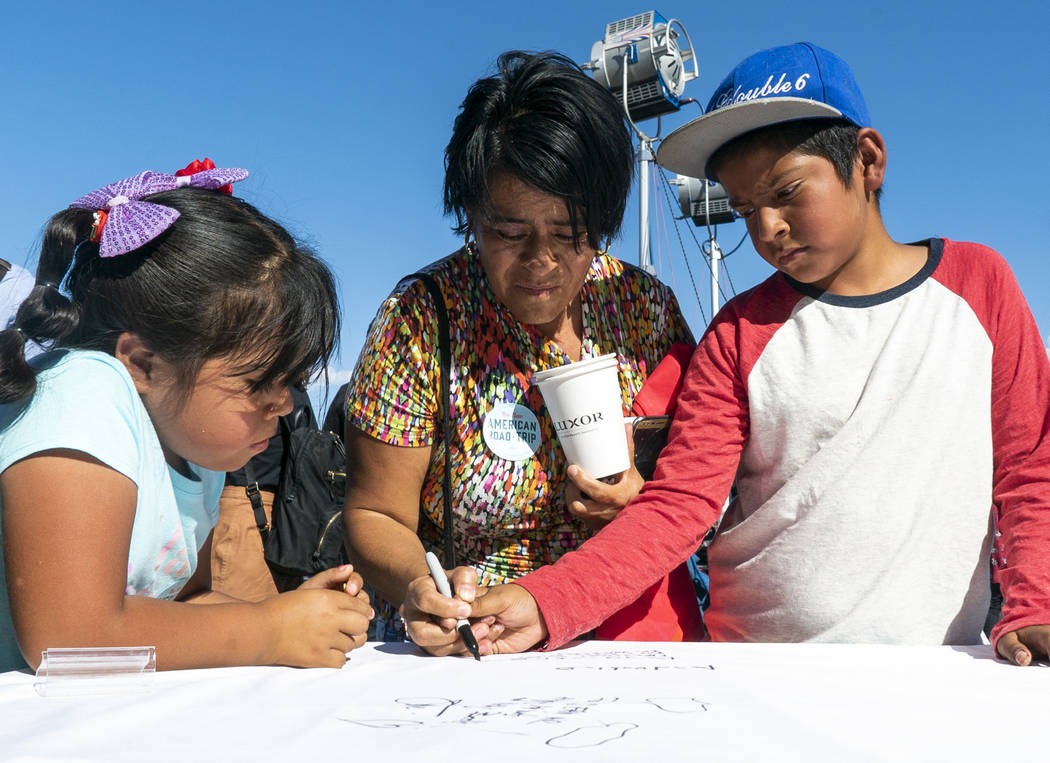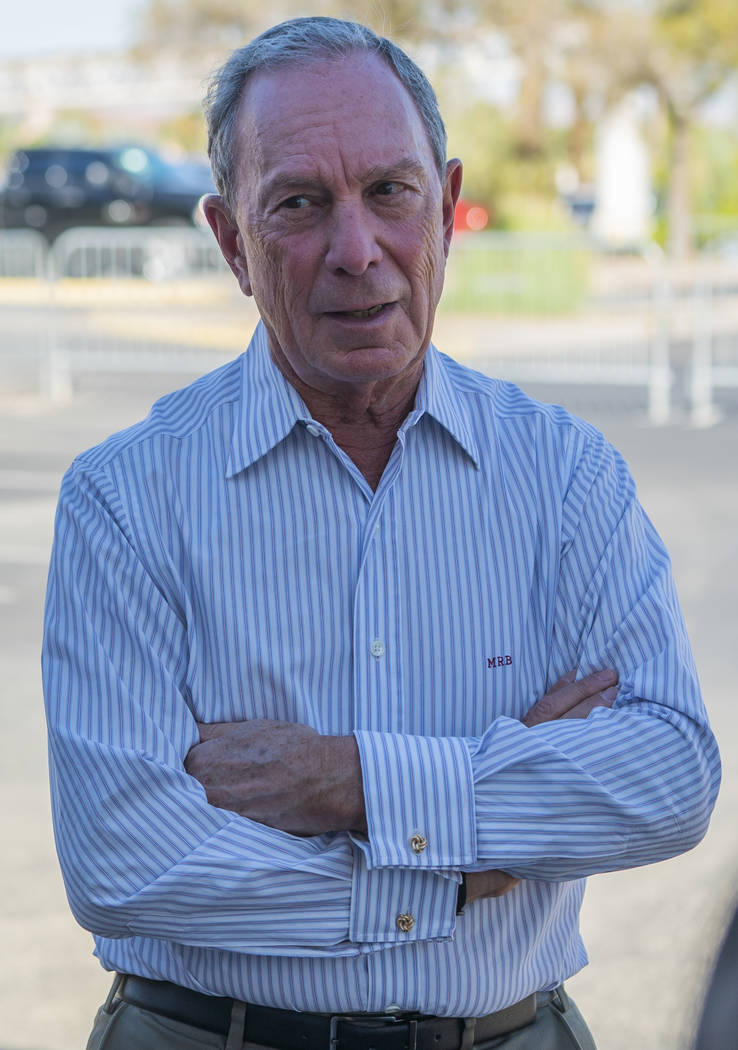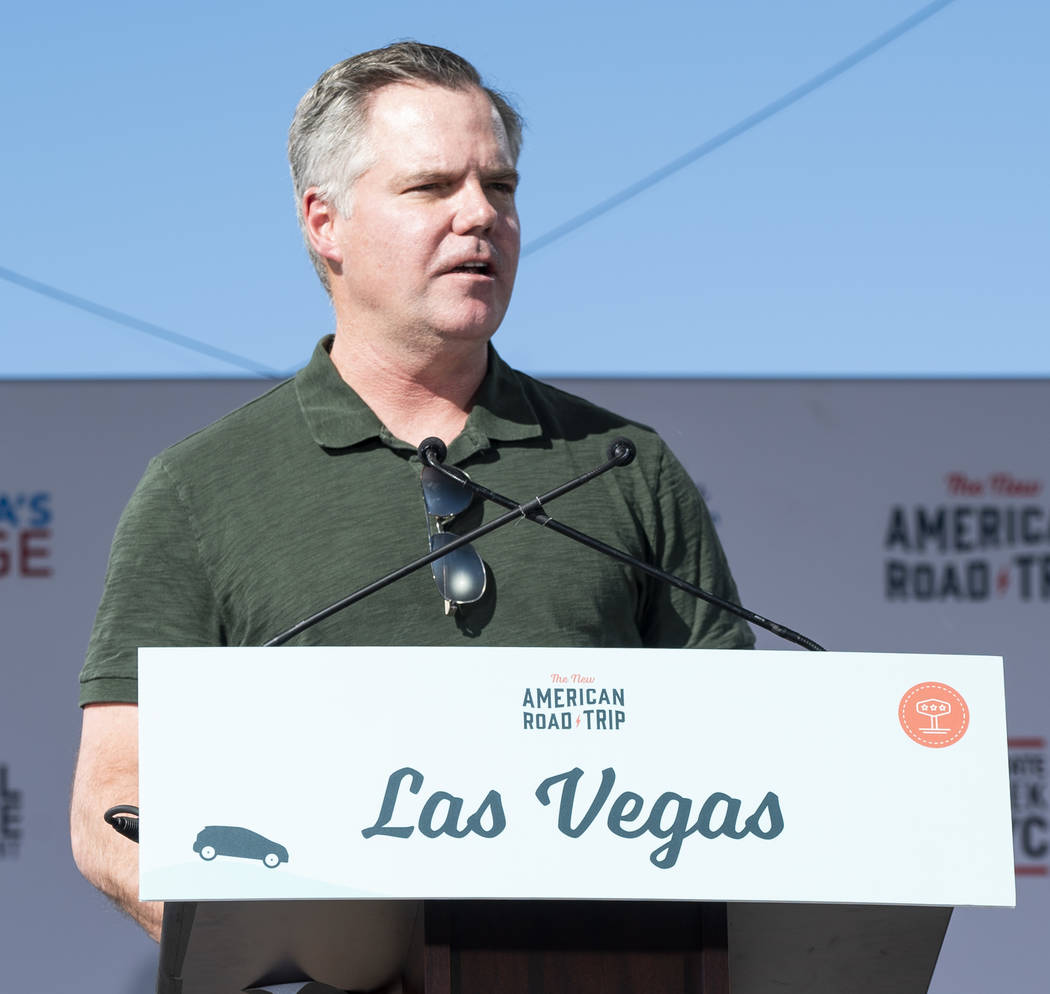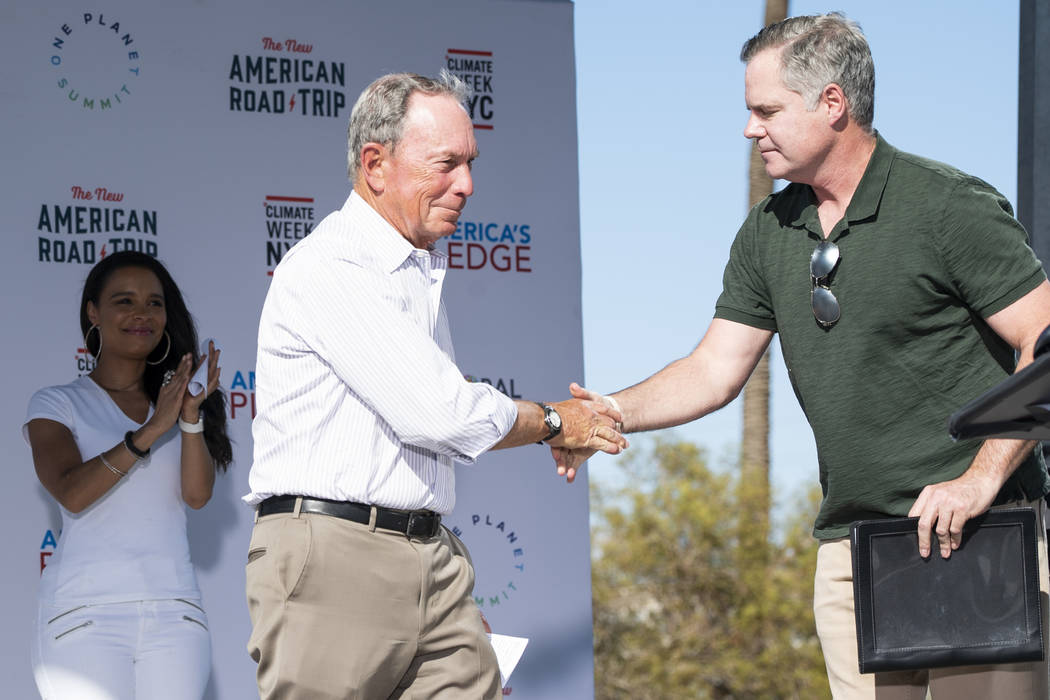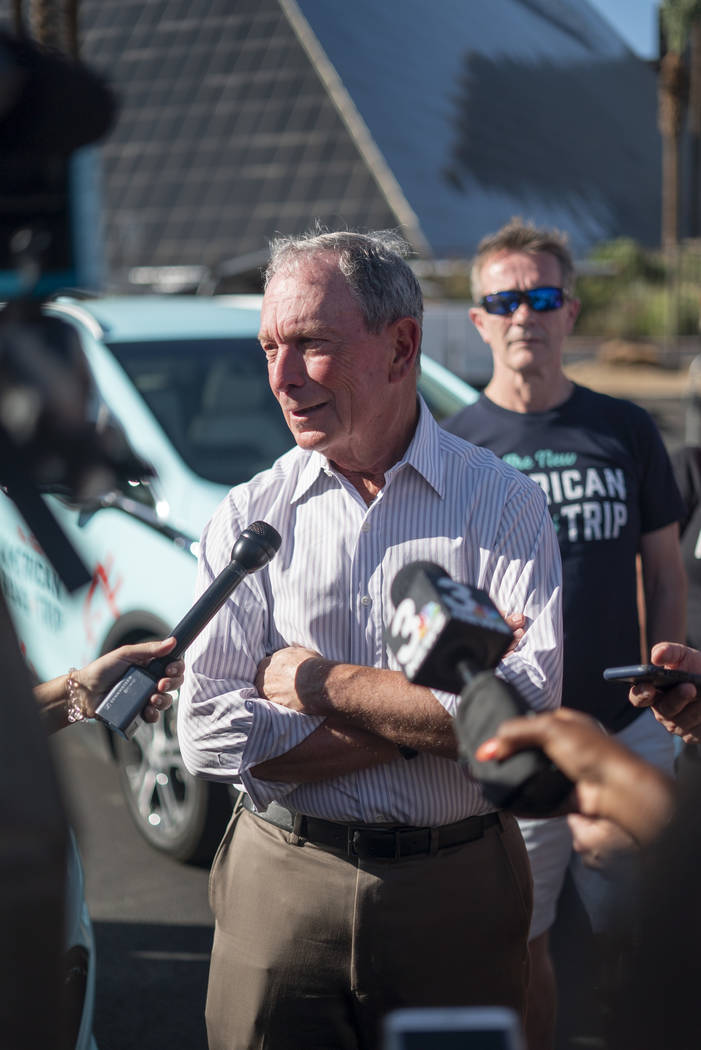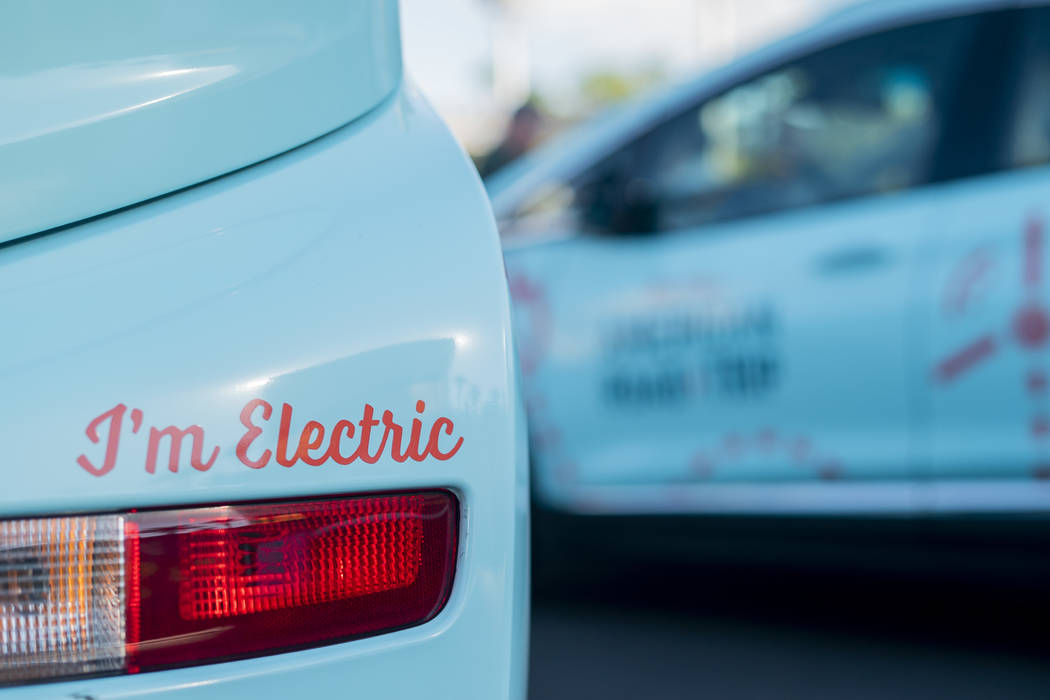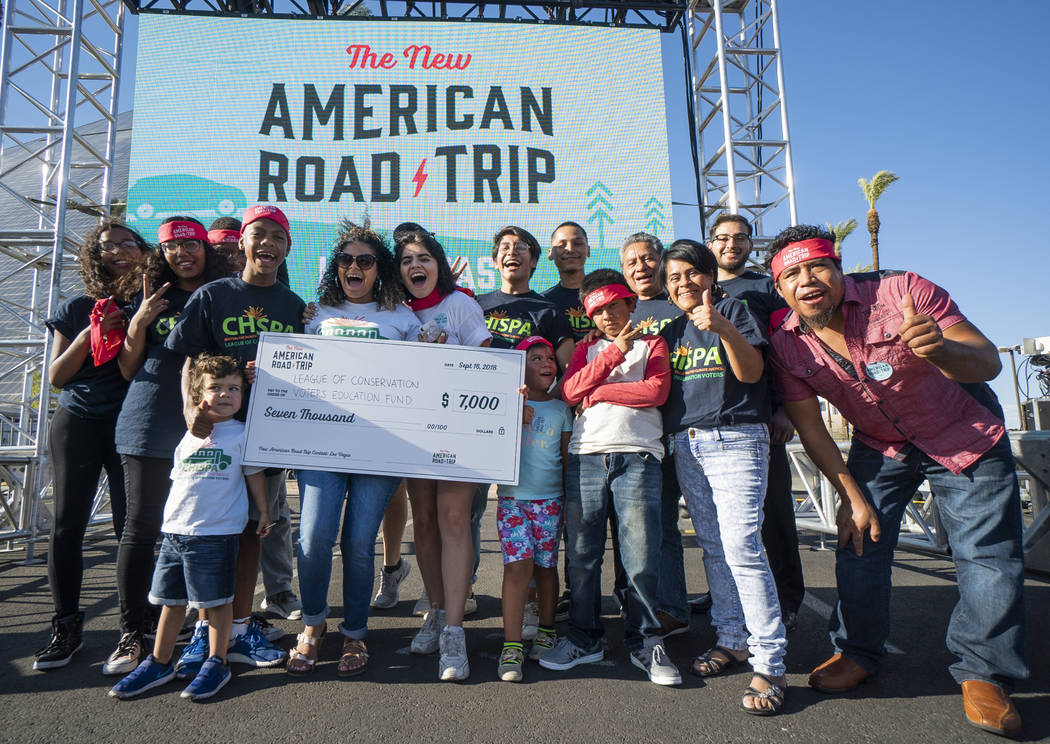 A large banner on display Sunday outside the Luxor featured a call to action for a carbon neutral future. Dozens of signatures were scribbled across the fabric, with celebrity autographs from "Game of Thrones" actor Nikolaj Coster-Waldau alongside names of Las Vegas residents.
Delivering this call to action is one of the main missions behind the New American Road Trip, a 12-day electric vehicle tour across America. The tour's first public stop in Las Vegas on Sunday featured former New York Mayor Michael Bloomberg, MGM Resorts International chairman and CEO Jim Murren and actress and singer Antonique Smith.
The road trip began Friday at the Global Climate Action Summit in San Francisco and will continue across 13 states, with additional stops in Boulder, Colorado, St. Louis and Pittsburgh before arriving in New York on Sept. 26 for the One Planet Summit.
"We're sending a message loud and clear. America is leading the way on climate change, and nothing is going to stop us," Bloomberg said. "The fact is, Washington doesn't control our ability to fight climate change. The American people do."
Energy in Nevada
Each stop on the trip was chosen because of the city's commitment to climate science, said João Talocchi, managing director at Purpose, one company organizing the trip.
Nevada ranked fourth in utility-scale net generation from solar energy in 2016, according to the U.S. Energy Information Administration. About 11.5 percent of the state's electricity came from solar sources in the second quarter of 2018, according to the Solar Energy Industries Association, a national trade group.
"Las Vegas represents a lot of America," Talocchi said. "Casinos are buying more renewable energy and building their own solar farms. If it makes sense for casinos in Vegas to run on renewable energy for reliability and cost, it makes sense for every other place in the world."
The event recognized MGM for its use of solar energy; in the next year and a half, according to Murren, the company plans to complete a 640-acre solar farm that will provide 90 percent of the energy used at its properties.
"We're proud to be one of the important stops along the way," he said at the event. "We know that you can do well and you can do good at the same time."
Smith, who joined Bloomberg and Murren on stage Sunday, said if the "city of lights" and its casinos can move toward clean energy, the rest of the world can follow.
"Vegas is powered by the country around it. The solar power that surrounds the city connects it to this beautiful landscape," the Grammy-nominated singer said. "To be powered by the sun is obviously the only local next step for the famously tough, self-reliant Nevadans to take."
Lagging infrastructure
The benefits to electric vehicles are clear, Bloomberg said, but the nation's infrastructure has yet to catch up.
"A lot more people would be driving them if they always knew there was a place they could charge up and never get stranded by the side of the road," Bloomberg said. "Unfortunately, there still aren't enough chargers, and they aren't close enough together."
NV Energy's new charging station incentives could help develop the electric vehicle infrastructure in Nevada. The program, rolled out Friday, gives multi-family residential dwellings, workplaces and fleets incentives to install charging stations on their properties.
Incentives for level 2 chargers can amount up to $3,000 per charging port or 75 percent of the project cost. Incentives for DC fast chargers can amount up to $15,000 per system.
In August, 36,380 electric vehicles were sold in the U.S., more than double the 16,514 sold in August 2017, according to publication Inside EVs.
"I think that's just the beginning," said Pat Egan, senior vice president of customer operations at NV Energy. "If you go to any auto show, any manufacturer is finding a way to offer a plug-in hybrid, if not a fully electric vehicle. … We want to be in a position to support (NV Energy customers') choice."
Contact Bailey Schulz at bschulz@reviewjournal.com or 702-383-0233. Follow @bailey_schulz on Twitter.
Local impact
At each stop along the tour, the rewards are given to local innovators working to address climate change. Chispa Nevada, a program that operates under the environmental advocacy group League of Conservation Voters, was awarded $7,000 for promoting electric school buses.
Rudy Zamora, program director for Chispa Nevada, said the group plans to use the funding to increase advocacy and educate the local community.
"As someone who graduated from this district myself, that rode the bus to and from school and also suffered from asthma growing up, it's a change that I want to bring," Zamora said. "As a father of a 3-year-old that just got diagnosed with asthma, it's important for me to ensure that (he has) clean air to breathe."