Entrepreneur launches pop-up wedding business
January 26, 2016 - 4:16 pm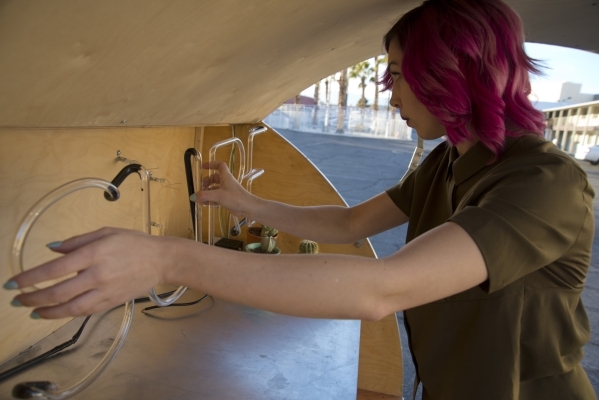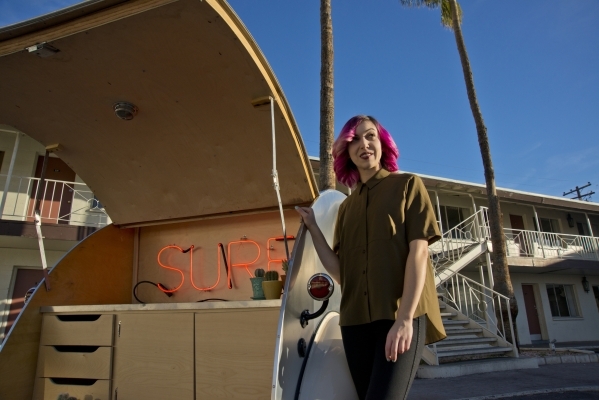 Victoria Hogan wanted to all but shake up the concept of a Las Vegas wedding, and Elvis impersonators need not apply.
The 29-year-old with a master's degree in fine arts from UNLV has nothing against Elvis impersonators, small wedding chapels and even large ones in the city's gaming properties.
Many visitors to Las Vegas, however, especially those from abroad who are looking to get hitched don't want it to be Vegas-style in the image of Elvis, Hogan said. Many want romance and intimacy and the opportunity to take advantage of Southern Nevada's outdoor landscapes, she said.
Hence Hogan's launch of her pop-up or traveling wedding business in August 2014 named Flora Pops. Hogan tows a teardrop trailer on the back of her Jeep that serves as an altar and enables couples to get married in desert settings with mountains and cactus in the background.
"I want to change the way that Vegas weddings are perceived," Hogan said. "The landscapes surrounding the valley are absolutely gorgeous and so close. They can have a typical Vegas experience. I want to highlight the natural landscape and how much beautiful and romantic it can be and it's very serene."
Hogan said she gets a lot of business from Europeans and Australians and others who don't mind spending money on their wedding but prefer instead to spend more on their honeymoon. Many Europeans, especially this time of year, can't plan outdoor weddings because of the potential for rain and bad weather, she said.
Some visitors even fly into Los Angeles and rent a van or camper and visit the Grand Canyon, Palm Springs and Utah while stopping in Las Vegas to get married, Hogan said.
'It's about intimacy'
"I'm the option for people who tried to plan a $40,000 wedding and realize that it's too overwhelming and don't want to be around 200 people. They want to do it for themselves," Hogan said. "It's all about intimacy it's about something that's quiet and about the couple."
New Zealanders Sarah Paviell and Adam Short, both 35, wanted and adventure and wedding in one when they came to Las Vegas. They wanted something different — a small and intimate ceremony in a giant place. The couple had traveled for 28 hours, lost their luggage and were running late and then were at risk of losing the daylight when they arrived at El Dorado dry lake bed.
"But within moments of arriving, the stillness of the desert completely grabbed us," Adam Short said. "Everything waiting on our arrival was perfect. It was so still, the right kind of silent. Everything about it was right. We can happily say that we did it our way, and we clearly did it simply for us. We both absolutely love the desert, the high-desert, the big open spaces, and we wanted that to be a big part of our ceremony. We both appreciate the minimal, and you don't get much more minimal than a dry lake bed on the outskirts of Nevada. A pair of vintage champagne saucers, a pair of mismatched chairs, that's all we needed and wouldn't change a thing."
Hogan said she had no idea she would be in the wedding business when she graduated from UNLV. She wanted to pursue a career as a college professor but that was competitive and the opportunities were limited.
After moving to New York City, Hogan made a living off her hobby of cut flowers by doing rooftop gardens in Brooklyn and Manhattan. She even sold flowers outside courthouses.
When Hogan, who spent much of her childhood on her grandfather's farm in Alabama, moved back to Las Vegas in 2013, she continued those efforts and started doing patio gardens for bars and flowers for weddings. She in essence combined her hobby and her educational background.
"I grew up on a farm and it made sense that I would marry the two together," Hogan said. "I knew how to grow plants and knew composition and landscaping and gardening."
Hogan thought about opening a shop downtown but opted instead for a roadside flower stand. That's when she got inspiration.
"It kind of hit me that I was in the wedding capital of the world and why couldn't I do this mobile chapel and do it all," Hogan said. "I show up at places as long as it's not competing with a casino property. For the most part, 98 percent are outside. It doesn't matter what the weather is like, I get brides that want to be this beautiful winter bride and they come in fur coats."
Hogan is ordained to perform weddings in nearly every state. She travels to California for weddings in Palm Springs, Joshua Tree and along the Pacific Coast.
The business is growing
The business has grown rapidly with mentions on Instagram, wedding blogs and other social media, and she hired an assistant six months ago. She said she does at least 10 weddings a month and many times does more than 20.
The cost varies depending on what people want. A wedding in the desert typically costs $2,500 and includes permits if needed. If someone wants to get married downtown, it might cost $1,200, Hogan said. She's done weddings at the homes of Las Vegas residents where she officiates for $325 but nearly all weddings are done outside and most are planned in advance. She's even done a wedding at a trailer park.
The first wedding Hogan performed was in downtown Las Vegas. A couple from Canada wanted to drink beer on the street and they found a vintage backdrop, which was an abandoned hotel.
"We renegade-style popped up on the curb and married them on the curb," Hogan said. "They drank a couple of beers and walked around Fremont Street the rest of the day."
Hogan said many people contact her via her Web site www.florapop.com and send inquiries.
"They want floral arrangements that really are artfully arranged and flowers from all over the world," Hogan said. "When they contact me, I become they're friend. Every couple I have worked with if I wanted to visit in England or France I could call them and go and see them. I'm building a relationship with these people. They're telling me their love stories and telling me how they met, and why it's important for them to go against the grain and not involve their family members."
Hogan, who's not married, said she hasn't thought about what her wedding would look like but it would be an alternative one and it would involve eloping. It would be at a quiet place and no one would know until it's over.
That rules out a wedding involving an Elvis impersonator.
"I do love Elvis and a friend who is an Elvis impersonator and officiant is great," Hogan said. "It depends on the couple but they sort of have this preconceived notion of what a Vegas wedding is, and they find what I'm doing is a breath of fresh air."
Literally.