Exec knows VisuaLimits' wares from circuits to screws
December 19, 2010 - 12:00 am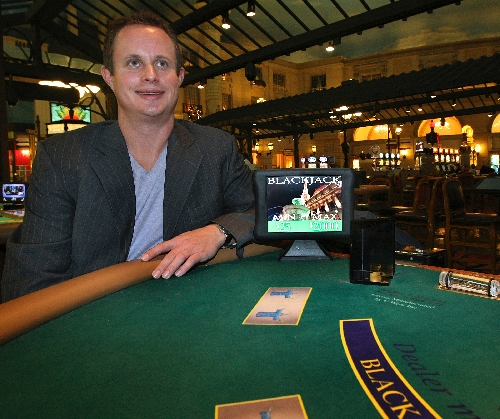 As a kid, Ryan McClellan was always fixing things.
Whenever he received toys, he didn't allow anyone else to put them together. At age 12, he took apart and repaired the family's broken videocassette recorder so he could watch movies.
Naturally, McClellan gets a little nervous these days when casino employees install the equipment he developed for Visua
Limits, a Las Vegas company he co-founded that provides advertising signs and management systems for table games.
McClellan is the company's chief operating officer, but his role is much more encompassing.
"I like to oversee the installation, but some markets are union markets so I can't touch the tables," McClellan said. "I'm still there to make sure the equipment tests properly and everything operates as it should."
VisuaLimits started out providing electronic video signs for table games. The signs listed wagering limits, but also provided players with advertising messages about the casino, restaurants or various player promotions.
McClellan thought the signs could provide more information for the casino, such as dealer performance, game operational results, and game analysis.
McClellan, who was working as a table game technician at the Motor City Casino in Detroit in 2005, told his eventual partner in the business, Perry Stasi, that he could build a prototype. He spent six months in his basement at his Detroit-area home gathering the components and putting the initial concept together.
Later, when VisuaLimits won its initial contract to outfit table games at Mandalay Bay, McClellan built all the original units with a technician's help.
Today, with more than 900 of the devices being used on casinos along the Strip, in Canada and in American regional markets, VisuaLimits outsources manufacturing to Taiwan.
But it helps that McClellan knows every part of the device, down to the size of certain screws.
"It's kind of like managing a startup company," McClellan said. "You want to know every bit of the company before you pass it on to someone else. I wanted to know every component that was used and what the cost was, so that when we did go to outsourcing, we knew where we needed to be on the price."
Today, McClellan is the best salesman for the now 5-year-old company. After all, he built the first unit.
"Initially, it was designed as an advertising tool with video formats far beyond anything on the market," McClellan said. "It still is. But now it's more than that. We've tailored our message to showcase ourselves as a table game system management company. That's the push we're doing."
Question: Where did the idea of VisuaLimits start?
Answer: My brother-in-law asked me to do some side work for Perry. He wanted a spreadsheet analysis on how many times the advertising message would be seen by players. I liked the concept and idea and I thought we could do this better versus anything else that was out there. Our initial business model was based on advertising mixes, but we moved away from that when we were able to show the benefits of the management system.
Question: What are your biggest challenges in getting the product to market?
Answer: The hardest part for us is getting the word out to people who can make decisions. The shift managers talk to us and want to put the signs in. But we have to get that message up to the vice president or director level.
An example is we had a deal for a casino in Michigan where the casino people submitted the costs for budget approval, but they were scratched out. They brought the decision maker to the (Global Gaming Expo) to meet with us and get the full sales pitch. That person understood what the signs could do for the company, such as increasing dealer efficiency. They told us the costs were back in the budget for 2011.
Question: Has the down economy made it tough to sell equipment?
Answer: New casinos with opening budgets are much easier. As for existing casinos, eventually older signs go bad and it comes down to our pricing and equipment. We're also seeing a period where table game signage has become much more accepted.
Question: What do players see within the signs?
Answer: Some of the casinos are small and don't have a lot of restaurants or promotions to advertise. At some of the smaller casinos in Ontario, the customers are local and the casinos wanted to be able to show live (Toronto Maple Leafs) hockey on the television screens. We were able to do that. The bigger casinos on the Strip don't want to show live sports, but we do outfit the screens with a sports ticker.
Question: Do you enjoy the sales aspects of the business?
Answer: I do a little bit of everything now. I continually work with software development and I work with our customers to make sure their products are delivered and everyone is happy. I also like to hear about what suggestions they might have.
Question: Why did you take VisuaLimits to the Strip first rather than the regional markets?
Answer: We had an option of doing our first deal at Mandalay Bay or at a casino in Connecticut. The property in Connecticut was a sure thing and a good deal, but when you do a deal on the Strip, having that name can catapult you in the gaming industry. After Mandalay Bay, we were able to go to The Mirage, MGM Grand and Paris Las Vegas. Just hearing those names meant we had an established product and it was reputable. It was a risk that was worth taking.
Question: What other markets is VisuaLimits looking at?
Answer: We just went through our approvals in Atlantic City and now that we have their blessing, it's time to push over there. We're going down to the Southern Gaming Show next year in Biloxi (Miss.), and we'll show the new casinos what we can do for them.
Contact reporter Howard Stutz at hstutz@reviewjournal.com or 702-477-3871.
VITAL STATISTICS
Name: Ryan McClellan
Age: 32
Occupation: Chief Operating Officer, VisuaLimits
Quotable: "We've tailored our message to showcase ourselves as a table game system management company. That's the push we're doing."
Family: Single.
Education: Graduate of the School of Entrepreneurship from Central Michigan University, 2001.
Work history: DiscChoice (a startup DVD business), 2001; pit technician at the Motor City Casino, Detroit, 2001-05; VisuaLimits, 2005-present.
Hobbies: Mountain biking, tennis, basketball, hiking, reading, testing new technologies.
Favorite book: "Angels & Demons" by Dan Brown and "What They Don't Teach you at Harvard Business School" by Mark McCormack.
Hometown: St. Clair Shores, Mich.
In Las Vegas since: 2005.
VisuaLimits is at 2505 Anthem Village Drive, Suite E430 in
Henderson. It can be reached at 702-238-4235.