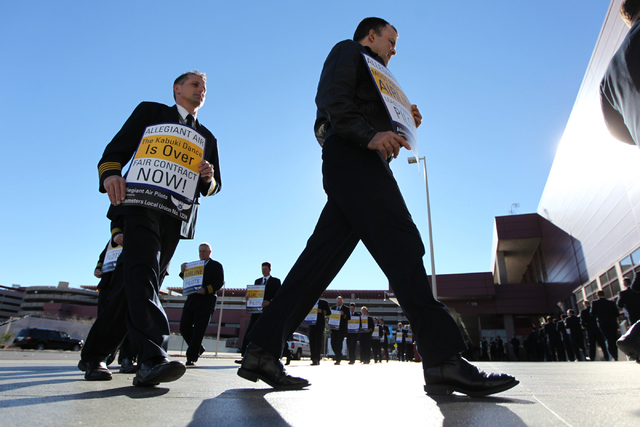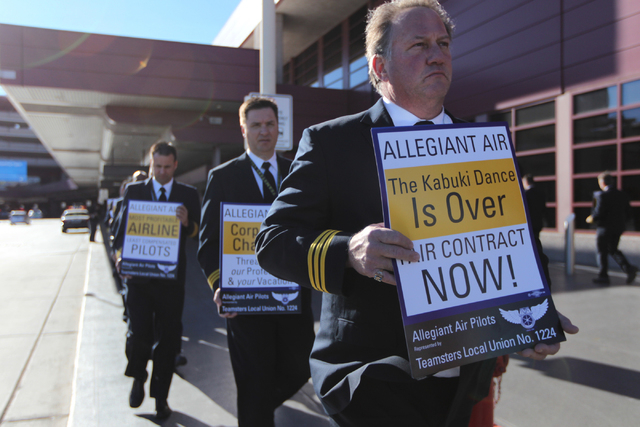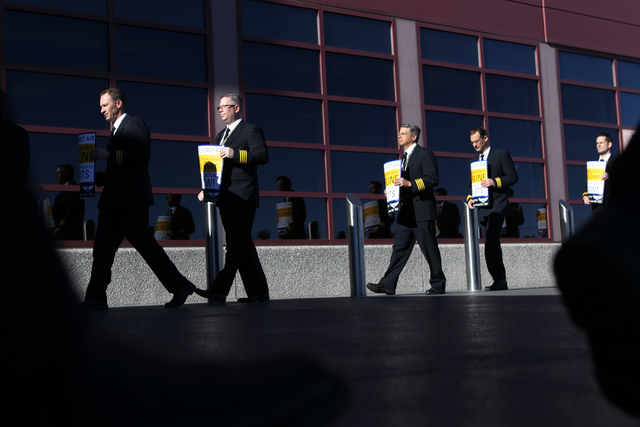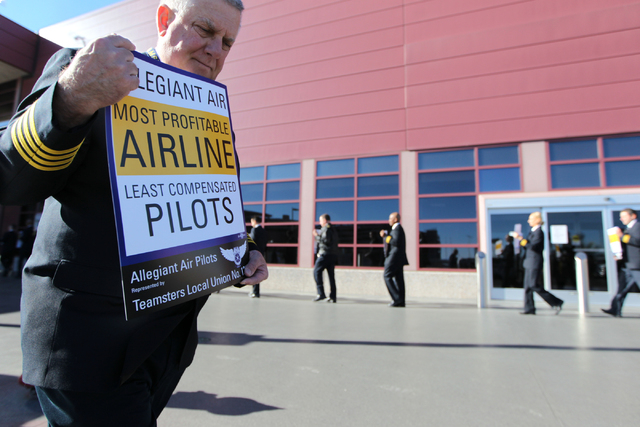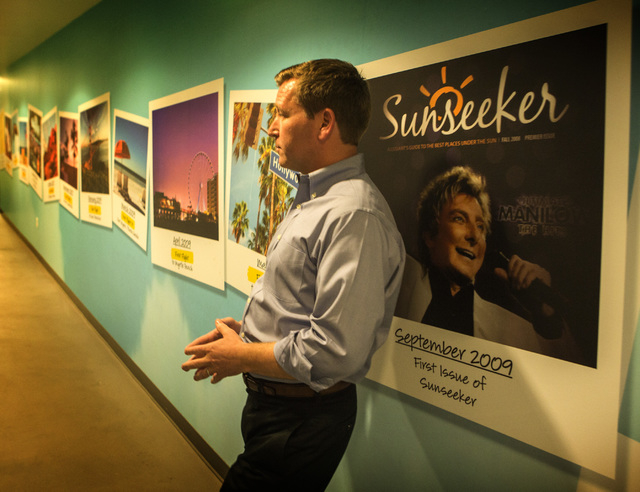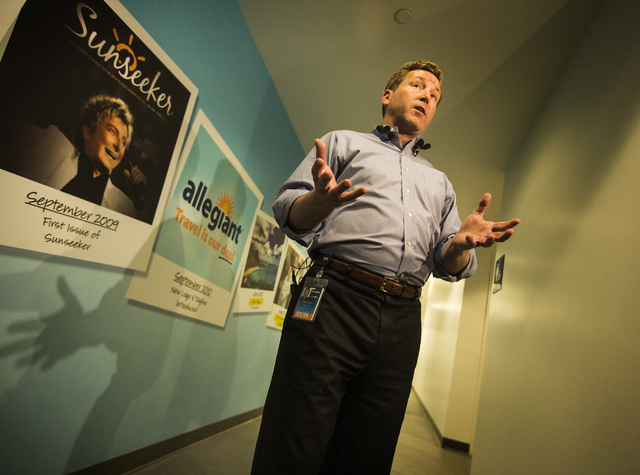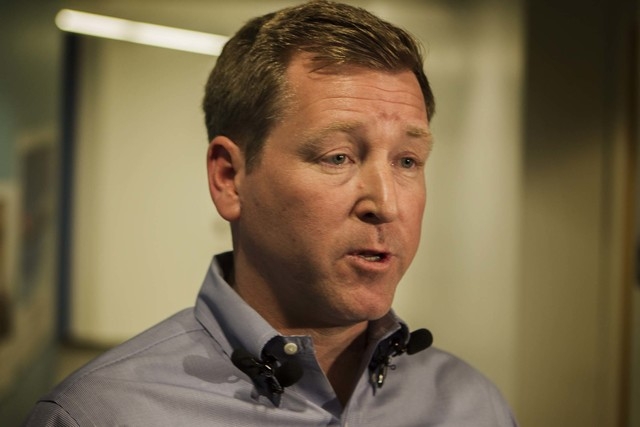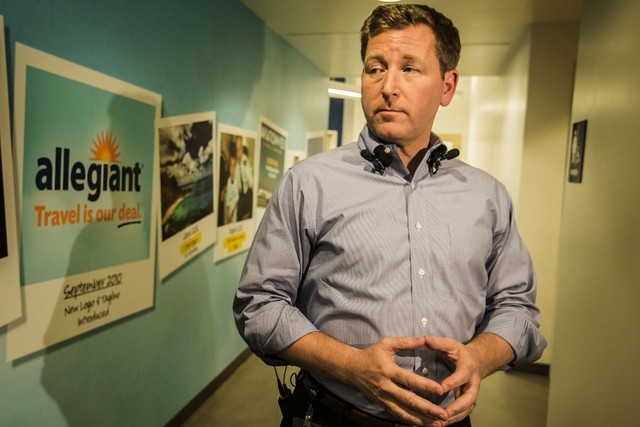 A federal judge put the brakes on a strike by Allegiant Air's pilots union Wednesday, issuing a temporary restraining order nine hours before union members planned to walk and not fly.
The order, issued by U.S. District Court Judge Gloria Navarro in Las Vegas, immediately relieved thousands of Allegiant customers who could have been stranded in the middle of their spring break trips.
Allegiant's successful court case outcome was reported at about 3:30 p.m. by new chief operating officer Steve Harfst at the airline's Summerlin headquarters.
"We are happy to announce that at 3 p.m., this afternoon, we received a favorable court decision from the district court here in Nevada restraining the Teamsters from striking and requiring them to come back to work as normal," Harfst said. "We intend to fly our full flight schedule as published."
He added that Allegiant has issued a policy enabling ticketed passengers worried about future travel to apply for full refunds without penalty through April 7.
Representatives of the APA Teamsters Local 1224 said they did not believe their threatened strike was illegal, but agreed to comply with the judge's order.
"Allegiant Air executives are pocketing millions while reducing benefits for pilots," said Corey Berger, an Allegiant pilot based in Phoenix, said in a statement issued late Wednesday. "The deterioration of the scheduling system alone is keeping pilots from seeing their families and many facing exhaustion. Striking is not an easy decision; it is a last resort and because Allegiant executives are so unwilling to restore basic scheduling practices, we have been left no other option.
"Although we know that our strike to restore the status quo is legal, we will comply with the judge's decision and look forward to having our voices heard at the upcoming hearing," he said.
BACK IN COURT
Union and airline lawyers are expected to be back in court late next week to argue whether the pilots will be allowed to strike.
Earlier Wednesday, pilots for the Las Vegas-based airline said they would not fly regularly schedule routes from Allegiant's resort hubs nationwide, including Las Vegas, Orlando, Tampa and Phoenix. Because Allegiant's routes are primarily out-and-back round-trip flights, trips from the small cities the airline serves also would be at risk of cancellation.
"This irresponsible and illegal action by the Teamsters has been timed to coincide with the busy holiday travel period and unfortunately will likely disrupt flights and passengers in and out of all of our destinations," the company said in a statement issued earlier Wednesday.
Allegiant has activated an additional call center to communicate directly with passengers, but the company warned that wait times could be long. The company's direct passenger phone line is 773-358-1811.
Customers can also signed up for flight alerts for individual flights at Allegiant.com/flight-status, or check for travel advisories at Allegiant.com/travel-advisory.
Union officials estimated that a strike would affect 250 flights and impact 33,000 customers.
The threatened strike comes during the heart of spring break for most public and parochial schools in Southern Nevada. It could also affect travelers hoping to be in Las Vegas for the Final Four NCAA college basketball tournament games and families hoping to connect with families and friends for Easter.
In January, pilots voted 465-8 to authorize a strike. The strike vote came after the pilots alleged that Allegiant withdrew basic benefits and an established scheduling system and hasn't responded to a court order directing them to be re-established.
The union and Allegiant management have been at odds since December 2012 when contract talks began.
Management and union negotiators have met six times with a mediator in the past year.
At issue in the negotiations are pay and pilot work rules involving seniority and scheduling.
DIFFERING VIEWPOINTS
The union contends that Allegiant is the nation's most profitable airline but that pilots are underpaid.
"Striking is a last resort, but we cannot continue to stand by a company that flouts the law by robbing the pilots of legally protected rights and benefits," said Las Vegas-based pilot Tom Pozdro. "We deeply regret the inconvenience to our passengers and other work groups and encourage them to call Allegiant, asking them to do what is right by honoring its commitment to its pilots and the public by restoring our basic, legally regarded standards, protections and benefits."
Allegiant management says they're negotiating in good faith, but the union has resorted to bullying tactics.
"Allegiant Air had been actively negotiating with the Teamsters through November of last year and had hoped to continue these negotiations to avoid this disruption for our passengers," the company said in a statement. "However, instead of addressing their issues at the bargaining table, the Teamsters have resorted to heavy-handed and disruptive tactics rather than working toward a resolution."
The union made headlines earlier this week by publishing a letter warning customers of safety concerns they have with the airline.
The union purchased advertising on Google directing prospective Allegiant customers to a letter telling them that passengers could be "flying an airline that is content with just barely meeting acceptable safety standards."
A strike would be particularly troublesome for Allegiant customers because the airline flies to small cities that have been abandoned by large air carriers and their commuter partners. In past airline strikes, rival carriers would honor tickets on the affected airline to get passengers to and from their destinations.
With Allegiant, there aren't many rivals that fly to the cities Allegiant goes. That's by design and it's one of the reasons why the company has had 48 consecutive profitable quarters.
It's also profitable because flights are routinely full since Allegiant runs a minimal schedule — usually two or three flights a week to each destination — and tickets generally are inexpensive. The Allegiant business model is to offer a low base fare and charge extra fees for baggage, carry-on cases, seat selection and even printing a boarding pass at the airport.
Allegiant flew 2.2 million passengers to and from Las Vegas in 2014 and is the sixth busiest commercial carrier at McCarran.
The stock for Allegiant Travel Co., parent company of Allegiant Air, was down $12.64, 6.6 percent, to $179.65 on heavy trading Wednesday.
Contact reporter Richard N. Velotta at rvelotta@reviewjournal.com or 702-477-3893. Find him on Twitter: @RickVelotta
RELATED
Allegiant Air's pilots union says airline is scraping by on safety