Galaxy Street Market to open in downtown Las Vegas this fall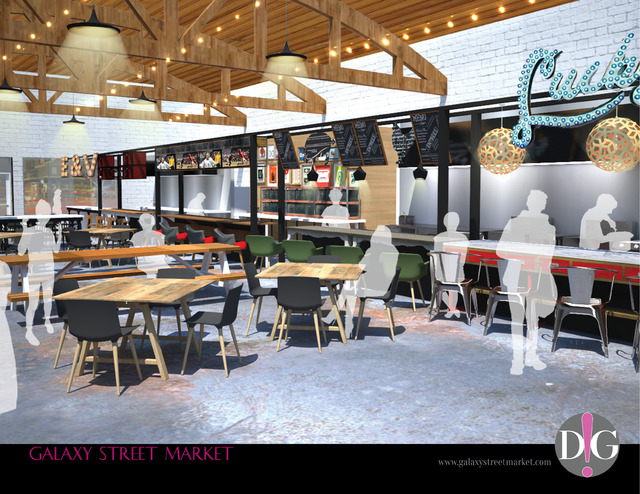 Downtown's makeover has scored a new innovative market in the heart of the Arts District as a small Las Vegas design company plans to build a $1.3 million market — or "food hall" — to be anchored by a craft beer and wine bar with six food vendors.
DIG Design Group of Las Vegas, a nine-employee firm based in the Faciliteq building on Main Street, is rehabbing the vacant Galaxy Foam building at 10 Charleston Blvd. near Main Street into "Galaxy Street Market." Customers can enter the market from an alley and a back street, with food vendors cooking items from Asian noddles, dumplings and lobster rolls to clam chowder, crepes and doughnuts right in front of customers in an indoor, urban bazaarlike atmosphere.
The project will include 14 outdoor cart businesses, with artisan vendors peddling everything from jewelry to caramel apples.
The 7,500-square-foot market will encourage food vendors to collaborate, sharing resources and equipment to not only serve affordable food to a wide array of customers but also function as an incubator for restaurateurs who might not have the $400,000 to invest in a downtown restaurant, said Ly Dao, one of the project partners.
Dao noted these future food operators will mostly fund the market project.
"We will be the first of its kind in Las Vegas — to take a concept like this that is mostly funded by the future operators," Dao said.
"Culinary experts will flock to this location and project for merely the savings to build their kitchen compared to going on their own at a single tenant location," he said.
Dao is partnering with fellow local Las Vegans Rob Gurdison and Scott Gaughan on the market, which is scheduled to open in the fall before Thanksgiving. Both Gurdison and Dao plan to open food businesses in the market, with Dao planning to sell Asian noodles, while Gurdison will crank out doughnuts.
"The food hall will provide space for up-and-coming kickstart restaurants," Gurdison said.
"It will shore up what has been already started" in the arts district, he said. "It will bring a new flavor. Food brings people to anywhere."
Dao, Gurdison and Gaughan hope Galaxy Market becomes a town commons for the arts district, which is growing in popularity and is the host of the monthly First Friday event.
A unique feature is that the market will not have its own parking lot; that is, it will rely on customers to park on neighboring streets such as Main Street and Casino Center Boulevard or walk on a side street and a mural-laden alley that leads to the market.
The alley that leads right to the market extends to Oakey Boulevard, with the developers aiming to make the alley a pedestrian-friendly and bicycle corridor of art, gardens and lights. The alley is already used by many pedestrians for First Friday.
The market's hip flavor is reminiscent of some initiatives under Tony Hsieh's Downtown Project banner, but Gurdison said Hsieh is not an investor.
"We're grateful for what he has started," Gurdison said.
Dao said the project has received City Council approval for a tavern limited license, which he said can allow a craft beer or wine bar to operate.
Contact reporter Alan Snel at 702-387-5273 or asnel@reviewjournal.com. Follow @BicycleManSnel on Twitter.