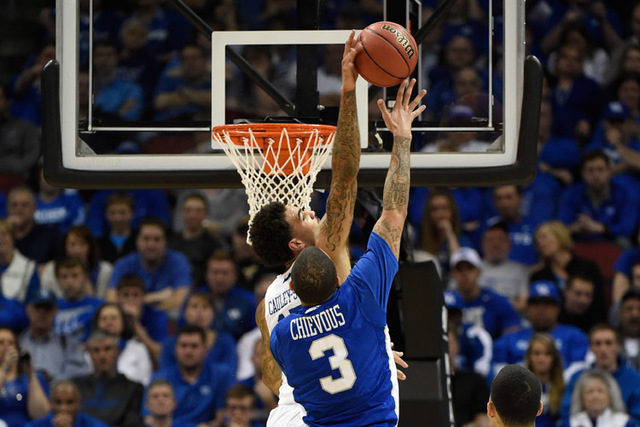 The third massive piece of the bustling World Market Center is rising up in the Las Vegas skyline.
But that doesn't mean Brian Casey is backing down.
Casey runs High Point Market, a 118-year-old furniture and furnishings trading post in North Carolina that is fighting to keep tenants while World Market Center aggressively recruits companies to the two-year-old Las Vegas facility.
At 12 million square feet, the High Point Market is still the biggest of its kind and the epicenter of the $150 billion furniture and home furnishings industry.
But the Las Vegas market is closing in fast. In just two years developers in Nevada have opened a 10-story and 16-story building and will open another 16-story structure by next summer. When they do, Las Vegas will have 5 million square feet of showroom space in the three buildings. By 2013 they plan to have eight permanent structures with about 12 million square feet.
Operators of both markets say there isn't enough business for both to meet expectations.
As the competition for tenants intensifies, Casey said High Point's historical ties to the industry, tough economic times for manufacturers and sellers and the cost of rent at World Market Center will play to the North Carolina market's advantage. Casey, president and chief executive officer of the High Point Market Authority, spoke last week in Las Vegas during the 2007 Summer Market at World Market Center.
"The emotion is replaced by certain economic realities," said Casey, describing the flourish of industry and mainstream press and accolades directed at World Market Center since it opened in 2005. "In some ways it is serving a purpose but in no way is it going to replace what they are doing (in High Point)."
The competition is important to more than just the two markets.
In Las Vegas, city leaders view World Market Center as the catalyst to the development of a blighted downtown area north of Charleston Boulevard between the Union Pacific railroad tracks and Interstate 15. The World Market Center will receive $10 million in tax rebates over 20 years for improving infrastructure in the area.
In North Carolina, the High Point community is almost solely dependent on the High Point Market. The market attracts as many as 85,000 people to events in the small town. It is operated by a public agency and has a budget of about $6 million per year, Casey said.
In a broader area known as the Piedmont Triangle — the region between High Point, Greensboro and Winston-Salem — the furniture and home furnishings industry has an annual economic impact of about $8.2 billion, Casey said. That's roughly the same impact of conventions and trade shows on the Las Vegas economy.
"Everybody in North Carolina is fighting for High Point," said Kimberly Wray, a spokeswoman for the North Carolina market. "There is a history and a legacy there."
Competitiveness between the markets has gotten the better of companies in the home furnishings and furniture industry as well. Last week, during the height of the Las Vegas Summer Market, the Lifestyle furniture company placed a full page ad in the trade publication Furniture Today criticizing Ashley Furniture, a major Las Vegas tenant. The ad said Lifestyle's sales gains outpaced Ashley's by more than double even though Lifestyle doesn't participate in the Las Vegas market.
Despite High Point's market share advantage and its industry supporters, it does have disadvantages compared with Las Vegas.
Hotel rooms are hard to come by to the point that market attendees are forced to rent space in people's houses during events. Attendees also complain that businesses in High Point raise prices during market events. Customers have no choice but to live with the gouging because there is little competition.
High Point Market is also spread between 188 buildings which means visitors spend more time between exhibits than in Las Vegas.
An abundance of hotel rooms and a walkable market are advantages World Market Center officials intend to leverage.
Managing partner Shawn Samson said during a recent interview that tenants are already lining up for the third and fourth buildings in the complex. Samson cited the rate of expansion in Las Vegas as evidence of success.
"It took High Point 100 years to get to 12 million square feet," he said. "It will have taken us three years to get to 6 million square feet."