After crash, sleepy Bullhead City slower to rebound
January 22, 2017 - 7:18 am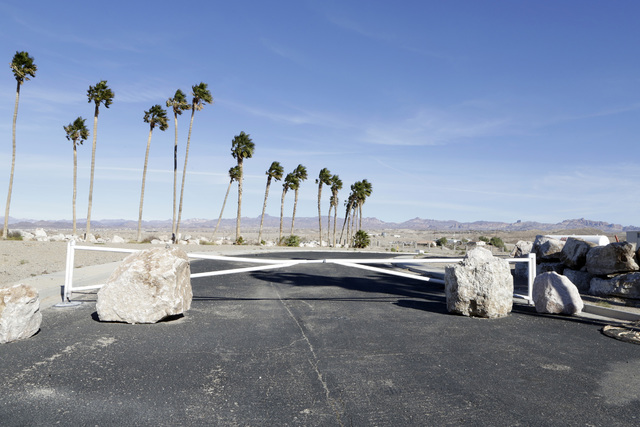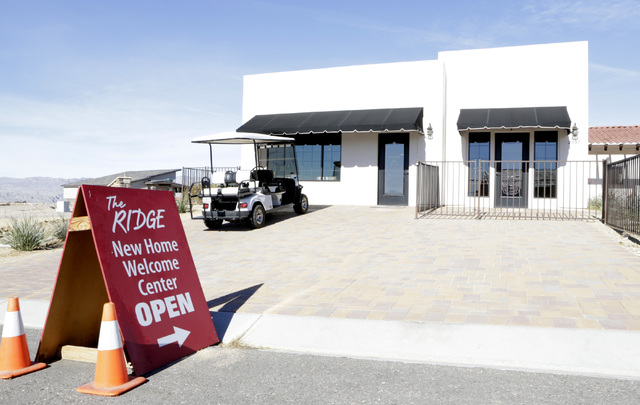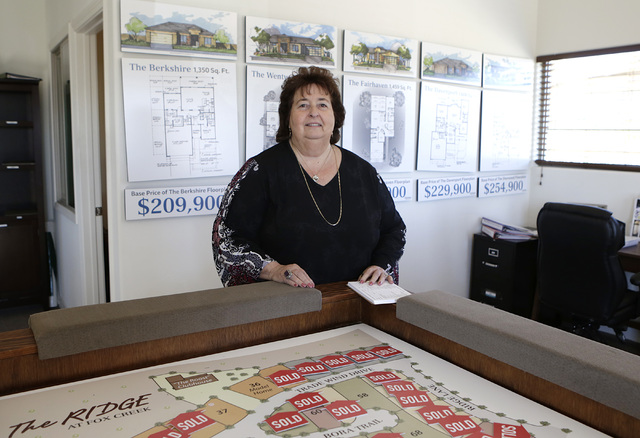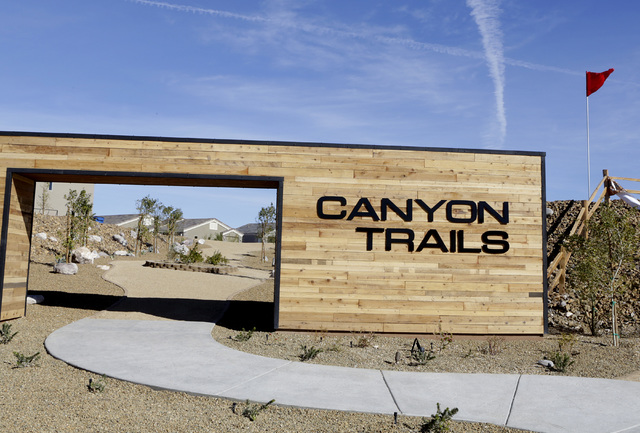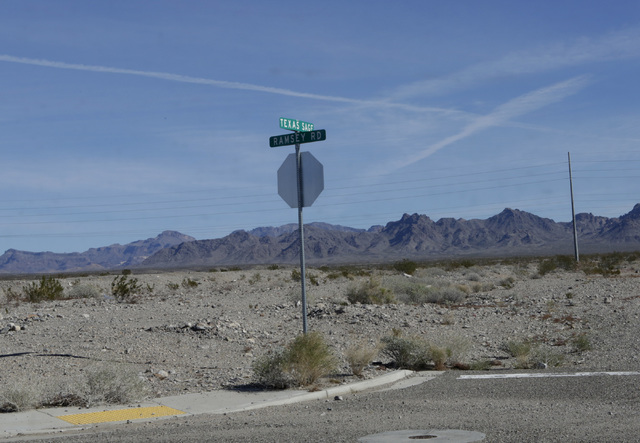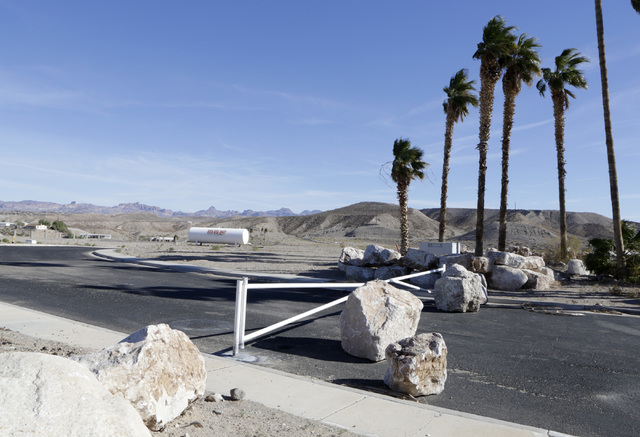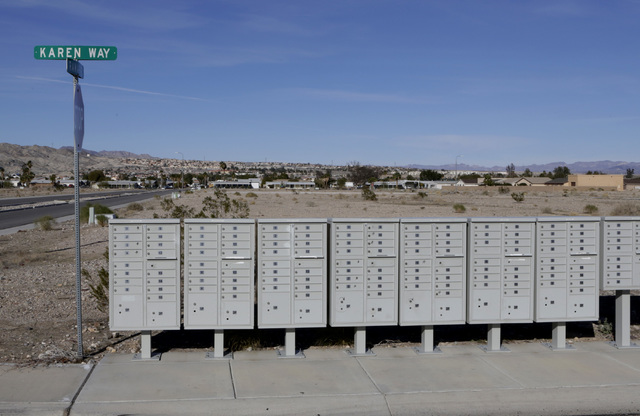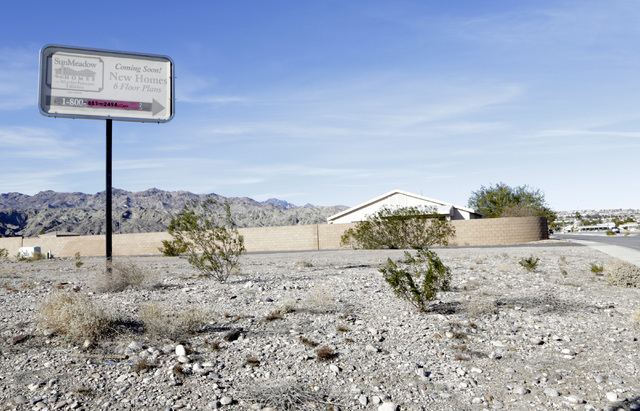 BULLHEAD CITY, Ariz. — Perched on a hill, the Rancho Colorado subdivision here offers views of the city and the surrounding mountains. Towering palm trees line the road in – but the main entry is blocked with hulking rocks and a metal barricade, and not a single house is built.
About 8 miles south, there are plenty of homes in the neighborhood off Arroyo Vista Drive, though it seems work suddenly stopped: In one section, dozens of vacant dirt lots far outnumber the houses sprinkled about, and some streets aren't finished. In one spot, a stop sign faces a houseless tract of land, waiting to be used.
Bullhead City, Arizona, sits on the Colorado River across the water from Laughlin, 100 miles southeast of Las Vegas. The remote community is popular with retirees, and like the rest of the region, its housing market went into hyper-drive during the bubble years last decade and crashed hard with the recession.
In the Las Vegas Valley, builders aren't selling nearly as many houses as they did during the boom times, and likely won't anytime soon. But construction has recouped more of its losses in America's casino capital than in smaller areas outside Las Vegas such as Bullhead City.
Homebuilding has ticked higher in recent years here but overall has stayed relatively slow, and the area is filled with unfinished subdivisions, many of them from the bubble era.
"We're improving slowly … but it's still pretty anemic," said Pueblo Construction owner Larry Adams, a longtime Bullhead City builder.
In Clark County, builders pulled around 8,700 permits for new homes last year. That's up from a low of about 3,700 in 2011 but still 74 percent below the peak of nearly 32,900 in 2004, according to Las Vegas housing tracker Home Builders Research.
In much-smaller Bullhead City, builders pulled 84 permits for single-family homes in the fiscal year ended June 30. That's up from 15 in 2011, but still 91 percent below the peak of 925 in 2005, according to the Bullhead City Building Division.
City Manager Toby Cotter said the homebuilding market is now "sustainable," unlike the wild bubble years.
"We're not in any kind of boom or bust; it's just nice, modest growth," Mayor Tom Brady said.
Still, it's "rare" to hear in Las Vegas that builders are looking at Bullhead, Home Builders Research founder Dennis Smith said. Cheap land prices here "will perk up the ears" of any developer, he said, but when they see the pace of home sales, they realize that pulling off a project would be tough.
As Smith sees it, Bullhead City has "a ton of potential" – its perks include cheap housing, warm weather, the river and a string of nearby casinos. But investors built too many housing tracts during the boom years, saddling the area with "thousands and thousands" of vacant lots today, he said.
"Is there a market? Yes, it's slowly coming back," Smith said, "but very slowly."
'UP AND DOWN'
Among the reasons: lending remains tight for buyers and builders, and the Great Recession likely prevented — or at least delayed — seniors from being able to move here, given the huge losses in nest eggs and the diminished ability to sell their old home and book a high price for it.
Meanwhile, the economy here depends heavily on the casinos across the river, as the resorts are the biggest employers for Bullhead residents, locals say. But Laughlin's tourism industry has slumped for years.
Laughlin generated $444 million in gambling revenue last year through November, down from $615 million in 2006, and its hotel occupancy rate was 64 percent, compared with 91 percent on the Strip, according to Clark County and Las Vegas Convention and Visitors Authority reports.
All told, Clark County's population grew 8 percent from 2010 to 2015, to 2.1 million, but Bullhead City's was largely flat, slipping 0.2 percent in that time to 39,445, according to the U.S. Census Bureau.
Bullhead-area builders say they're constructing more homes than they did during the downturn, but their workload is well below what it used to be.
Adams built 30 to 40 homes annually during the bubble era; after the market collapsed, he didn't build any some years. Lately he's built three or four annually but has mostly focused on commercial-property renovations.
He couldn't have "stayed alive" through the recession just building houses, because there wasn't enough work "to support anybody," he said.
Ramsey Homes' best year was probably 2005, with around 78 houses built, but it didn't build any in 2010, President Steve Ramsey said. He's now constructing three or four per year.
The market today, he said, is "up and down" and "sporadic," and there's still less construction than in the 1990s, before the bubble inflated.
Mountain View Homes owner Glen Rajaniemi built around 80 houses annually during the boom years and maybe five to 10 annually after the crash. He didn't build any one year and, during the downturn, got into remodeling foreclosed houses. But the past few years, he's built around 15 homes annually.
"It's slowly starting to ramp up," Rajaniemi said.
The biggest builder here by far, locals say, is Phoenix-based Brookfield Communities, developer of the Fox Creek community. The project, which started in the mid-'90s, has about 1,500 homes and another 700 planned, said Craig Petersen, vice president of sales and marketing at Brookfield.
The company built "maybe" nine homes a year in Fox Creek at the depths of the recession, but built around 60 in 2016, said Peterson, who expects more than 100 this year.
Overall, Brookfield broker Carolyn Barker said, the area's homebuilding market "went straight up and then straight down." Few builders were left when the dust settled.
'IT WAS UGLY'
Even before the bubble, Bullhead City had grown fast: it had 4,000 residents in 1970 and around 33,850 by 2000, reports said.
Barker moved here in the mid-'90s, when stores closed during business hours and left signs on the door saying "Gone Fishing," "Gone Hunting" or "Too Hot, Went Home."
Bullhead has long been popular with retirees, especially Southern Californians and snowbirds. By 2010, 24 percent of the city's population was 65 and over, compared with 11 percent in Clark County and 13 percent nationally, Census figures show.
Despite the quiet atmosphere — newcomers are "refugees from the traffic, the crime, the smog," Barker said — the housing market turned white-hot last decade, along with much of the country and especially Las Vegas. With easy money flowing around, land prices soared, construction boomed and investors flipped property, according to real estate pros.
"Everybody lost their mind," Adams said.
After the bubble burst and the economy went into a tailspin, Bullhead's overheated market collapsed. Projects were mothballed, builders shut down or moved away, and, as Barker put it, foreclosures were "everywhere."
After repossessing just 13 homes in Bullhead City in 2006, lenders seized more than 500 in both 2009 and 2010, according to housing tracker Attom Data Solutions of Irvine, California.
Land sales evaporated, too. Prices plunged, and "nobody wanted to touch anything," said broker Elio Khalife, founder of First American Investment.
"It was ugly, let's put it that way," he said.
'SMALL, QUAINT TOWN'
Bullhead City isn't the only spot in the region where construction has slowly picked up after a roaring boom and devastating crash.
In Pahrump, a rural town 60 miles west of Las Vegas, builders pulled 298 permits for single-family homes in 2000, then 1,014 in 2005 but just 22 in 2011. Builders pulled 84 permits last year, down 21.5 percent from 2015, according to Pahrump Building and Safety.
In Bullhead City, lenders repossessed 110 homes last year, up from 67 in 2014 but still well below the peak, according to Attom. Also, land sales have climbed, though buyers tend to be speculators or other investors, not homebuilders, according to Khalife.
"The market is starting to creep back up again," he said.
Developers also are looking to revive at least one stalled subdivision: Rancho Colorado.
Investors started working on the 600-acre project in the late '80s but tabled it around fall 2008 before they built any homes or tried to sell any lots, said Bullhead City lawyer and real estate investor Dan Oehler, a member of the development group.
They hope to build a few model homes and a clubhouse this year, he said.
His group acquired most of the palm trees there during the recession from the Mohave Generating Station in Laughlin, which closed in 2005 and whose 500-foot-tall concrete smokestack was imploded in 2011. Oehler said he personally dug out the trees with a backhoe.
"It was fun," he said.
Unfinished subdivisions are "everywhere" in Bullhead, Adams said, but George Rodriguez is OK with living in one.
Rodriguez, who moved here from Las Vegas eight years ago and runs a business installing car stereos, lives off Bullhead Parkway near Silver Creek Road, in a subdivision with far more empty lots than developed.
Bullhead doesn't have as many amenities as Las Vegas, but he likes a "small, quaint town," and his former home city was "too big, too crazy, too chaotic," he said.
Does he enjoy living in a neighborhood where only a fraction of what was planned got built?
"Absolutely," he said.
Contact Eli Segall at 702-383-0342 or esegall@reviewjournal.com. Follow @eli_segall on Twitter.