Apartment complex to bring new life to site where offices burned down
Updated March 22, 2023 - 7:27 pm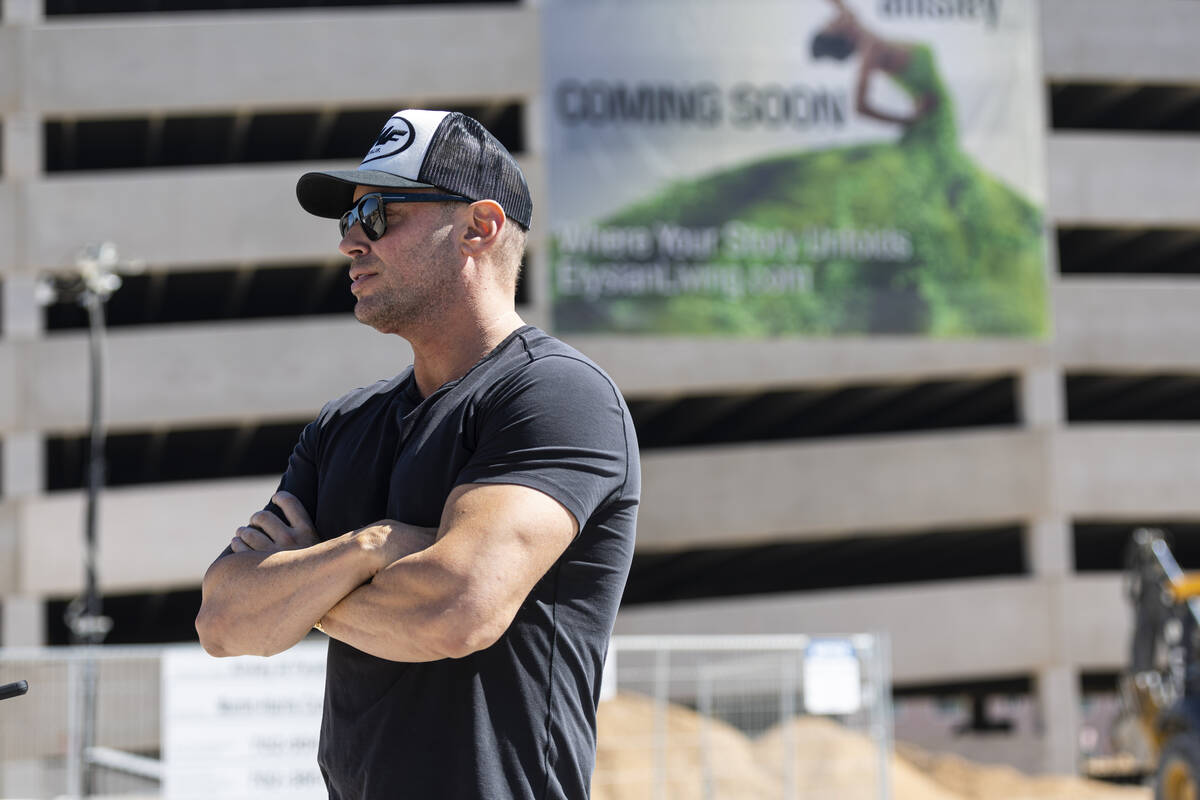 An upscale apartment complex is set to take shape this year near the Strip — on the footprint of an office building that went up in flames nearly four years ago.
Las Vegas developer The Calida Group plans to start putting up a five-story, 400-unit apartment complex along Paradise Road between Flamingo Road and Twain Avenue in probably four to six months, co-founder Eric Cohen recently told the Review-Journal.
A newly built, almost-finished garage is already there, but the residential complex will wrap around the parking structure, blocking it from view, he said.
He said the Ainsley-branded project — an anagram of Calida's widely used Elysian brand — will boast amenities geared toward health and wellness, including "red light" and salt rooms.
Apartments will range from about 650 to 1,700 square feet, and though the rents aren't finalized, they will be expensive, Cohen said.
Calida has also been sprucing up the existing retail center out front, which, according to Cohen, spans about 60,000 square feet.
All told, the apartment project marks a new chapter for a plot of real estate east of the Strip that was once the scene of a massive fire.
A 1980s office building there went up in flames on June 17, 2019, reducing the two-story complex to a partially collapsed, burned-out shell.
At the time, Clark County's then-fire chief, Greg Cassell, said no sprinklers had been installed, and it was unclear if the smoke detectors were working because the department was never contacted by an alarm company.
The blaze at The Park at 3900, as the property was previously known, was reported by someone staying at a nearby La Quinta Inn &Suites. Firefighters arrived around 3 a.m., and crews were still extinguishing the blaze by 2:45 p.m.
The fire might have started in the office building's attic, which had no smoke detectors, and could have been burning for hours before anyone noticed, Cassell said at the time.
Cohen's group was under contract to buy the property at the time of the fire but hadn't taken ownership yet. It was going to bulldoze the office complex anyway to clear space for its new project.
Calida closed its purchase of the office building site and adjacent retail center in November 2019, buying the spread for more than $32 million combined, property records show.
The firm wasn't the first apartment developer to eye the property, either.
Developer Jonathan Fore had filed plans to replace the office complex with an apartment project and some commercial space. He told the Review-Journal in 2019 that he backed out of the deal because some leases ran through 2026, making the redevelopment effort too risky.
The fire, he agreed, later made that concern a moot point.
Contact Eli Segall at esegall@reviewjournal.com or 702-383-0342. Follow @eli_segall on Twitter.