April home data for LV called 'awful'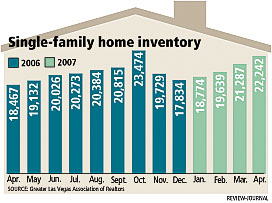 The number of homes listed for sale in Las Vegas increased in April to 22,242, while the median price of a single-family home remained unchanged from the previous month at $305,000, the Greater Las Vegas Association of Realtors reported Monday.
Listings grew 4.5 percent from March and are up 20.4 percent from the same month a year ago, when 18,467 homes were listed for sale.
Sales of single-family homes plummeted 39.1 percent from a year ago to 1,381 in April, worse than January's total of 1,397 sales. Condo and townhome sales dropped 45.3 percent, to 296 for the month.
"The April numbers were awful, even below my expectations," Debi Averett of Phoenix-based Housingdoom.com said. "Remember how everyone was saying that sales would pick up in the spring? Well, they didn't."
The median price of a single-family home declined 1.6 percent, or $5,000, from last year. Condos and townhomes showed a 0.5 percent increase to $202,000.
"We're not expecting to see any significant increases in price or sales through the summer months, but we should still see the kind of stable market we have experienced lately," association President Devin Reiss said. "As for inventory, this may be the new reality for a while. The bright side is that prices are holding steady."
The Realtors association reported that 32.4 percent of homes sold in April were on the market for 30 days or less, down from 42.9 percent in April 2006. Homes selling within 31-60 days on the market made up 21.2 percent of the sales, compared with 25.1 percent a year ago. More than 20 percent of homes took 121 days or longer to sell, up from 11.7 percent a year ago.
The median price held its ground, but that won't continue to be the case, Averett said.
"There are too many sellers chasing too few buyers," she said. "Sellers are going to have to be aggressive in this market if they want to unload their property."
Andrew Pugh of SellFastLV.com said prices will have to drop if sales continue at this sluggish pace, but it doesn't necessarily have to happen quickly.
"There's no doubt that prices in pretty much every subdivision in town have dropped and continue to drop, but we're only talking about 5 (percent) or 10 percent so far," he said. "Unless you're talking the upper northwest (valley) where it's more like 10 to 20 percent."
The independent variable in the market is still pricing, Tim Sullivan of San Diego-based Sullivan Group Real Estate Advisors said.
"This is the key driver that pushes sales. Supply is still too high, but is looking better than most of California and Phoenix," he said. "The outlook for the market is still very much correlated to supply. Once we see supply level off and then start to recede, we will be in a recovery mode."
The inventory of homes for sale in Las Vegas represents about 3 percent of the 708,476 occupied housing units in 2006, according to the 2007 Las Vegas Perspective.
Association statistics are based on data collected through the Multiple Listing Service and do not account for new homes sold by builders and private transactions not involving a Realtor.
Housing in Las VegasMore Information