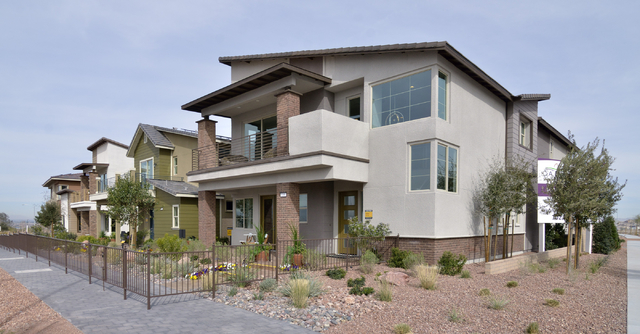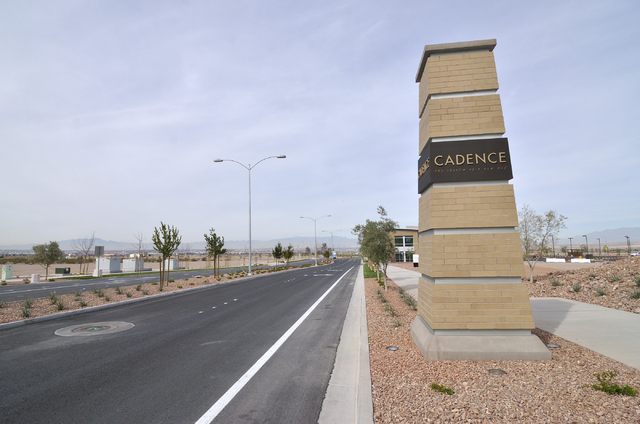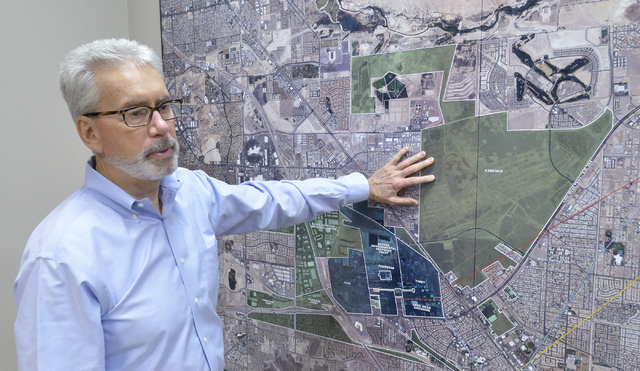 If you're surprised to hear construction has been underway for more than two years at Henderson's Cadence master plan, well, that's kind of how developer The LandWell Co. wanted it.
LandWell worked below the radar in downturn Henderson to prepare for the day when the market would be ready for Cadence.
That day is here, LandWell executives say, and the community is poised to begin its first big sales push.
"We think this will be a year of discovery for Cadence. We've been very quiet about what we're doing," said Mark Paris, president and CEO of LandWell. "Instead, we've put a lot of money into the community so that people can see we're delivering on what we promised."
People will have a lot to discover as 2015 unfolds.
Cadence opened its home-finding center in December at Sunset Road and Lake Mead Parkway. Woodside Homes opened Cadence's first four models on Dec. 12. Next week, Ryland Homes will start building models for two communities, while Richmond American Homes will begin grading lots for two other neighborhoods.
In all, Cadence's model count will balloon from four today to as many as 36 by the third or fourth quarter.
The question is whether the broader local market, which is still building a fraction of the homes built before the bust, is ready for the first phase of a 10- to 15-year build out on a 13,250-home master plan. Cadence will be nearly 50 percent bigger than southwest Henderson's Inspirada, but have 13 percent of Summerlin's rooftop count.
Local housing observers said it's not a bad time to roll out a new master plan.
"The community is opening at a point in which we've moved beyond the devastation of the last economic downturn," said Brian Gordon, a principal in housing research firm SalesTraq. "Some communities were caught on the wrong side of that cycle, but I would argue Cadence is probably on the right side. Southern Nevada's economy has continued to improve, and population growth has returned to a positive position."
But as with other projects, how well Cadence does will depend on factors such as pricing and amenities, experts said.
In Cadence's favor, it's an unusual project in a part of the Las Vegas Valley hungry for new homes, said Dennis Smith, president and CEO of Home Builders Research. Henderson hasn't seen much new development since the early 2000s, when work largely wrapped on Seven Hills, Anthem and Green Valley Ranch.
"Cadence is opening up some new products that are different than anything existing in the vicinity, which already isn't much," Smith said.
Among the biggest differences: Cadence is Southern Nevada's only infill master plan, which means it's surrounded by existing development. That includes downtown Henderson, grocery stores, St. Rose Dominican Hospital, Rose de Lima, Sam Boyd Stadium, Tuscany Golf Club and a number of smaller retail and office parks.
Infill development is a marked departure for Southern Nevada, where community developers typically focus on vast tracts of empty space outside cities, and build services from scratch as communities grow. It's also an important approach in a land-hungry market looking to maximize space as big parcels run out at the city's margins, Paris said.
LandWell officials say they believe the 2,200-acre Cadence is also the largest infill master plan under construction nationwide. They've already spent $35 million to $40 million to further separate Cadence from the pack and help homebuyers see how it will stand out. Complete are office buildings and the first phase of a 50-acre central park with a pond and playgrounds.
There's also a free bike-share program — one that Paris said may be the first in any U.S. master plan — through which residents and nonresidents alike can borrow a bicycle and pedal to downtown Henderson, or along the River Mountains Loop Trail near Lake Mead.
What Cadence visitors won't see are palm trees. Nor will there be many walls around communities anointed with subdivision names — a nod to the traditional neighborhood design of established communities back East.
Woodside's first model homes are also decidedly un-Vegas. Cadence is the only community in America where Woodside is building the two-story floor plans, which range from 2,712 square feet to 3,589 square feet. Some homes have as much brick cladding or wood paneling as they do stucco, plus interiors with contemporary elements including stair rails of dark wood and stainless steel. Garages face alleys instead of streets.
In another Cadence community, Woodside is building garages with workshops or "man caves," Paris said.
Woodside's prices range from $395,990 to $453,990 — high in a market with a January new-home median of $318,190, according to Home Builders Research.
But as Cadence unfolds, it will add homes starting at around 1,100 square feet and $220,000. There'll also be an active-adult community by Lennar Homes, which didn't respond to a request for pricing.
If you're looking for multimillion-dollar megamansions, hunt elsewhere. Cadence's buyers will mostly be singles and young couples who "want to be close to work but don't want a big box," Paris said.
Like other local master plans, Cadence had to alter its development path in the recession. A 2004 deal to sell the property to Centex Homes fell apart when Centex left the market. By the time the recession hit, nothing had been built at Cadence, but its master plan and Henderson development agreement were in place.
The land, which sits on cleaned-up property that once held a waste pond for a World War II-era magnesium plant, sat fallow until late 2012, when LandWell began grading for infrastructure.
"Las Vegas is a dynamic, fluid place. We just knew if we got started, the market would improve," Paris said.
Whether it's improved enough for a new master plan is a bit of an unknown, analysts said. New-home closings have stalled at about 6,000 a year, twice their recession-era lows, but a small share of the 30,000 or more units sold at the peak.
Paris didn't forecast first-year closings, although he said 2016 and 2017 should be stronger than 2015 saleswise for the market overall.
Smith said he expects to see a slow start, with maybe 100 closings at Cadence in 2015. But that will likely pick up in coming years as the valley grows, he said.
"Cadence has some pretty unique features, and if they're priced at market level, I fully expect them to do well," he said. "And if Las Vegas continues to grow, even at a relatively slow, sustained pace, which it certainly appears to be, then 13,000 new homes is reasonable over 15 years."
John Restrepo, a principal in local research firm RCG Economics, agreed that Cadence has advantages.
"They don't have a huge amount of competition at this point in that area. The market has definitely cooled off in the last year, but it's still relatively healthy," Restrepo said. "I think it's a reasonable project from a demand standpoint. Depending on the quality, location, amenities and pricing, they should do OK."
Contact Jennifer Robison at jrobison@reviewjournal.com. Follow @J_Robison1 on Twitter.
CADENCE BY THE NUMBERS
Phase One
757 acres
2,410 homes
200,000 square feet of retail space
One elementary school
11 acres of a 50-acre central park
Completed Community
2,200 acres
13,250 homes
1.1 million square feet of commercial space
150-acre urban core
1,500-room hotel-casino
Three elementary schools
One middle school
450 acres of open space