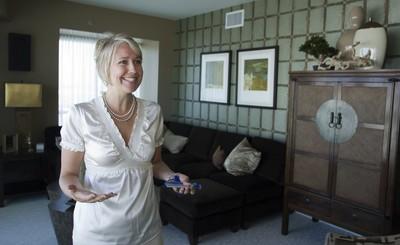 Potential supply is flattening and market demand is modest in Las Vegas' luxury condominium market, a local research analyst said.
Potential inventory levels declined for the first time since the condo boom struck Las Vegas in 2003, Brian Gordon, principal of Applied Analysis, a Las Vegas financial consulting firm, said in his first-quarter luxury condo report.
The report showed 4,214 existing units with another 13,409 under construction. Most of those have been sold or reserved. Total units that are built, proposed or canceled exceed 97,000.
Industry insiders are saying that many high-rise condos are being put back on the market for resale and, like single-family detached homes, they're not selling.
One luxury condo broker said he walked the floors at Metropolis and saw lockboxes on nearly every door. Real-estate agents use lockboxes to access empty homes for showing. He said 70 percent of the units at SoHo Lofts are listed for sale.
"Of course, every project has investors," said Aaron Yashouafar, developer of Sky Las Vegas, which opened this month on the Strip. "Our percentage of investors is substantially less than other projects because we had a hold-back period in the contract from Day One."
Sky Las Vegas owners are restricted from selling for at least six months after buying, he said. About 80 people are making their primary residence at the 409-unit, 45-story building near Circus Circus.
Las Vegas-based SalesTraq reported 213 escrow closings at Sky Las Vegas in April at an average price of $723,480 a unit. About one-third of high-rise closings are showing up for resale the next day on the Multiple Listing Service, SalesTraq President Larry Murphy said.
At the end of the first quarter, an estimated 754 existing luxury units were on the market, Applied Analysis reported. The average asking price was $803,900, or $622 a square foot.
Resale units that were sold during the quarter averaged $764,500, or $537 a square foot.
The mix of properties available continues to determine market-average pricing, Gordon said.
Eric Smith, owner of Corporate Housing by Owner, a Colorado-based company that matches owners of executive homes with potential renters, said: "There's so many condo owners trying to figure out what to do with their property. They're on the phone to us all day. It's a very hot topic."
Smith, who opened an office in Las Vegas this month, said luxury condo rentals fit investors' goal to hold for long-term appreciation and can save investors from selling at a loss.
"There's huge demand for corporate housing in Las Vegas, not like San Francisco, but it's a big market and people want to know what to do with their condo," he said. "If they furnish it, they can turn it into a hotel alternative."
Vertical construction is becoming a more powerful element in the housing market, consultant Steve Bottfeld of Marketing Solutions said. Based on his research, the number of mid- and high-rise condo units closing escrow in 2007 will easily pass last year by 30 percent to 50 percent, probably totaling around 5,000 closings, he said.
Condo presales account for 9.8 percent of the market, while speculative plans call for 56,300 more units, or 57.6 percent of the market, Applied Analysis reported. More than 14,000 units have suspended sales or have been officially canceled.
Buyers at projects such as Krystal Sands, Vegas Grand and Icon filed class action lawsuits against the developer and the next potential lawsuit could involve Spanish View Towers, which has halted construction in the southwestern valley.
"The luxury condominium market continues to evolve and respond to the latest market conditions," Gordon said. "Land owners and developers are dealing with conservative reactions by the investment community and potential buyers in response to recent reports that a supply-demand imbalance is inevitable."
He said the vast majority of units in the construction pipeline have been sold and their total is "exponentially higher" than the present market inventory.
Bruce Hiatt of Luxury Realty Group said: "We still think it'll take nine to 12 months to absorb the luxury condos coming on the market. Meanwhile prices are escalating. In the future, you'll never see $600 a square foot again."
Of his 40 clients who bought at Sky, about a dozen are considering renting out their units, he said. Several investors are making their units their second homes.
"People are saying, 'I'm not sure what to do with it,'" Hiatt said. "One couple from Tucson (Ariz.) bought in Sky and were going to rent it out. Now they've put their unit at Metropolis up for sale and they're going to keep Sky to live in."
The Metropolis condo is listed for $1.6 million, or close to $600 a square foot, he said.
Las Vegas real estate agent Sabrina Porras said she thinks investors will become more receptive to converting their homes to corporate rentals, particularly in today's market of stagnant home sales. She plans to rent out a client's condo at Sky for $3,500 a month.
About half of Corporate Housing by Owner's 34 properties in Las Vegas are high-rise condos.
Porras said owners can expect a minimum net return of $500 a month, providing an avenue for cash flow while waiting out the market slowdown.
Housing in Las VegasMore Information